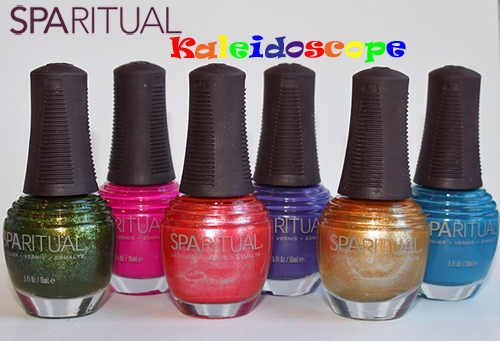 SpaRitual is unleashing a rainbow of color on us with their upcoming release, the Kaleidoscope Collection.  A set of twelve hot shades that include everything from bright white to neon pink and dark purple in a range of finishes.

As much as I've been digging the blue, green and yellow pastels that have come out recently I'm really happy to see a collection that is pastel-free.  This entire collection is filled with bold hues which seems a bit unusual for SpaRitual. They tend to mix more conservative, serene colors with their unique creations but this collection is anything but safe.

I have six of the twelve shades to show you so check them out after the jump!

Crystal Eyes is one of the polishes I was most excited about.  I love blues and this one is gorgeous but unfortunately it seemed a bit familiar.  Thus the comparison below.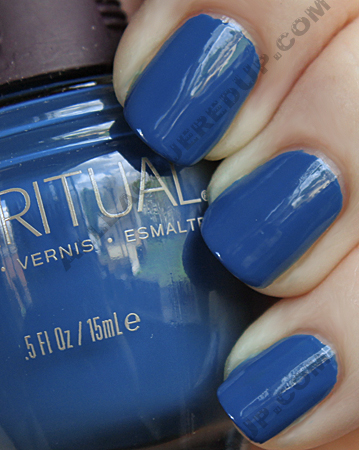 Crystal Eyes is a dead-on dupe of Orly Calypso Breeze.  The picture makes the Orly look a bit darker but trust me, the colors are IDENTICAL.  I don't think the SpaRitual had finished drying when I snapped this.  Dry, they are twinsies.  They even apply the same.  So which one you choose depends on which formula/bottle you prefer.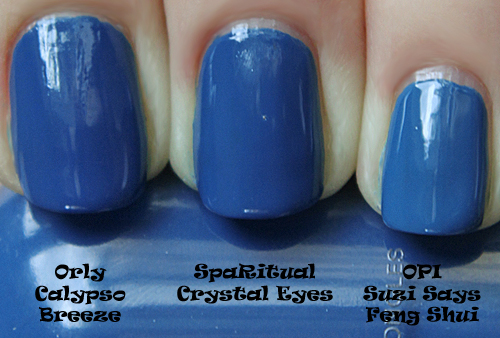 Illume is another color that ended up letting me down thanks to an Orly dupe.  This jelly-ish purple is gorgeous but a bit on the sheer side.  I ended up using FOUR COATS which is just unnecessary, especially when there's a twin out there.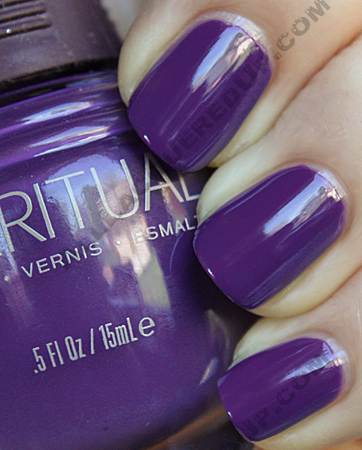 Illume has an identical twin sister in Orly Charged Up only the Orly is more pigmented.  I only needed three coats of that to match the SpaRitual shade.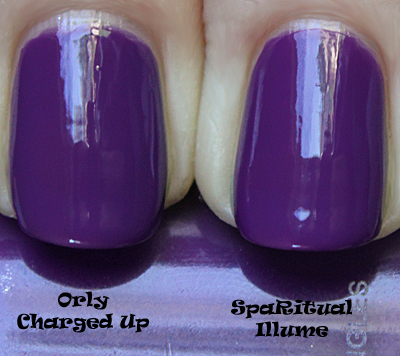 Optical Illusion is a swamp thing green glitter that applies on the sheer side but builds up to a fun, funky color.  Actually, this would be a good fit for the OPI Shrek collection, no?  Just as a warning, when you start applying it, the base coat looks a lot like pea soup but keep going it gets better.  Though what's odd is that in the bottle Optical Illusion looks like it could be a duochrome but on the nail that effect disappears.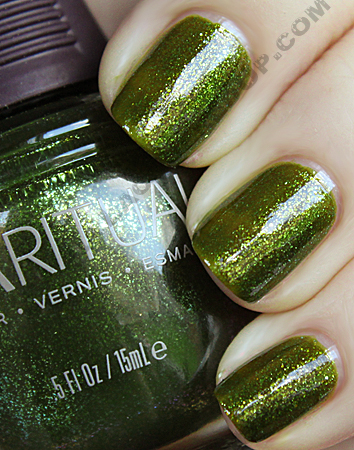 Golden Gleam has a warm burnished gold but the silver metallic shimmer keeps it in the neutral gold zone so cool toned girls shouldn't be too afraid.  It's got that great foil-like finish that I love in metallics and the pigmentation is good.  Only two coats for me.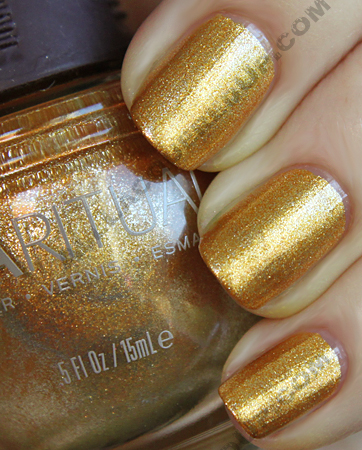 Lustress is another foil-like metallic shimmer.  In all honesty, this one seemed pretty meh in the bottle but on my nails I got a kick out of the coral tone. You all know this isn't my usual color family but I'm making an exception for this one because it resembles a FingerPaints color I regrettably gave away.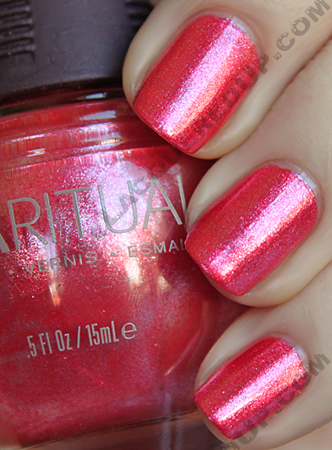 Outside of the dupe issue, Color Trip is my one true disappointment in the collection.  A bright rosy pink neon, I applied three coats and still have VNL.  The one bright side is that even though it dries to a satin finish (as you can see on my pinkie nail), when you add top coat it has a jelly-ish quality that I'm sure some of you will love. What totally confuzzles me is that SpaRitual calls this a purple neon and like Essie Perky Purple I don't see how in the world this could ever be labeled a purple.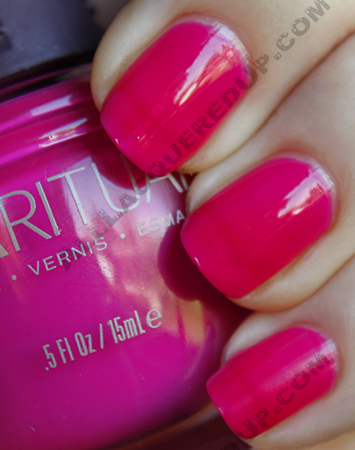 The rest of the collection includes Flashback, Solaris, Imaginarium, Twinkle, Looking Glass, White Light
Bottom line: Optical Illusion is a must-have in my book since I have nothing like it. If you prefer the SpaRitual formula and don't own Orly Calypso Breeze, check out Crystal Eyes. With all the great purples that have been coming out, Illume is a pass not only due to its lack of pigmentation but its unoriginality. The foil metallic shimmers are definitely gorgeous and worth a look. I'm also hoping to snag a bottle of Twinkle in the near future because it looks stunning.
The SpaRitual Kaleidoscope collection launches on May 1st 2010. You can find SpaRitual online at SkinStore.com and AveYou.com and in salon and spas nationwide including Canyon Ranch, Mandarin Oriental and Spa Halekulani. Or try the locator at SpaRitual.com.
What do you think of the Kaleidoscope collection? Any faves that you'll be picking up?
Disclosure: Product samples were provided for review by SpaRitual. For more info view my Disclosure Policy.