Mannequin Hands is a new series featuring ALU Fanatics showing off their "mannequin hands" shade.  The one polish that best gives that elongated, flesh-toned look to their hands.
Today Kelsey S. is showing off her "mannequin hands" using Sinful Colors Satin.  Kelsey is a Bare Minerals Medium Beige/MAC NC35 and this is what she has to say about the color,
"This was a hand-me-down polish from a friend who had much darker skin and didn't like the the way it looked on her. I found that it matched my skin tone pretty much perfectly and I love it! Having so many colors, this is always my go-to polish when I can't make a decision on what color I feel like using. The formula goes on quite smoothly, and I never really have had any problems with Sinful Colors polish. It also has microscopic silver sparkles in it that you can't really see unless you have a magnifying glass, that add to the luminosity of the polish."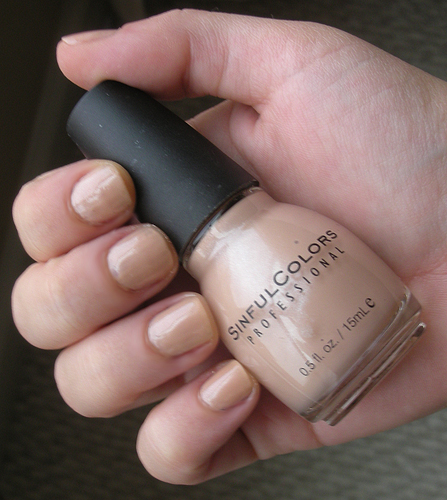 Where are Kelsey's hand twins?  Who else is intrigued by her description of silver sparkles adding luminosity? Get me to a Sinful display!
Don't forget, you have until January 15th to share your Mannequin Hands with the group. CLICK HERE for more details.