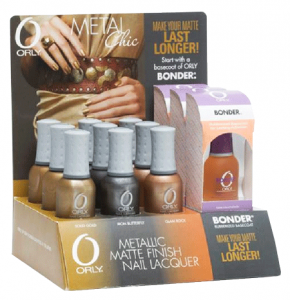 A perfect addition to your special occassion Orly's newest set of matte colors, Metal Chic, includes three metallic shades that will add a fun twist to your party look.  Iron Butterfly, Glam Rock and Solid Gold are in the same vein as the OPI Suede and Zoya MatteVelvet polishes in that they contain metallic shimmer to add a bit of bling to what could be a very flat, wall paint-ish polish.

Even though I've been a proponent of using a matte top coat versus a matte nail polish, there is one HUGE advantage in the matte polish corner… dry time!!  Even though I love painting my nails, I don't always have time to execute the perfect manicure.  Case in point, last night.  I was heading downtown for a charity event but was running late, per usual.  It was bad enough that my tips were naked during my charity beauty sale but two nights in a row was unacceptable.  So I threw on a quick coat of Iron Butterfly and not only did it give great coverage, it was dry before I got out the door.  Talk about convenient.  Check out these last minute manicure wonders along with some comparisons, after the jump!

I've given some tips regarding matte polish application but it definitely bears repeating.  Here is my method for applying this tricky formula:
Remove any oils from the nail bed using a prep product, household vinegar or anti-bacterial soap.
Work quickly. The polish dries fast so time is of the essence
Apply thin even coats.  The finish is unforgiving so brush strokes will show
If you choose to apply base coat (I recommend it), wait at least 5 minutes for it to completely dry.  Applying matte polish on top of wet base coat will cause it to gum up and apply unevenly.
Wear a matte top coat for longer lasting results but be aware that it can lighten the color (especially Essie, China Glaze & RBL).
Avoid hand lotions or cuticle oils to maintain the matte finish.
Solid Gold is an old gold hued matte with silver shimmer.  I think without the shimmer it would feel dull and too rustic.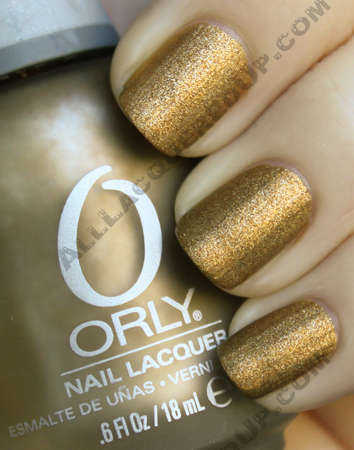 Adding top coat brings out some reddish undertones making the shade warmer.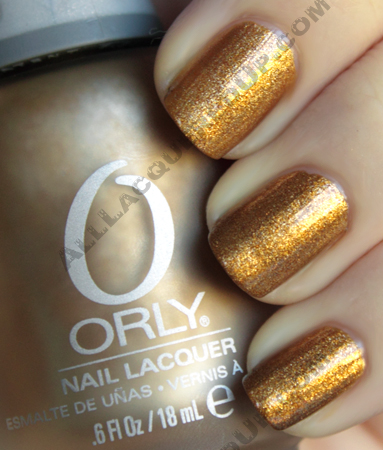 Glam Rock is bronze that leans more red than orange in person.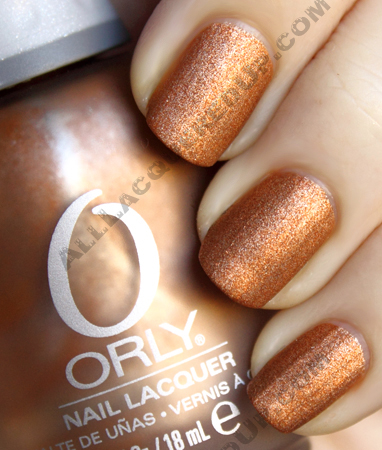 And with a glossy top coat it gets a copper penny glow, only a bit darker.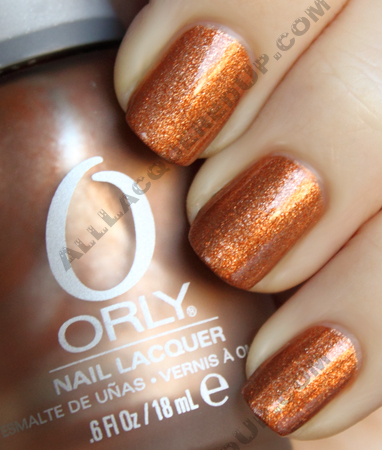 Iron Butterfly is for all the cool toned Fanatics out there.  Even though it looks black going on, the silver shimmer causes it to dry to a lighter charcoal hue.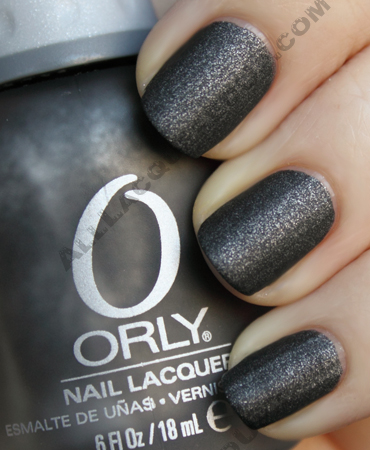 I thought for sure it would be a dupe for one of the other black/gray mattes I have but nope, it's in a league all its own.  With more shimmer than Zoya Dovima and more pigmentation than OPI Suzi Skis in the Pyrenees Suede, it has no twins.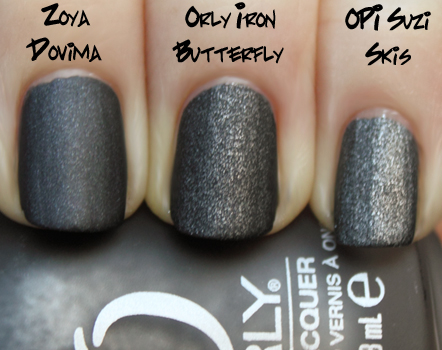 With top coat, Iron Butterfly looks like OPI Baby It's Coal Outside, right?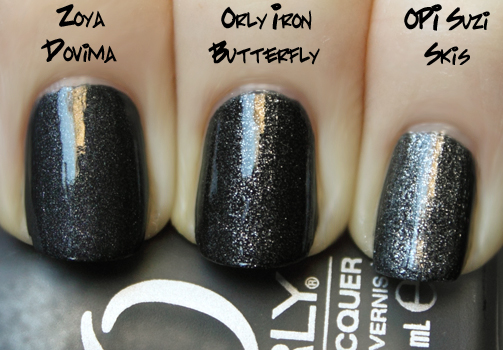 The Orly Metal Chic metallic matte collection is slated to launch in February but I'm hoping it will hit the online e-tailers earlier than that. Orly can also be found at Sally Beauty Supply but be on the hunt because the seasonal collections go fast.
Anyone else loving the quick dry time of the matte polishes? Are you over matte? What would you think of spring hued mattes or should they die out with winter?
Disclosure: A product sample was furnished to me by Orly's PR rep. For further information view my Disclosure Policy.