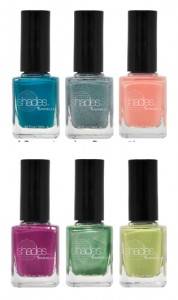 For spring 2010, get rooted into style with six new nail polish hues from Shades by Barielle. The Wildflower Collection blooms with floral-themed colors and Barielle's signature healthy "3-free" formulation. Lending a helping hand to root out ovarian cancer, 100% of proceeds from three shades from the collection will be donated to the Ovarian Cancer Research Fund when purchased at www.ocrf.org.
Launching this February, the Wildflower collection from Shades by Barielle includes three polishes designed by Creative Director Elle to help fight Ovarian Cancer.  With two blues and two greens including some unique glitter accents, I'm smitten with the charitable concept and the colors.  The collection doesn't launch for a couple months but I've got a preview of the bottles and Junebug for you to check out.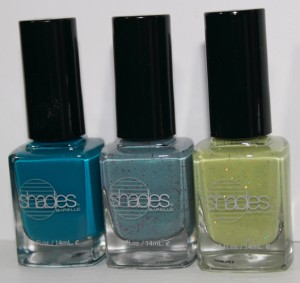 Three of the six polishes benefit the Ovarian Cancer Research Fund.  A Bouquet for Ava, Junebug and Myrza's Meadow (named for Jennifer Lopez's beloved aunt).  100% of the proceeds from the purchase of these polishes go to the OCRF when you buy directly from their website www.ocrf.org.  And honestly, they are the three coolest colors in the bunch.  The vivid teal of Ava, the multi-colored glitter in Myrza and my top pick, Junebug.  I couldn't wait to show you Junebug so I did a quick swatch before applying my holiday manicure.
Junebug is named for Elle's dear friend June.  She is a grayed teal shimmer with flecks of fuchsia glitter peppered throughout.  The base color has a sand-washed feel, in the same way that Slate of Affairs does but it's the glitter that really makes it unique.  I have definitely not seen a color like this before.  It applies a lot like Slate of Affairs as well.  It has that squishy jelly texture and some thickness but it evens out well and is pigmented enough to only require two coats.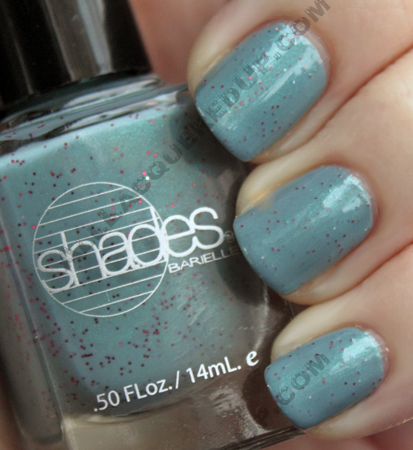 I took this photo in artificial light so you can see the subtle shimmer in the base color.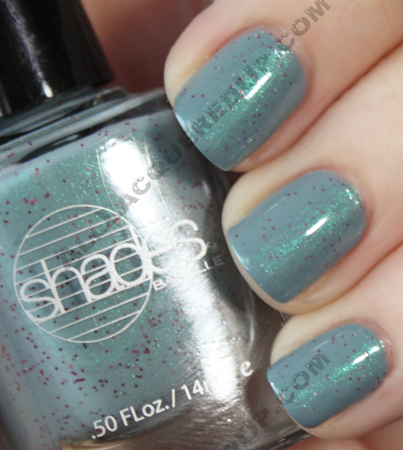 A Bouquet for Ava—a cool Caribbean blue
June Bug—a teal with fuchsia glitter
Myrza's Meadow—a light lime green with silver glitter
Snap Dragon—a metallic sea foam green
Blossom—an opaque peach
Darling Dahlia—a deep fuchsia with a hint of silver metallic
The Wildflower collection launches in February on Barielle.com and the three polishes benefiting the Ovarian Cancer Research Fund will be available at www.ocrf.org.
Disclosure: A product sample was furnished to me by Barielle.  An affiliate link to Barielle.com appears in this post. For further information view my Disclosure Policy.