Holiday 2010
Look what I found! It's a few swatches from the China Glaze Tis The Season To Be Naughty or Nice Holiday 2010 Collection. I was getting out my luggage in preparation of my trip to NYC next week for Fashion Week and I found this wheel in the front pocket. I can't BELIEVE I forgot it was in there.
When I met with reps from China Glaze I was allowed to swatch some of the polishes on a nail art wheel to take home with me and I feel like a total absent minded professor for leaving it in my bag all this time.
Party Hearty, Mistletoe Kisses, Cheers To You, Mrs. Claus and Jolly Holly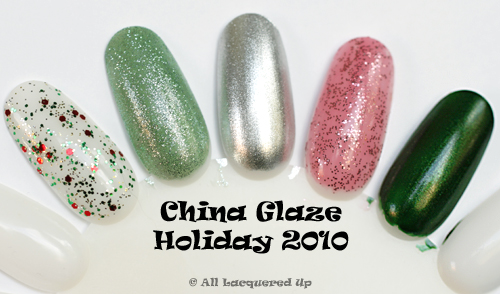 I'm totally smitten with Mistletoe Kisses. Unlike a lot of minty polishes that seem to be trying to knock off Chanel Jade, this has a unique iciness to it thanks to the silver shimmer. I see it becoming my go-to shade this winter.
To see pics of the rest of the China Glaze Holiday lineup check out my Cosmoprof Day 2 Recap.
So which shades are you dying over?  I know it seems crazy to be talking holiday already but these will be on shelves before you know it.  All I have to say is STAY AWAY SNOW!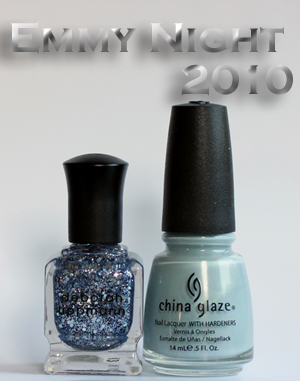 After a long weekend in Michigan celebrating the boyfriend's birthday I returned home last night to attend a fabulous Emmy Awards party hosted by Pauline (aka OHmommy) of Classy Chaos. Pauline invited a few local bloggers and frequent blog commenters to her home to indulge in some delish food and salon treatments courtesy of Suave.

A local salon, Salon Blu, treated us to manicures and hair styling while we watched the show, imbibed wine and munched on yummy eats from Maggiano's Little Italy.  Needless to say, it was a great night.

I usually watch the Emmys on my own so it was a fun twist to tune in with other TV fanatics and mingle with my fellow CLE bloggers.  Of course the big question was what do I wear on my nails?

I ended up layering Deborah Lippmann Today Was A Fairytale from her upcoming Holiday 2010 collection over China Glaze Sea Spray, one of the shades in the Spring 2011 collection strong>, Anchors Away.