Magnetic Nail Polish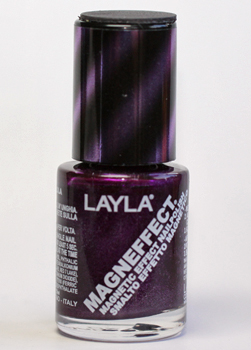 I am so over crackle nail polish, I can't even stand it. Thankfully we have a new nail polish toy to play with, magnetic nail polish. Just like the mattes and crackles that came before it, I predict by this time next year, a majority of the major nail polish brands will have followed the magnetic trail blazed by brands like Layla and LCN.

We saw this happen last summer when lesser known foreign nail polish manufacturers started coming out with crackles and now you can't throw a rock in a drugstore without hitting a brand that has jumped on the crackle bandwagon.

Of course, this isn't the first time magnetic nail polish has caused a buzz, it just fizzled out too fast due to lack of availability. Well that isn't the case anymore. Last month when I attended Cosmoprof North America I had the good fortune to meet the people behind Layla Cosmetics, an Italian brand who was exhibiting their line in Discover Beauty. Discover Beauty is a section of the show reserved for emerging brands hoping to find US distributorship.

Well, Layla certainly made an impression because their Magneffect Magnetic Nail Polish is already popping up at a number of online stores.