Estee Lauder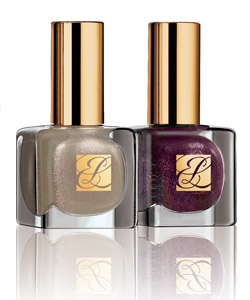 The Estee Lauder Holiday 2010 collection is filled with rich golds and reds that sound like your typical holiday fare but thanks to Creative Makeup Director Tom Pecheux, these traditional shades were given a glamorous twist.

"Fantasy, luxury and of course femininity were my inspirations for this Holiday collection. There are many lip and eye colors to play with and they all have a wonderful texture for an easy application." Tom Pecheux, Creative Makeup Director, Estée Lauder

It's been a while since an Estee Lauder nail polish has really grabbed me but Extravagant Night brings a sultry party to the nails.  And its pale gold counterpart, Extravagant Pearl, is the shade we saw gracing the Derek Lam runway just last month at New York Fashion Week.
Welcome to a new series on All Lacquered Up, As Amazing As Polish, where I share with you the beauty products I love JUST as much as polish. Considering my fanaticism over all things nails that's a pretty high honor so, I'll only tell you about a product if it's truly Ah-MAZING! You know, those items that make me jump up and down with joy the way I do over greens.
So I've been working on this project that I can't quite share yet but is very exciting. Part of the process includes testing new products like all the new mascaras from this year; LashBlast, Phenomen'Eyes, Oscillation, DiorShow Iconic, etc. The one that truly wowed me… Estee Lauder TurboLash All Effects Motion Mascara. While all the others have really great qualities that in some ways top the rest, TurboLash outshines them all.
I've always been a Clinique Naturally Glossy Mascara girl. I stock up on it whenever I hit the CCO (Estee Lauder Cosmetics Company Outlet) and it's been my go-to mascara since well, I can't remember. That's how long I've been using it. But now all I can reach for is TurboLash. This vibrating gem separates, lengthens, enhances, etc. All those adjectives you want in a mascara, they're in the tube. And it does all this without giving you creepy spider lashes or clumps or any kind of lash mess. Like Jem, it's truly OUTRAGEOUS!
What I love most is that you don't have to wiggle the brush to get perfect application, the battery powered motion takes care of that for you. The vibrations begin when you twist the cap and don't stop until you put the wand away. No buttons, no fuss. I'm not a coordinated gal. I'm lucky I can get my polish on semi-straight. So trying to wiggle a brush at my lash line? Forget it! TurboLash does that for you. You just slowly comb the brush through your lashes and viola, like magic, your lashes grow and seperate and curl before your eyes.
What you see above is my naked eye, no enhancements besides a quick squeeze of my Shu Uemura curler. What do you think? A major improvement, no?
Estee Lauder TurboLash retails for $30 and is available at Estee Lauder counters and online at EsteeLauder.com
Thanks to the amazing people at Estee Lauder, All Lacquered Up is launching its biggest giveaway to date. Thirty (30), that's right THIRTY lucky ALU readers will win a set of Estee Lauder Pure Color nail lacquers from the Pearls of Light collection. That's over $1000 worth of polish for all you fabulous people.
Use the entry form below for your chance to win!

If you haven't seen the polishes, check out my swatches:
Estee Lauder Pearls of Light
Giveaway open to US residents only. One entry per person. All Lacquered Up is not responsible for lost or stolen items. Entries accepted though June 9, 2008 at 11:59 P.M. EDT.
For Summer 2008 Estee Lauder released two color collections, Pearls of Light and Bronze Goddess. Pearls of Light is soft and glowy, filled with lustrous pinks and champagnes including two sparkling but subdued Pure Color nail lacquers.
I've never used Estee Lauder nail polishes before so I jumped at the chance to test them out. The bottles have always intrigued me, they're so luxe with a great weighty feel. Don't you just adore how the sphere of polish is encapsulated in the square glass? Or is it just me?
EL polishes have a flat brush that makes application a breeze. I really love that so many brands are using that style of brush. And the formula, well I'm super impressed with the formula's staying power. I gave my Mom a set to try out, they're very much her kind of shades, and when I realized she hadn't done a polish change in two weeks I gave her a scolding. Much to my surprise, she showed me her nails and can you believe that with the exception of one massive thumb nail chip the rest had just some tip wear. TWO WEEKS LATER. Unreal! Holy staying power Batman!
Champagne Pearl's metallic quality gives it a duo-chrome appearance. It fluctuates between a champagne metallic and a reddish shimmer and feels very water-washed beachy. The multi-colored shimmer is what keeps both these shades from being another boring color. Is it me? Not so much. It's not "pretty ugly" enough for me.

Pink Pearl is a bit more sheer as you can see in the pic. I used two coats with both shades yet I can still see the line of my whites through Pink Pearl. This is a very soft girly pink. Very work appropriate, even with all the fun shimmer.


So either Mom read my layering post or she just didn't feel like redoing her nails and added more polish on top because she layered champagne pearl over pink pearl to create her own unique shade. I tried layering both ways and the results are pretty similar to the camera's eye but in person they really are different. I think the Pink Pearl over Champagne Pearl is my favorite. The pinkness really stands out with the opaque nudish base underneath.

Estee Lauder's Pearls of Light collection is available for purchase on the EL website however Pink Pearl is unfortunately sold out. Fear not fellow fanatics, you can still snag a bottle of your own. How? Stay tuned!