Nicole by OPI
Justin Bieber's collaboration with Nicole by OPI, the One Less Lonely Girl Collection, was the first topic of discussion last night on my fave late night talk show, Chelsea Lately. The conversation that took place at the roundtable pretty much sums up my feelings on the subject. Does he even know this is happening? As Chelsea later mentioned, why not come out with a hair product?  People have been asking me about this for a few days now and my only real response is, "I can't with the Bieber!"
"So Justin Bieber has his own nail polish line. [long pause & incredulous stare] This is as close as any girl is ever going to get to one of his fingers. He probably doesn't even know that he has a nail polish line. He probably has no idea that this even exits. – Chelsea Handler on Chelsea Lately

"It's so humiliating. Like you know he doesn't want to launch nail polish. He's like 'Hey Mom, can't we launch basketballs? Can't we launch basketballs?' 'Uh no, no one with balls listens to your music.'" – Natasha Leggero on Chelsea Lately
I get that the "I'm A Belieber" nation is strong with a lot of buying power and Nicole by OPI is smart to partner with him but I can't help but roll my eyes at it all. What does this kid have to do with nail polish? If you're looking for a tween star to sell nail color there are a LOT of better options that make sense.  Regardless, I'm sure it will sell out since the colors do look pretty and there's a confetti heart glitter polish that will drive every little girl crazy.
Me + Blue, Step 2 The Beat Of My Heart, Give Me The First Dance, One Less Lonely Glitter, Prized Possession Purple, OMB!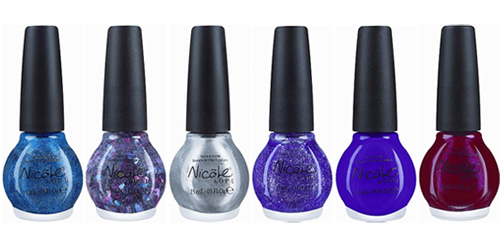 The One Less Lonely Girl Collection from Nicole by OPI will launch in December 2010 at Walmart with these six shades. Another set of six will release in January 2011. After that the whole collection will be available at Sears, Target and ULTA in February 2011.
So what do you think? Will you be getting these polishes in spite of the Bieber association or because of it? Does it matter if a celebrity is involved as long as you like the colors?
I love going to see my nail tech. She has this amazing wall of discontinued polish from Nicole, OPI and Creative. It's a total treasure trove. It's where I found my bottle of OPI Rainforest. There is this one Creative polish that I lust after. It's called Amazon and it's a stunning emerald green. Some day it will be mine. Oh yes, it will be mine.
I went to see her the other night and found this beauty on the wall. Nicole Paparazzi Plum is deep deep plum with subtle shimmer. I compared it to my swatch of OPI Lincoln Park At Midnight and they are very very close. So close that you don't need to hunt this one down or pay crazy eBay prices for it.
I really enjoy doing my own nails and taking the time to do them well but there's something so relaxing about getting a manicure. I'm not gonna lie, when I do my nails, it takes me a while. It has taken me quite some time to get over my clumsiness and improve my polish application. So, watching a pro is fun for me. Every time I see her, I pick up some new. Either how much polish she leaves on the brush or exactly where on the nail she starts applying. Every little bit helps make me better.
So kids, what's on your nails today?