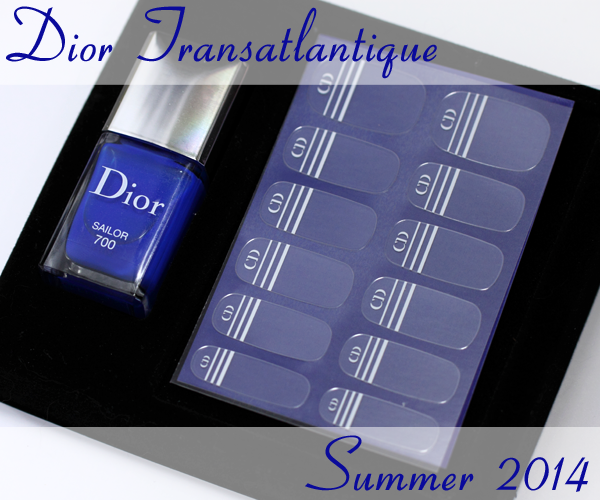 As a lover of all things nautical, when I heard that Dior was releasing a summer collection with nail polishes named Sailor, Yacht and Captain, I was all, "count me in!" That they come with nautical themed nail art stickers had me even more intrigued. You know I can't resist a blue so, for all my fellow Nauti Girls, this review of Dior Sailor is for you!


Formula & Application
Dior nail polish is 5-Free (Formaldehyde, Toluene, DBP, Formaldehyde Resin and Camphor) The rectangular glass bottles are topped with a mirror-like chrome finish cap that comes off to reveal an inner ribbed cap that tapers just slightly at the top so it's a bit smoother than Chanel's.
Dior polishes include a flat paddle style brush with firm, curved bristles, similar to Sally Hansen Insta-Dri & Complete Salon Manicure brushes. This style of brush has it's pros and cons; it gives great coverage but if it isn't cut perfectly it can be hard to create clean edges near the cuticle. The firmness of the brush can also cause dragging if you use too hard a touch.
Sailor applies with a jelly-like quality that indicates that it might be kind of sheer. And on the first coat, you might expect to need multiple coats but all you need is two coats for flawless coverage.

Dior Sailor is an indigo-leaning royal blue with a hint of bright blue shimmer. You see the shimmer in direct light but otherwise, not so much. Also, because it dries with a satin finish and is such a vivid color, I suspect there is some neon pigment in the mix. The first pic below is without top coat so you can see how it dries.
Now we've seen a lot of bright blues so far this year but this is probably the darkest and more purple toned of them all. The closest match I have is Milani Blue Zoom though this is a bit darker.

So let's talk about these nail stickers. The Dior Manucure Transat Duo comes with a sheet of 12 clear manicure stickers emblazoned with a white Christian Dior logo and stripes. I love the idea of this but appliques that aren't made of nail polish can be difficult to work with.
Unless your nails are the right shape (mine aren't) they just don't lay flat. And while the bonus of polymer-based stickers is that you can pull them up multiple times for proper placement, with clear stickers it makes them a bit foggy. Between that and the fact that I just couldn't get them smooth, they make for one severely ugly look.
So, I immediately pulled off the stickers and grabbed my white striper polish. And, let me just say, before the top coat smearing debacle, this looked perfect. But, since life is not perfect and I'm all about learning from my mistakes, I thought I'd share with you.
I used Nubar Diamont Top Coat and even though I waited 30 minutes, this happened. Nubar gives great wear but it's not a friend to nail art. I should have used my HK Girl Top Coat since it's such a favorite with nail art girls.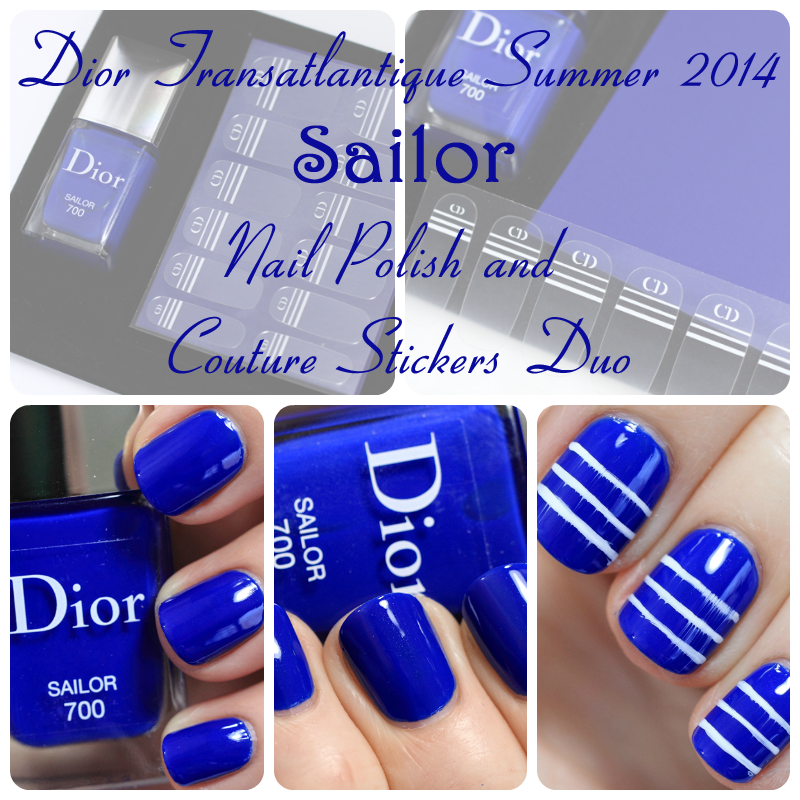 Bottom Line: If we're just talking nail polish, I love, love, love Sailor. It's rich and stunningly gorgeous. I just wish it was sold separately. Because, honestly, the stickers are a frustrating waste. Though still, at the end of the day, even if it was sold on its own, $25 for polish is a splurge when there are "similar" if not exact dupes out there for much less. So, while I wanted to be able to tell you to run out and get this duo, I can't say it's worth the price.
The Dior Transatlantique Collection was released as a Saks exclusive but it's now available at Nordstrom.com and Sephora.com. The other two shades Yacht (beige creme) and Captain (red creme) are still available at Saks.com but Sailor is sold out. The Dior Manucure Transat Duo retails for $30.
What do you guys think of Sailor? Do you like value added sets like this and the beaded Jewel Manicure Duo from holiday? What is your favorite top coat for streak-free nail art?
Disclosure: Product samples were provided by reps for Dior. Affiliate links appear in this post. When you purchase through an affiliate link, you help support this site. For more info view my
Disclosure Policy
.