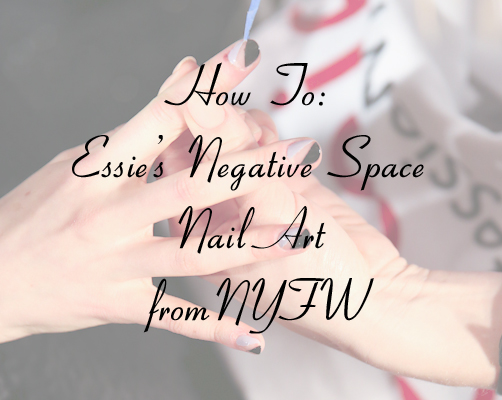 During the last #NailGlossip chat, where we discussed runway nails, I threw down the gauntlet to Jen of The PolishAholic and our guest co-host Kellie Gonzo to re-create a fave look from Fashion Week.
I've been scoping out the looks from NYC, London, Paris and Milan and the major nail art trends tend to lie with Moon Manicures, Non-Traditional French, Texture and Negative Space Nail Art. It's the negative space designs that really caught my eye, especially the look created by Miss Pop Nails for Essie at Emerson by Jackie Fraser-Swan.


The Look – Miss Pop Nails for Essie
I love the graphic quality, clean lines and juxtaposition of colors used in this look. Lilac isn't really a shade I gravitate towards but balanced with jet black, it really pops.
Heavily influenced by American Horror Story: Coven (a series I devoured), the designer's collection included a lot of slashes, cutouts and negative space. Miss Pop Nails mirrored that in her nail art creation.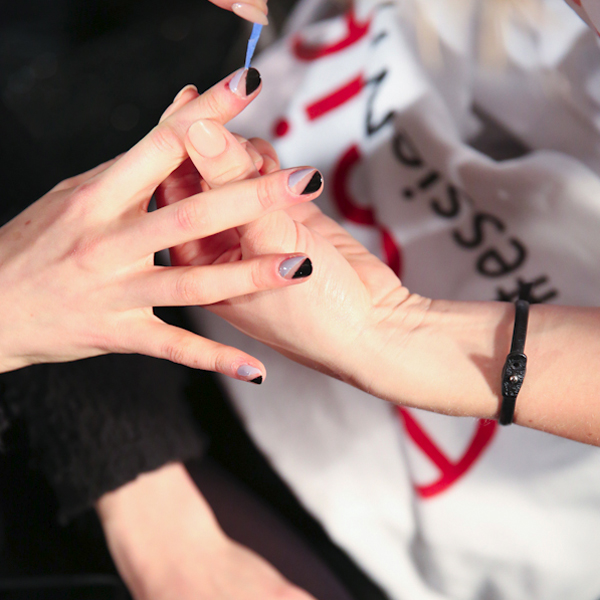 Get The Look
For the runway, Miss Pop Nails used Essie Ridge Filling Base Coat, Essie Lilacism, Essie Licorice and blue painters tape. Since I don't own Licorice, I substituted Milani High Speed Fast Dry in Black Swift knowing that it's pigmented enough to only require one coat.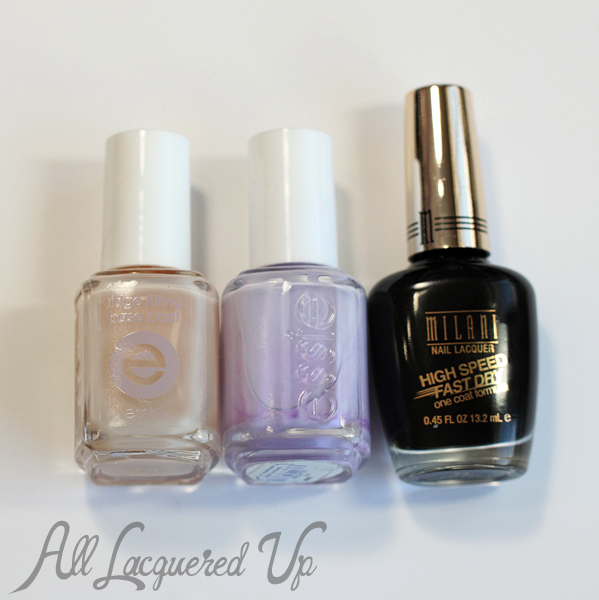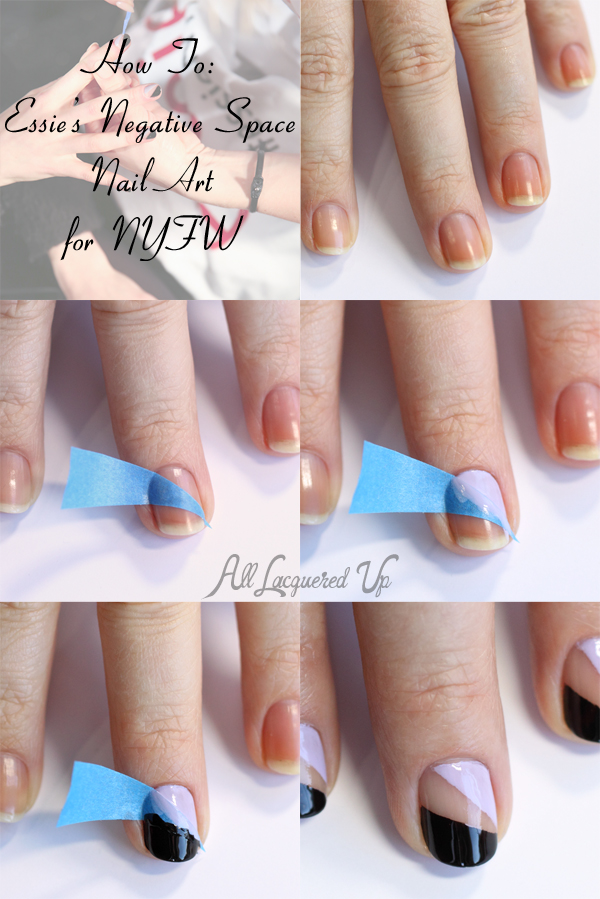 Step 1 – Cut triangles of blue painters tape.
Tip: To make sure that my spaces were evenly sized, I layered five pieces of painters tape and cut them all at the same time. If you leave a little gap between pieces at the bottom, they're easy to pull apart and you get perfectly even isosceles triangles.
Step 2 - Apply a thin layer of Essie Ridge Filling Base Coat and let completely dry.
Step 3 – Apply a piece of tape, on an angle, from the upper left tip to the lower right corner of the nail. Press to make sure the tape is securely on the nail. You don't want any polish to seep underneath.
Step 4 – Apply layers of Essie Lilacism to the lower exposed portion of the nail. I ended up using two coats.
Step 5 – Apply one layer of black polish to the upper exposed portion of the nail. And immediately pull up the tape with tweezers.
Step 6 – Repeat the process on all nails. Working one at a time is best to avoid the polish drying and sticking to the tape.
Step 7 – Clean up any polish mistakes and float a layer of top coat over the design, about 10 minutes later to avoid smudging.

What do you think of the final look? Would you try this at home? Have you been scoping out the nails on the Fashion Week runways? Any specific designs that caught your eye?
Essie nail polish and products are available at salons and mass retailers nationwide and online at Beauty.com, Kohls.com, Macys.com and Nordstrom.com. Milani nail polish is available at drugstores and mass retailers nationwide.
Also, the next #NailGlossip is this Sunday, March 9th at 9pm EST. I hope you'll join me, Jen and Sarah from Chalkboard Nails in this fun, hour-long Twitter chat.
  Disclosure: Product samples were provided by reps for Essie and Milani. Affiliate links appear in this post. When you purchase through an affiliate link, you help support this site. For more info view my
Disclosure Policy
.