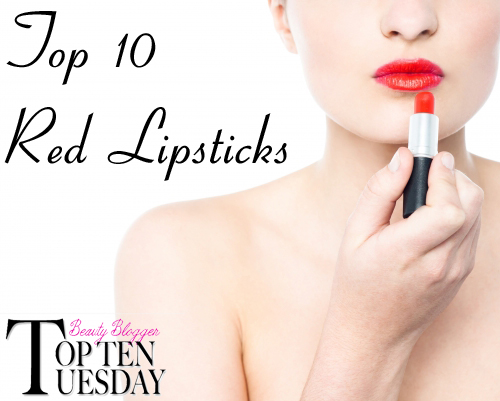 Affiliate Link|I Bought This|Press Sample
Even though I'm known for my general distaste for red nail polish, I adore a red lip. It takes a lot of effort to create a perfect red pout but it's so worth it. When done right, it can light up your whole face.
Since my eyes are not perfectly almond nor round, they're somewhere in between, I tend to play up my rather voluminous lips when it comes to my makeup routine. And nothing makes me feel more glamorous than a strong, red lip. So in this edition of Top Ten Tuesday I bring you my Favorite Red Lipsticks. 

I'm not really a gloss girl, I haven't worn one in years, so I rely on stains, balms and good, old-fashioned lipstick. For day, I opt for sheer reds, stains and balms but when I want to bring on the drama, nothing gets the job done quite like a pure matte, creamy lipstick. And yes, I realize there's a lot of MAC here but I told you I'm a MAC Fanatic, remember?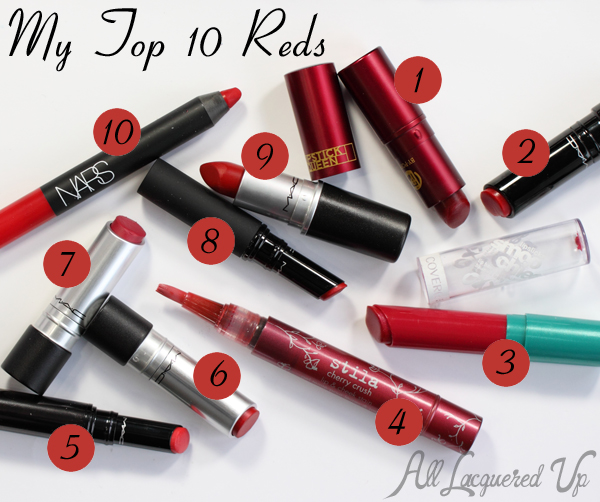 Sheer & Glossy Reds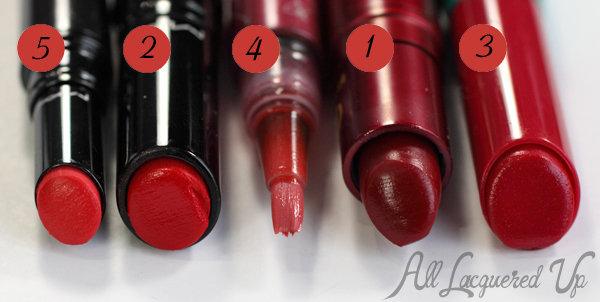 1. Lipstick Queen Medieval ($22) – I was first introduced to the world of Poppy King and her amazing line of lip products by Blogdorf Goodman and immediately fell for Medieval. To me, this is the red version of my beloved Clinique 'Black Honey' Almost Lipstick. Perfect to swipe on when you need just a touch of color.
2. MAC Sheen Supreme New Temptation ($17) – I love the smooth, glossy texture of Sheen Surpreme and New Temptation's cool cherry tone gives just enough coverage without feeling heavy.
3. COVERGIRL Lipslicks Smoochies Lip Balm in Text Me ($3.99) – Smoochies are seriously my latest obsession. I have no fewer than three in my bag at all times and this sheer red is moisturizing, subtle and has a delicious scent.
4. Stila Cherry Crush Lip & Cheek Stain ($24) – Cherry Crush was my first Stila lip stain and it's still my favorite. It really pinks up your lips and makes a perfect base for anything you layer over top. My lips don't have a lot of color naturally so applying a layer of Cherry Crush ensures they aren't naked even if my lipstick/balm wears off.
5. MAC Slimshine in Swelter (discontinued) – Slimshine was the predecessor to Sheen Supreme and even though this product is discontinued, Swelter is one of my fave summer reds. It's got just enough coral in it to compliment a faux glow. I fear the day my tube runs out.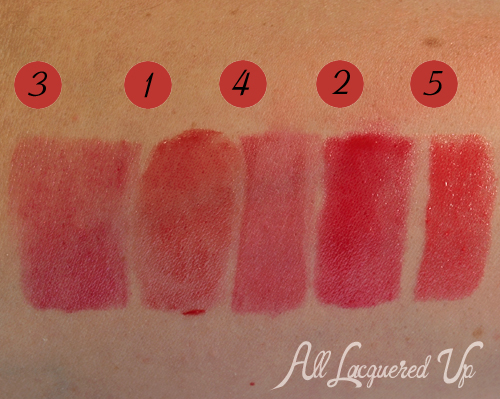 Matte Reds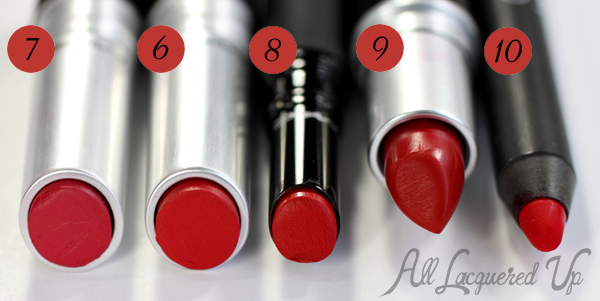 7. MAC Pro Longwear Lipcreme in Perpetual Flame ($18) – I wore my first Pro Longwear Lipcreme to an event two years ago and I was WOWED by the staying power. I barely had to reapply after hours of eating and drinking. They can be a bit drying which is why prep is so important but the wear makes it worthwhile. Perpetual Flame is more of a berry red and a perfect compliment to my pale winter complexion.
6. MAC Pro Longwear Lipcreme in Prolong ($18) – Prolong, on the other hand, is a caliente true red creme. It doesn't really lean either way in terms of blue/orange which makes it pretty universally flattering. For a less intense look, I'll dab Pro Longwear's on with a finger to make them more like a stain.
8. MAC Mattene Lipstick in Classic Dame (discontinued) – I really love the Mattenes and I'm sad they're gone. They didn't quite have the staying power of Pro Longwear but they were creamier with just a hint of sheen. Think Sheen Supreme meets Pro Longwear. Classic Dame is a scarlet red and simply stunning.
9. MAC Russian Red Lipstick ($16) – I have a thing for MAC lipsticks, in general. I love the vanilla scent, the range of finishes and the diversity of pigment. While I tend to favor the Lustres, when it comes to red, I gotta go for matte and Russian Red is a stand out.
10. NARS Velvet Matte Lip Pencil in Dragon Girl ($25) – For the most part, I prefer a lip stick or balm over a pencil but I make an exception for NARS. The smooth, creamy formula never dries out and makes precise color placement a breeze. Plus, it's ideal for touch-ups since you don't need to carry a lip brush.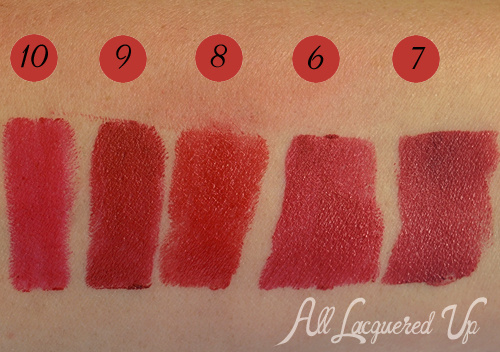 Technique
If the idea of wearing red lipstick intimidates you, set yourself up for success with my foolproof plan; Prime, Line and Define.
Prime – I start by exfoliating with a clean toothbrush to slough off any dead skin, then applying a hydrating lip primer, like MAC Prep + Prime Lip ($16). Dry lips will kill this look.
Line – My biggest fear with wearing red lipstick is color bleed so I always line my lips. Whether that's with a clear liner, like Urban Decay Ozone, or colored, it's a key step.
Define – It's so old school but blotting really helps keep your red intact. I apply one coat of color, with a lip brush, blot and then apply a second coat. Another trick is to hold a piece of tissue over your mouth and swipe translucent powder over the area with a fluffy brush. Finally, use concealer to correct any application mistakes and crisp up your lines.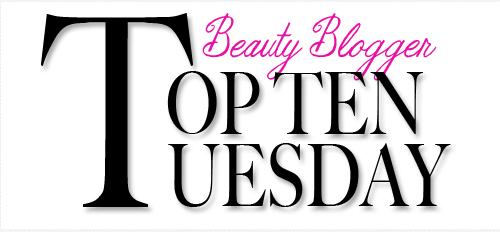 Loading InLinkz ...

Do you love or fear the red lip? What are your go-to reds? Do you favor balms, stains, glosses or lipsticks? What tips do you have for creating a flawless red lip?
  Disclosure: Product samples were provided by reps for COVERGIRL, MAC and NARS, others were purchased by me. Affiliate links appear in this post. When you purchase through an affiliate link, you help support this site. For more info view my
Disclosure Policy
.