Some of my beauty blogging buddies started a group to share their Top Ten products on a regular basis and I decided to join in on the fun. The first topic is Top Ten Palettes which is so up my alley.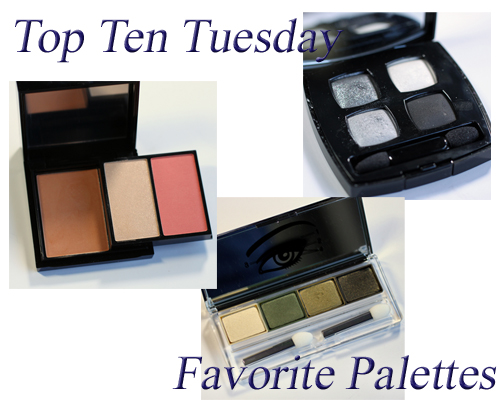 Affiliate Link|I Bought This|Press Sample
As much as I love makeup, pairing eye shadows is not my forte. I have a ton of single shadows in my arsenal but, more often than not, I gravitate towards palettes for my eye looks. I like that someone took the guesswork out of it for me and over the years I've amassed quite a selection of palettes.
Check out my faves and a few I'm lusting after for the upcoming holiday season.

Oldies But Goodies
These palettes may no longer be available but I still love them.
Too Faced The Quickie Chronicles were some of the first palettes I bought and The Man Eater became my go-to for quite some time. Even though I should toss it, I can't help but hold on to it for sentimental reasons.
This Prescriptives PX Pink Ribbon palette that was part of the annual Estee Lauder Companies BCA campaign and it convinced me I could wear "pink chocolates." As you know, I'm not a pink girl but this palette changed my mind a bit.
I always look forward to the holiday palettes from MAC. There is usually at least one eye palette that draws me in and, over the years, I've collected a fun range of shades. And while I don't normally go for lip palettes (they get messy and I prefer tube lipsticks), the Viva Glam lip palette from 2007 is one I treasure.

Tried And True
I've mentioned my love of the Urban Decay Naked palettes in the past. Well I have used one of these two palettes every single day since they came out, with a few exceptions. I tend to use Naked 2 the most as the taupe shades flatter my pale, cool complexion but when I'm sporting a faux glow, it's original Naked all the way!
When it's time to create a smoky eye for a special night out, I always look to my Chanel Smoky Eyes Quad. I wore this quad to a wedding a couple weeks ago and the shades just blend so well together. Love it!
I've been attempting to learn to contour. It's not a technique I have mastered. Part of the reason is I haven't been able to find the right contour shade for me. The bronzer in this MAC Antonio Lopez: Face "Coral" palette is the ideal shade for me. I still haven't got it quite right but I'm trying.
As much as I love my green nail polish, I don't wear green eye shadow as much as I should. I guess part of the reason is, I can't seem to put together the right color combination that looks subtle, not HELLO, GREEN! That is, until I came across this Clinique All About Shadow Quad in On Safari. The muted and golden undertones in this quad look fab on me in the summer. I still need to find a cooler version for winter. Got any suggestions?

On My Wish List
As I mentioned above, I love the MAC Holiday eye palettes and this year is no different. The MAC Stroke of Midnight Cool Eyes Palette ($39.50) is on my radar and I see a purchase coming soon.
Even though I don't wear bright colors that often, I always get sucked in by Urban Decay's holiday palettes and Urban Decay Vice 2 ($59) is no different. Right now, it's on my "potential buy" list.  It's the two right rows of color that are calling to me but is that enough to buy the whole palette?
At the Nordstrom Pretty Party that I presented at last Saturday, I got a good look a the Laura Mercier Luxe Colour Wardrobe Dual Decker Colour for Eyes & Cheeks and I literally swooned! It's pricey ($125), so unless someone loves me enough to buy it for me (hint, hint Mom!), it won't be mine anytime soon. But I love the leopard accent, the amount of product you get and the shade range. *sigh*


What are your go-to palettes? Do you prefer palettes or individual products? Do you have any special palettes on your holiday wish list?
Disclosure: Product samples were provided by MAC, Clinique, Prescriptives, Urban Decay and Chanel. For more info view my Disclosure Policy.