When it comes to doing nail art, my motto is to keep it attainable, not aspirational. I love to look at intricate, hand-painted designs as much as the next nail fanatic, but I'll never attempt them myself because I just don't have the steady hand or artistic skills for it.
Every look I create is something I feel a decent polisher, like myself, can DIY. That's why I was excited to participate in the Sally Hansen #IHeartMyNailArt campaign featuring the Sally Hansen Fuzzy Coat nail polishes.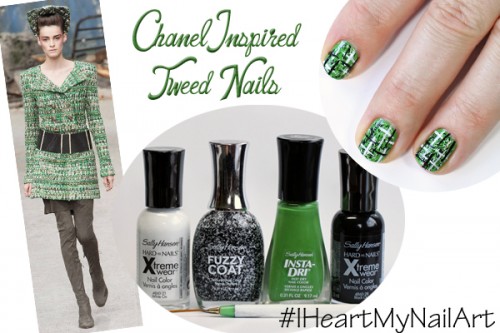 As you know, I've showed you ways to wear the Fuzzy Coat polishes previously but, for this campaign, I wanted to reach outside my comfort zone and try something new. A tweed coat from the Chanel Fall 2013 Haute Couture collection became my inspiration and I'm really happy with how the look turned out. Keep reading to see how I did it.

What I Used
For this campaign, I shopped at Walgreens. I'm lucky to have two nearby, one I can walk to. Since I already owned the Fuzzy Coat polish I intended to use, I only needed to pick up my green base color plus a black and white for the accents. I ended up going to both Walgreens stores because one was out of black polish but, fortunately, they're close enough that it wasn't a bother.
To view my full shopping experience, visit my Google+ album.
In addition to SH Fuzzy Coat Tweedy, that I already had, I picked up Xtreme Wear polishes in White On and Black Out and Insta-Dri In Record Lime. In Record Lime is a LE shade but I've seen it on a few different displays recently.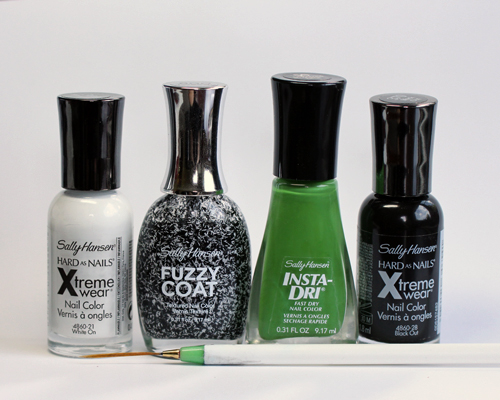 Get The Look
Step 1: Start with a base of Sally Hansen Insta-Dri In Record Lime. This one has a slight shimmer to it and is pretty opaque with a thicker texture. The curved, flat brush made it easy to create a smooth line at the cuticle. I ended up using two coats just to make sure there wasn't any patchiness.
Step 2: Add a coat of Sally Hansen Tweedy Fuzzy Coat. Using my Dab, Dip & Glide glitter application method, you should be able to get good coverage with one coat. Seal the fibers in by adding a layer of top coat.
Step 3: Create the tweed pattern using a nail art brush dipped in Sally Hansen Xtreme Wear White On. Tweed is essentially a pattern of straight lines. You can mimic it on your nails by applying lines in a cross pattern with random lines thrown into the mix.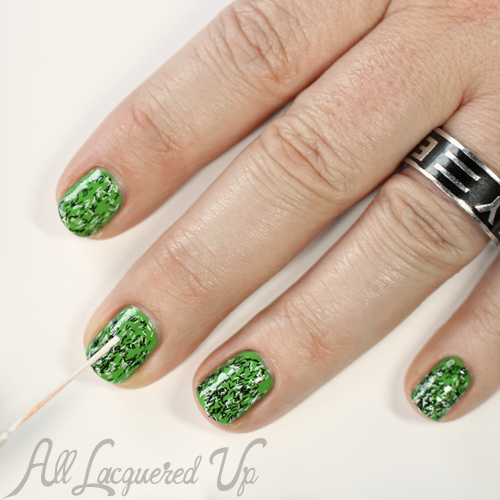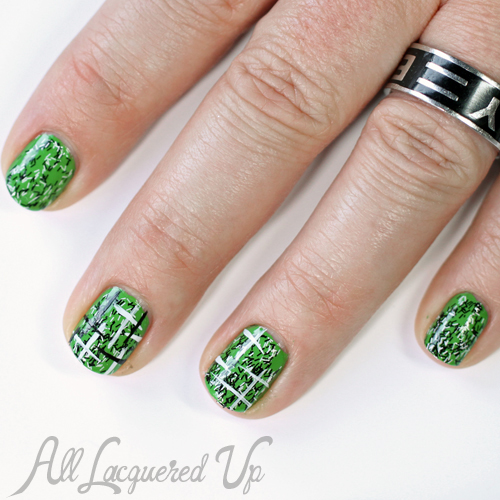 Step 4: Repeat the process using Sally Hansen Xtreme Wear Black Out to fill in around and over the white.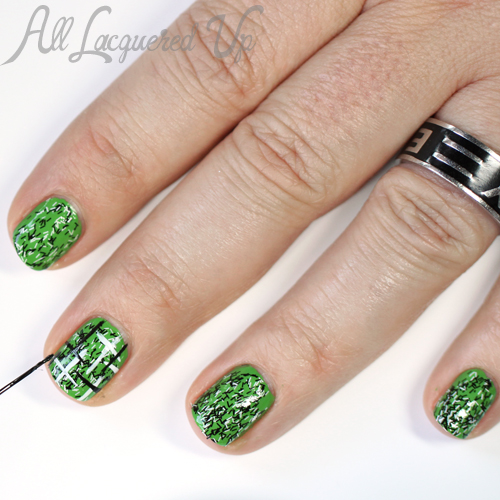 Step 5: Seal with one last layer of top coat, when dry. I waited a bit longer than usual to apply top coat so I didn't ruin the lines.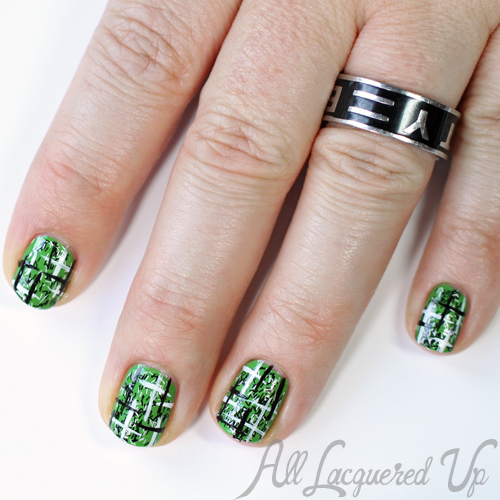 Application Tips
Wipe off the nail art brush, including the stem, to avoid drips or making your lines too thick.
Rather than dip the brush in the bottle, pour the polish out onto card stock or a piece of plastic, like an artist's palette. Just work quickly with small amounts and take out more polish, as needed, so it doesn't thicken.
If working with a nail art brush isn't for you, try the Sally Hansen Nail Art Pens. Because they are water-based, you can wipe away mistakes and start over. Personally, I have the penmanship of a pre-schooler, so using a natural, straight brush stroke with a nail art brush is more comfortable.

If you want to see more nail art designs, visit the Sally Hansen #IHeartMyNailArt page.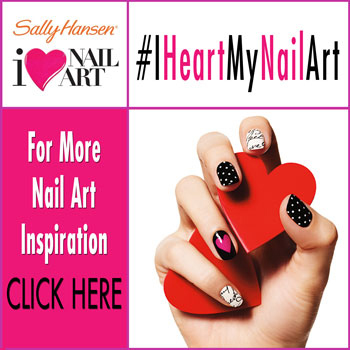 Sally Hansen nail polish is available at drugstores and mass retailers nationwide. Fuzzy Coat retails for $5.59-6.59/ea depending on the store. Insta-Dri retails for $4.99/ea. Xtreme Wear retails for $2.79/ea.
During the week of 8/18, Walgreens will have Fuzzy Coat and Complete Salon Manicure on sale for $5.29/ea or 2 for $10 and Xtreme Wears are down to $1.99.
What do you think of my tweedy nail art? Is this a look you would try yourself? What kind of nail art would you create with the Fuzzy Coat polishes?
Disclosure: This post was sponsored by Collective Bias in collaboration with Sally Hansen and Walgreens. The products shown were either purchased as part of the campaign or supplied by reps for Sally Hansen. For more info view my Disclosure Policy.