Growing up, there were two absolute truths about the Mismas kitchen. There was always a bag of popcorn kernels in the pantry (Dad and I have a lifelong obsession with the stuff) and there was always ice cream in the freezer. It's a truth that holds up to this day in my home, and it's usually a chip flavor from Graeter's. They make THE BEST chip ice creams in the world, trust!
So you can only imagine the squee moment I had over the Deborah Lippmann, ice cream-themed, Staccato nail polish collection.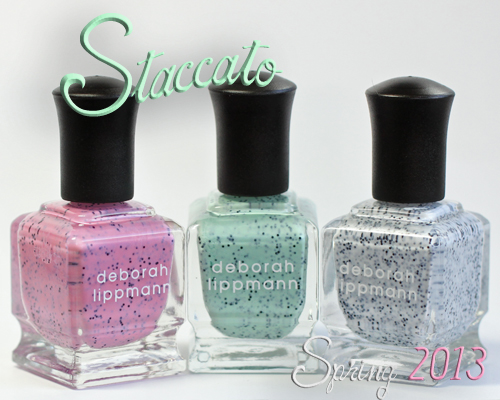 She created the nail polish equivalent of Strawberry Chip (I'm Not Edible), Mint Chocolate Chip (Rockin' Robin) and Cookies n Creme (Polka Dots & Moonbeams) ice cream! Combining soft pastels with shiny black glitter, Stacatto is a rocker take on pastel. Check them out!

Formula & Application: Deborah Lippmann nail polish is 5-Free (DBP, Toluene, Formaldehyde, Formaldehyde Resin, Camphor) and cruelty-free. Her signature glass bottle is one of the most recognizable shapes in the industry. The curved cap was designed with professional manicurists in mind as it is shaped to rest comfortably between your fingers. The Lippmann brush is short, round and average in width with flexible bristles that easily fan out over the nail plate.
The Staccato polishes are all creme based and thicker in consistency than I normally expect from a typical Deborah Lippmann creme. I assume that is to suspend the black glitter evenly. The bonus is, the pigmentation is excellent. I only needed two coats of each color for full coverage. And, in spite of the thickness, the lacquers self level so you could wear them sans top coat, if desired.
My only point of contention comes during the removal process. It removes easily, like a creme polish but I felt like I had little black dots all over me, including my face. Maybe it's because the black glitter is so much more noticeable than lighter metallic glitter. I guess what I'm saying is, be careful during removal and you can avoid my mishap.

Deborah Lippmann Polka Dots & Moonbeams is a soft white creme packed with black glitter. As you can see, the black hexagonal sequin glitter is very small, so it looks like sprinkles in your polish. The way the creme color mutes out some of the glitter gives it a very dimensional look. I'm showing the polishes with and without top coat so you can see that it has somewhat of a satin finish.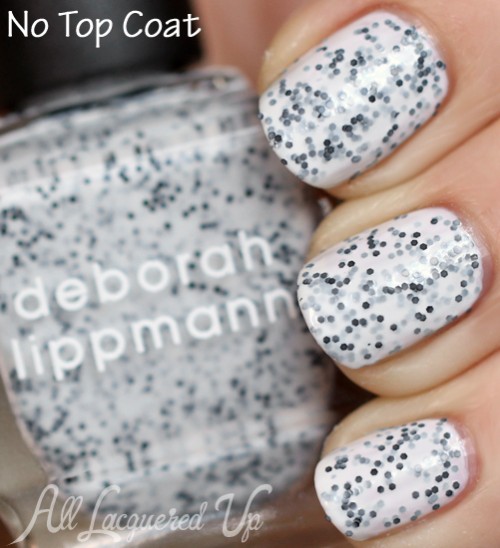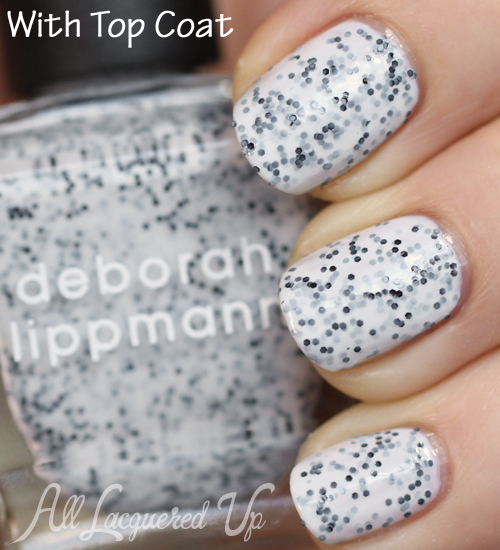 Deborah Lippmann I'm Not Edible has a bubblegum pink creme base that is a cross between OPI Sparrow Me The Drama and China Glaze Second-Hand Silk.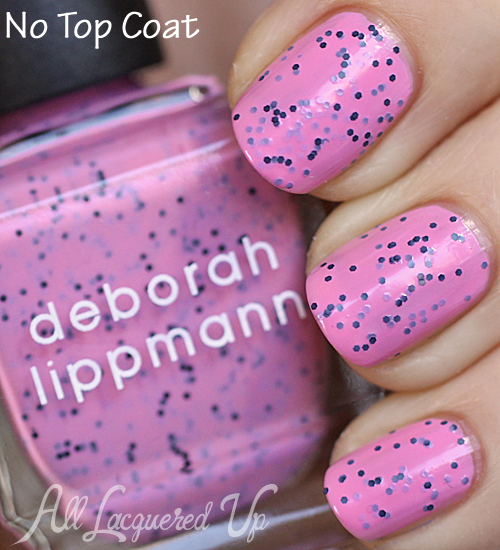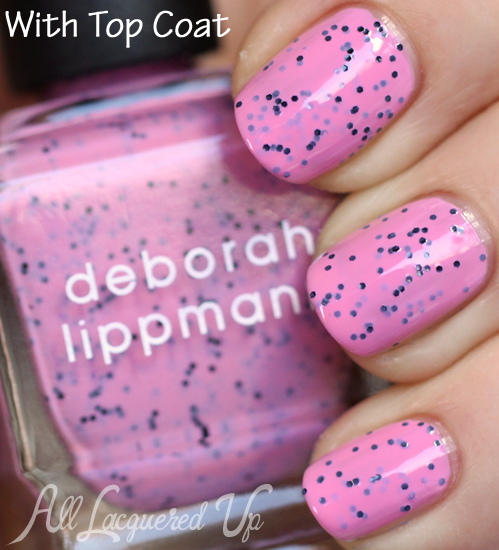 Deborah Lippmann Rockin' Robin has a blue tinged mint creme base that falls somewhere between MAC Mischievous Mint and Orly Gumdrop.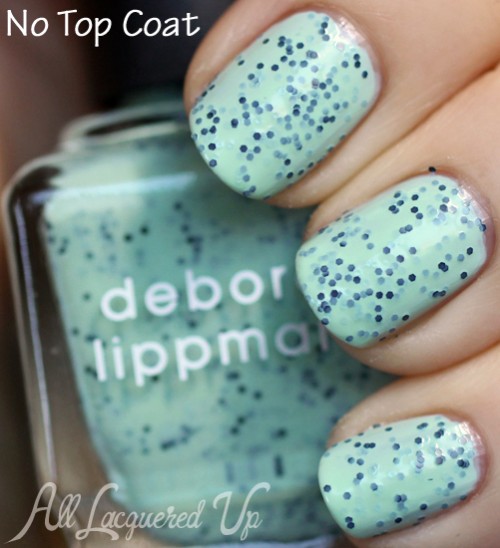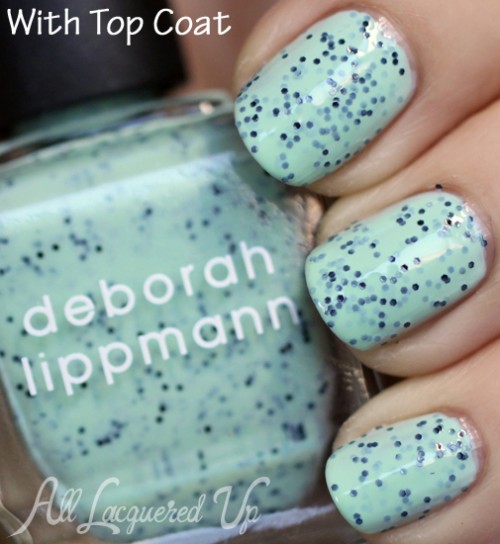 While we're on the subject of ice cream, some friends I met through Twitter (gotta love social media) are opening an ice cream shop in Cleveland's Tremont neighborhood, Tremont Scoops. They purchased the shop from the previous owner over the winter and the grand opening is this Saturday at noon.
I attended their Friends & Family night and the ice cream is fantastic. It comes from a local company (not Pierre's) and has the highest butterfat content of any brand they tested. It's so creamy and rich! They also carry vegan ice cream and have vegan and gluten-free cones. I tried the vegan Cookies & Cream and you would NEVER know it's non-dairy. Delicious. If you live in the CLE area or plan to visit, I highly recommend you stop by.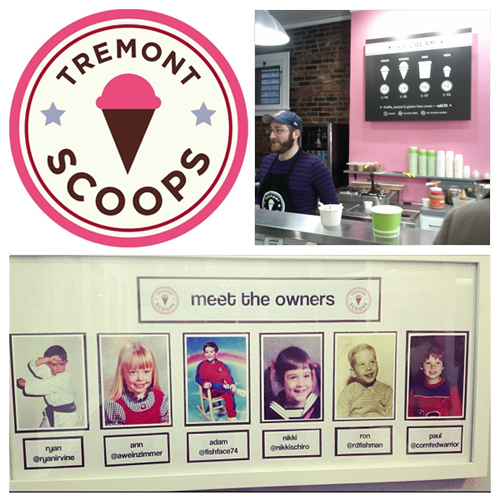 Bottom Line: Texture is the big trend for 2013 and it doesn't just mean sand nail polishes. Feathered and speckled polishes, like the Stacatto collection, are a big part of that movement. There will always be those steadfast lovers of a glossy nail who won't jump on board but if you're looking for something different, definitely give these a try. Rockin' Robin is my favorite of the three shades. Probably due to my love of mint chocolate chip ice cream.
Deborah Lippmann Stacatto nail polishes are available now at DeborahLippmann.com, HSN.com,  Barneys New York, Bloomingdale's, Neiman Marcus, and Nordstrom. Nail polishes retail for $19/ea for a .5oz bottle.
Are you feeling these dreamy, creamy shades? Are you into the speckled look? Which ones do you plan to pick up? What is your favorite flavor ice cream? Have you tried Graeter's?
Disclosure: Product samples were provided by reps for Deborah Lippmann. Affiliate links may appear via a third party link service. For more info view my Disclosure Policy.