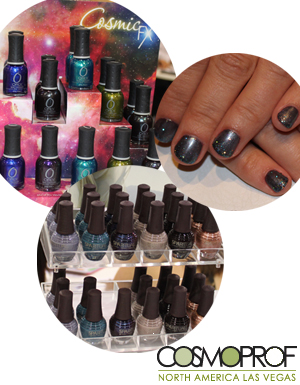 Monday was utter craziness at Cosmoprof North America. Christine and I arrived bright and early and hit the ground running.

We met with the teams at CND, OPI, Orly, SpaRitual and Zoya and I think by the end of the day we were both visually overwhelmed.  You can't really grasp the scope of how large this show is unless you're here.  Outside of all the major nail, hair and skin care brands that are represented there are a tons of smaller and international brands to check out.

Three of the big trends I'm noticing are keratin treatments, hair tinsel and gel polish.  The amount of brands that have come out with those three products is exploding.  Check out our finds from Day 2 after the jump!

Our first stop of the day was at the Orly and SpaRitual booth to check out what they have coming out from now through the holidays.
Orly Cosmix FX is their Fall collection and without even swatching a single polish I'm predicting this a must-have. The polishes contain crystals and flash multiple colors creating what I'm calling a multi-chrome effect. Due to the special formula the polishes will retail for $10.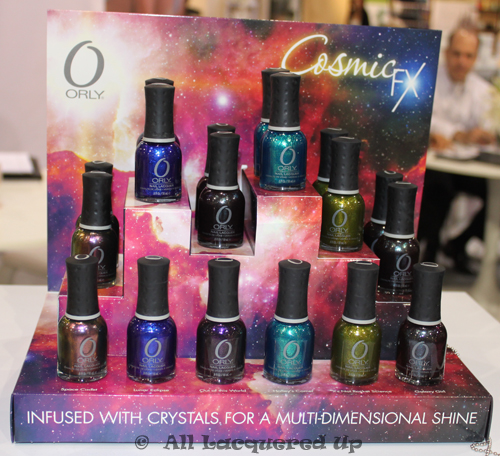 For Halloween 2010 we're seeing some classic Halloween shades repromoted.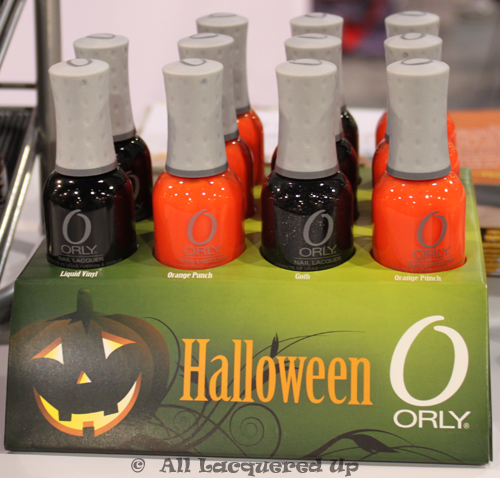 Orly Instant Artist is a new nail art line that launched in April. I really love this bottle shape and was pleased to discover that in addition to their full size treatment products, Orly launched them in this size bottle as well.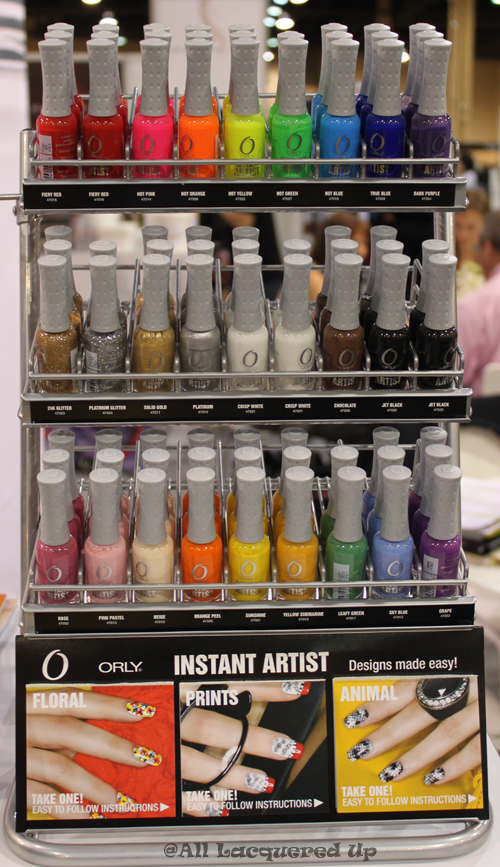 Orly Instant Artist Starter Kit

I posted a pic of Orly Tis The Season from my phone on Sunday but here's a better shot.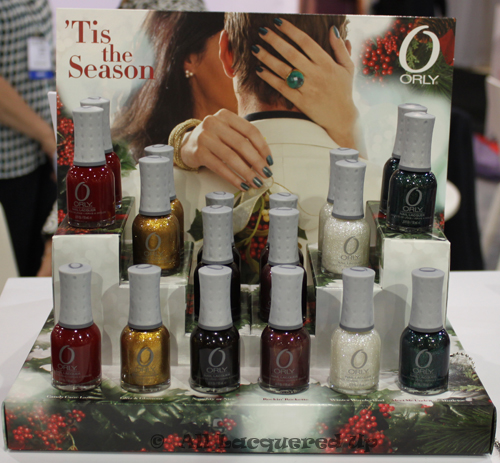 Next up, SpaRitual. One of things Christine has been curious about is brands that put the "Vegan" stamp on their polish. Is it a marketing tool or are there non-vegan nail polish ingredients? According to the rep for SpaRitual some shimmer polishes contain fish scales and SpaRitual does not. Who knew?
Imagine will be launching for Fall and there is a gorgeous duo-chrome in the lineup.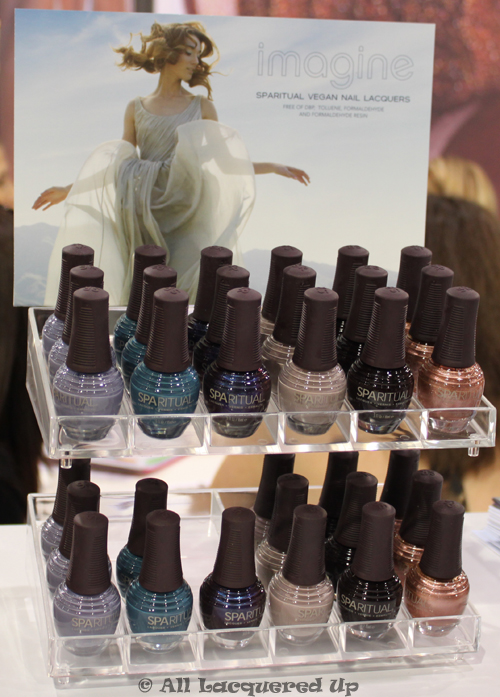 In support of Breast Cancer Awareness Month, SpaRitual will release the In Pink collection. Two colors, a pale pink and beige metallic, will be sold to support Living In Pink.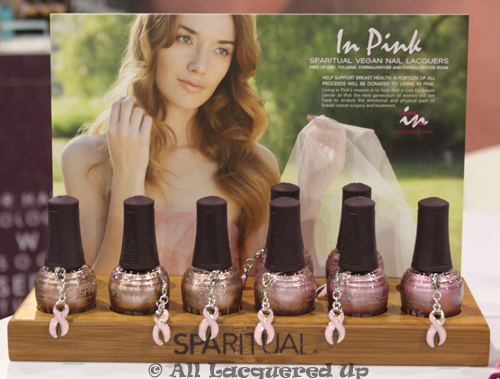 If you've ever had issues with your SpaRitual wear time, you should check out the new TrueBond system.  TrueBond is a three piece Primer, Base Coat and Top Coat system designed to extend the life of your manicure.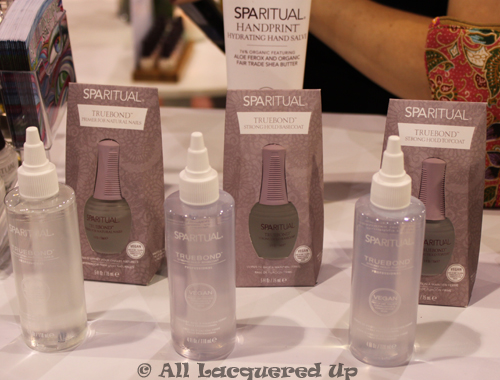 Holiday 2010 brings us the Holiday Glow trio with red, pale silver and burnished gold shimmers.  I also got a peek at Spring/Summer and there are some fun colors and more tranquil shades coming our way but I can't discuss them just yet.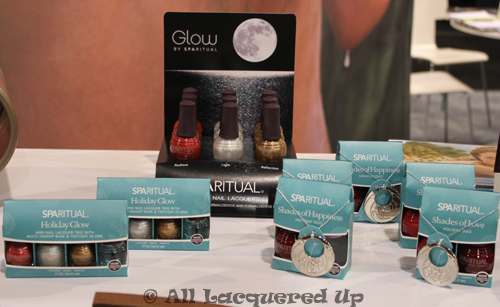 Holiday Glow Minis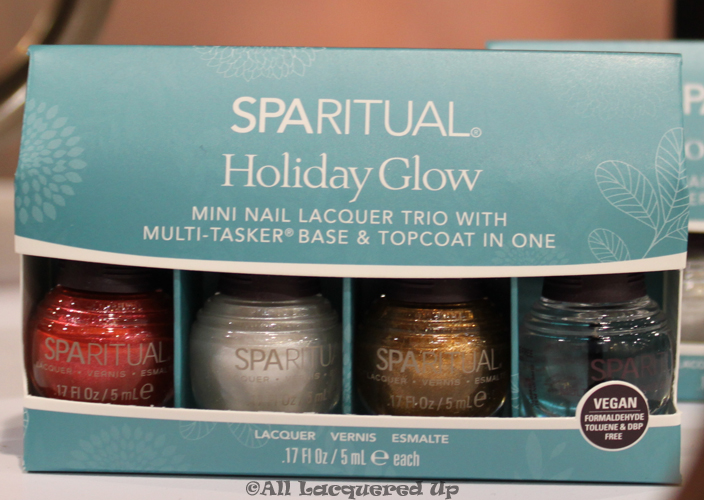 Christine was really excited to visit the CND booth so she could try the new Shellac manicure.  I was excited to finally meet CND Education Ambassador Torie Savickis (pictured below) and visit with the whole CND team including the fabulous Jan Arnold who was wearing the most blingtastic silver glitter heels.  Torie (aka PolishedPinky) and I have been tweeting with each other for quite some time now so it was great to put a face with a name and talk nails.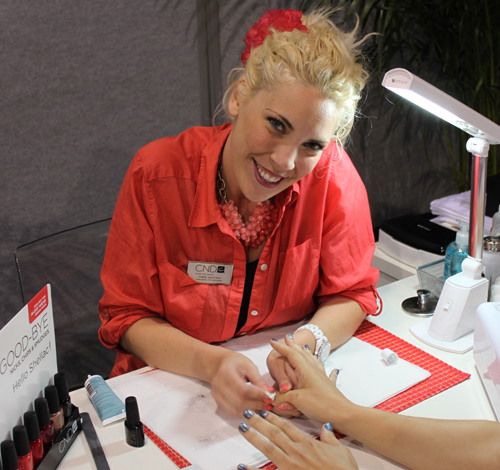 I previously reported that we'd see new Shellac shades this Fall but due to the overwhelming demand for the Shellac system, that launch has been pushed back to early 2011.  So to quell everyone's thirst for new colors, CND has come up with layering combinations to create new shades.  You can get a purple, lavender and pewter (seen below) in addition to many other shades by layering Shellac.  Torie topped Fedora with Strawberry Smoothie and added a some glitz to with a bit of nail art glitter.  Aren't they hot?  Totally Vegas! Be on the lookout for Christine's report on her experience with Shellac in the coming weeks.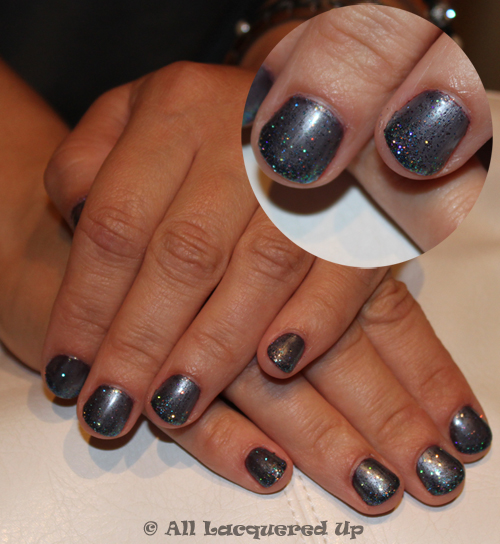 Speaking of Shellac, one of my friends that came to Vegas with me got Shellac'd last Wednesday before we left Cleveland.  Steph chose Fedora and as you can see, after five days it's still perfect outside of the nail growth.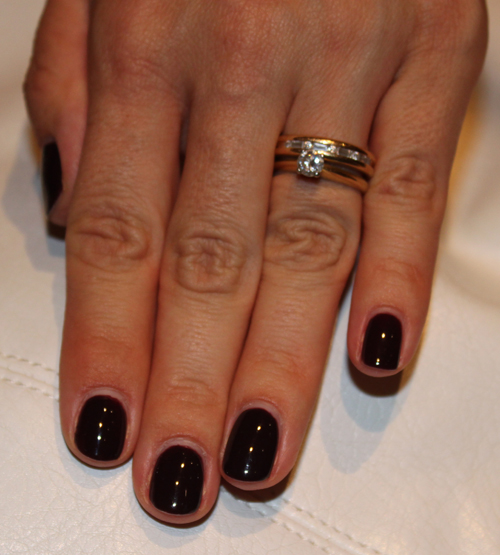 While Christine was getting Shellac'd I stopped by the OPI booth and was sad to learn that Suzi was unable to attend the show but delighted to meet OPI President George Schaeffer. George showed me the new Burlesque collection for Holiday which is half glitter party, half holiday reds, golds and bronzes.  The glitters are insane and if you missed out on the Alice In Wonderland collection, the Burlesque glitters should satisfy that lemming.  I was fortunate to leave with a bottle of Simmer & Shimmer and I can't wait to get home and swatch it.
Did You Know? George told me that for every collection that OPI releases, the creative team comes up with an average of 600 names before the final twelve are selected.  600??  Can you imagine?  He jokingly shared that there is usually alcohol involved in those meetings and I don't doubt it!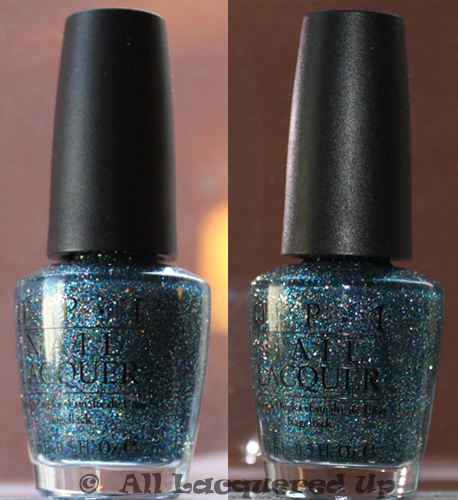 Our last stop of the day was to meet with the Reyzis family at the Zoya booth.  The Cleveland based company truly is one big family and I was pleased to meet the woman who started it all, Zoya Reyzis.  Zoya is charming, funny and a great story teller.  I was mesmerized as she told us the story of how she met her husband Michael, how they escaped to this country as refugees and how the Zoya brand was founded.  She's an amazing woman.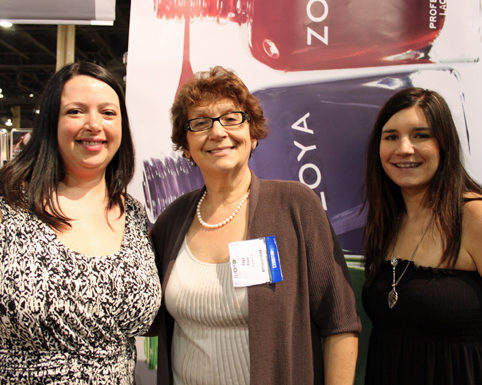 We also got a look at the Zoya Holiday collection and it's really beautiful. Plus there's a fun new product coming out that I can't wait to tell you about. I hope to have info I can share with you soon!
So what product caught your eye the most? How much is your wallet crying? Is anyone else kind of hoping for Fall even though it means cold weather and shorter days??