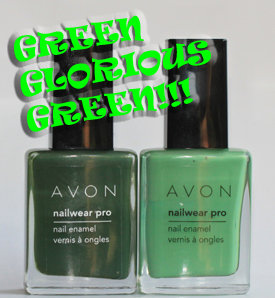 My first beauty related memory involves Avon.  The five-year-old me was very outspoken and not afraid of anything. I'm sure that doesn't surprise anyone.  So when I got my hands on an Avon catalog for the first time and landed on the page of flavored lip balms I decided that I needed to place an order.

I immediately dialed the "Avon Lady" to order every flavor of lip balm they made.  When she asked for my payment info I dropped the phone, ran to the kitchen and asked my mom to "see her credit card."  ALU Mom is way too trusting because she just handed it over without hesitation.  She probably assumed I was playing some game.

Unfortunately for me, the Avon rep called back a few minutes later to verify my order with my mom who didn't seem all that surprised that I had took it upon myself to make my first Avon purchase.  In the end I was allowed to choose one lip balm flavor, Root Beer, but it was the launchpad for my obsession with beauty.

It's been a long time since I place an order with Avon.  Not since they launched those holographic polishes a few years back.  They applied so funky that it turned me off the brand but when I heard they had a couple new greens launching for summer I had to check them out.  I mean, how can I pass up a green?  I'm happy to report that they did not disappoint.  See for yourself!

Formula and Application: I wasn't really expecting much from these polishes, preconceived notions and all, but they really impressed me.  The formula is thin and flows well,  the pigmentation is spot on and it applies nice and even.  The brush is a little long but very flexible which makes it easy to fan out for a nice thin application.  Seriously, what more could you ask for?  The polish is free of the Big 3 and Formaldehyde Resin though it does contain Camphor which can be an irritant for some.
Jade is more creme de menthe than jade green.  It's a mint that doesn't have any blue leaning tendencies and isn't a giant streakfest (bonus!).  It's a really gorgeous color that is a little darker than most of its mint green predecessors.  While the application was wonderful I would have enjoyed a bit more pigment.  I ended up applying three coats though others may get away with two.
The only thing that bothers me is the name.  I mean, who hasn't heard of Chanel Jade at this point?  Giving this color the same name just seems copycat-ish and Avon can do better.  Even though OPI made a Creme De Menthe many moons ago, I would have liked that name for this polish much better than Jade.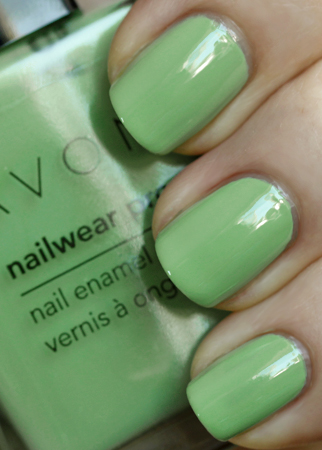 In looking for a color twin I came up short but I did find a decent comparison for you.  If you were unable to get your hands on OPI Damone Roberts 1968, Avon Jade would be an excellent, though slightly deeper, substitute.  In person, the differences aren't as drastic.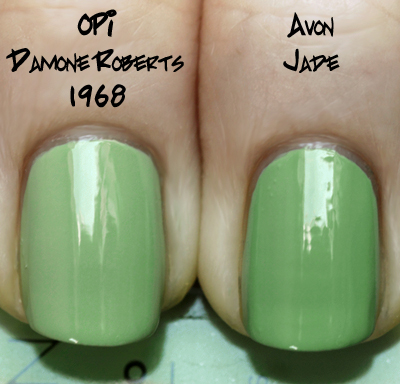 Olive Green threw me for a loop.  Based on the name I was expecting a more yellow based green but I was pleasantly surprised to find this dusty, forest-y polish inside the Avon box.  I suppose I think of olive as relating to a typical Spanish Manzanillo but I've seen much darker varieties similar to this shade at my local grocery store olive bar.  The color actually dries a bit darker than this photo shows but it was REALLY hard to capture the true color.  It's really rich.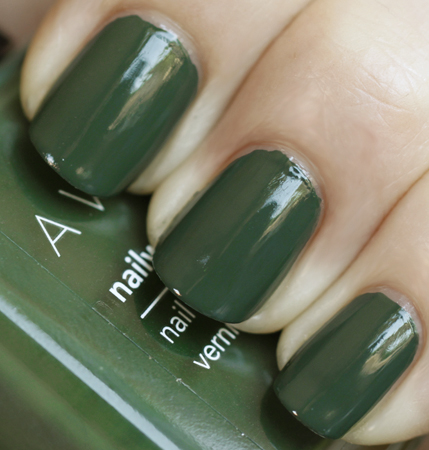 Now even though the lighting makes these two look a bit different on camera, as my pal Steph from Steph's Closet originally pointed out, Olive Green is a dead on dupe for RBL Orbis Non Sufficit.  Talk about an amazing low cost discovery, especially since you know I don't give out the "dead on dupe" distinction easily.  Seriously, as much as I love the RBL formula, if the price has scared you away from owning ONS you must get yourself to Avon.com.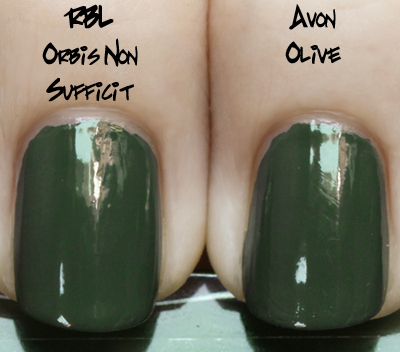 Avon Nailwear Pro Nail Enamels retail for $5/ea and can be purchased online from Avon.com or your local Avon eRepresentative.
Who else is loving these colors?  What do you think of the Avon formula?  What are your favorite colors from the line?
Disclosure: Product samples were provided by representatives for Avon.  For more info view my Disclosure Policy.