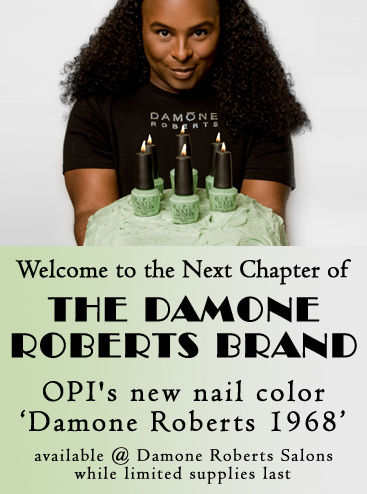 Going through my comments from the weekend, I see that a LOT of you non-US Fanatics are in love with the extremely limited edition nail polish OPI Damone Roberts 1968 and are desperate to get your hands on a bottle.  Well I'm here to help fulfill that dream.  I ordered FIVE bottles of the mint green dream to give away to my international readers.
That's right, this giveaway is for NON-US READERS ONLY!!  Anyone in the US with a phone and credit card can get their hands on a bottle so I'm doing this just for you girls outside the States.
Entering is simple, just leave a comment on this post and make sure you include your email address.  One comment per person.
However, if you want an extra chance to win, TWEET about this giveaway including a link to this post and my Twitter handle @AllLacqueredUp. Come back here and leave a comment with a link to your TWEET for an additional entry. (**Click on the time stamp below your tweet for a direct link)
You have from now until Sunday May 9, 2010 at Midnight EST to enter.  I will choose the winners at random on Monday, May 10th and notify you via email.  You will be disqualified IF you do not have a non-US address and another winner will be chosen!
For a look at what you could win CLICK HERE for my swatches! Good Luck!!