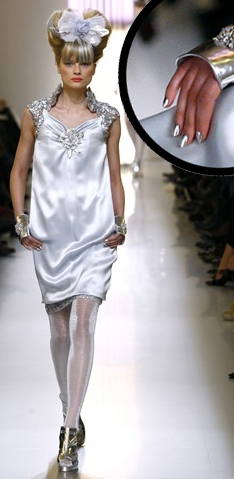 Well this certainly is a surprise.  I always check out the Chanel runway shows with the hopes of catching a glimpse of their next big nail color.  Don't get me wrong, I love to gawk at the clothes as well but I beeline for the up close shots of the nails.

Today's Spring/Summer Couture runway was no different.  And what do I see?  Silver chrome, mirror-finish manicures to compliment the heavy metallic accessories, shoes and garment details.  I love the look but it seems so NOT Chanel to use products other than their own. So what does this mean?

A. Chanel has given into the Minx trend and gone foil on us.

B. They had extra bottles of Kaleidoscope on hand for the show (Remember, lighting changes how polish looks so it could be Kaleidoscope).

C. We'll be seeing a new super metallic silver from Chanel Le Vernis come Fall.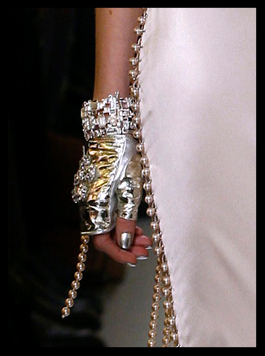 What do you think? Nail polish or foil? In your Chanel metallic dream world would you rather see Kaleidoscope come back or a brand new foil-like Chanel silver polish?
image credit: Vogue UK