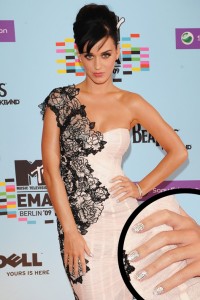 It would be safe to say that I'm

involved

with Twitter. I love seeing what all my blogging friends are up to, interacting with fellow Fanatics and, being pop culture obsessed, keeping tabs on my fave celebs, especially ones with a passion for polish.

Katy Perry is a perfect example since she posts shots of her nails on the regular. Remember her groovy flower power Minx manicure I wrote about last July? Well she has topped herself this time Fanatics. Last week, Katy showed off the blingtastic look that she wore as host of the MTV EMAs in Berlin.

With that amount of sparkle going on, her nails should come with a warning to wear shades before viewing. We're talking full-on glitz. Being the nosy nelly that I am, I had to get the deets on this look and thankfully Celebrity Manicurist Kimmie Kyees was available to answer all my questions.

Get the scoop and see my modified version of Katy's nails after the jump!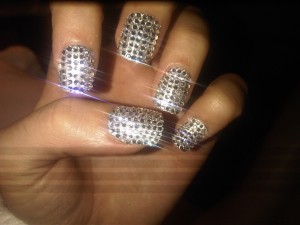 Check out that sparkle! I told you it was blinding. Just imagine what it looked like in person. I'm sure she got plenty of compliments that night.Kimmie created the look using a base coat of

CND Silver Chrome

nail polish. She then attached

Swarovski

crystals using gem glue and a toothpick. There are

76 crystals

on the thumb alone!! To make sure she didn't inhibit the effect, she did not add any form of top coat.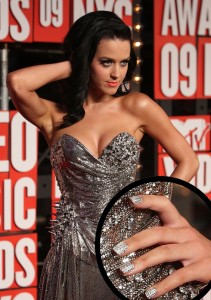 Observant Fanatics will know this isn't the first time Katy has rocked this look. She donned the bling for the

VMAs

in

September

. Katy flipped for a demo set Kimmie had on display so she recreated it using Swarovski's from RhinestoneShop.com. As Kimmie says, "It takes some patience because its one nail at a time…but its so worth it." Agreed!Now I don't know about you but I don't generally have thousands of Swarovski crystals on hand but there are times when a blinged out mani sounds fun, say NYE. What's a girl with a need for glam and no stockpile of nail gems to do? Do what I did and add a top coat that looks like crushed diamonds. Check it!
I started with a layer of CND Silver Chrome. It's so pigmented that I only needed one coat. Plus, with brushed metallics I find that the fewer coats, the better. You end up with less stroke marks.
Sunlight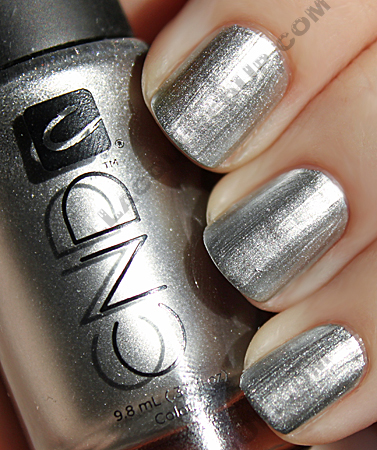 For the top coat, I tried a few including all the CND Effects, China Glaze Wireless Holographic Top Coat and Nubar Tiara (from the Gems collection). What worked best for me is the now discontinued CND Disco Ball. The glitter reflects color like a crystal would though one coat (below) just wasn't enough.
Adding a second layer of Disco Ball definitely made a difference and gave the look I was going for. Is it as special as Katy's nails? No, but it's easier and more user friendly.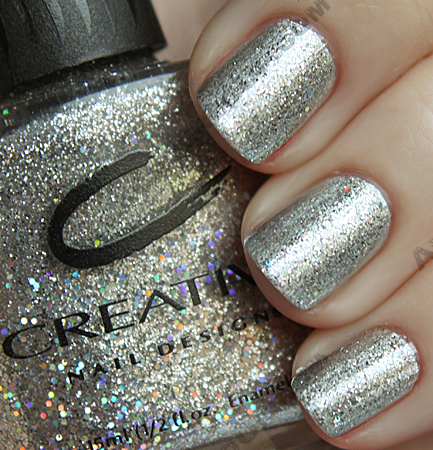 CND Silver Chrome is available now at salons nationwide and online at our fave e-tailers. Unfortunately CND Disco Ball is discontinued but I did find one bottle online at GoIndulge.com for $2. Race for it Fanatics!
Now I'm sure there are other glitter top coats that give a similar effect as Disco Ball, it's just what I happened to have on hand. What top coat would you suggest to get this look? What do you think of Katy's nails? Would you have the patience to attach all those crystals?
images: Katy Perry (via Twitter) and Celebutopia