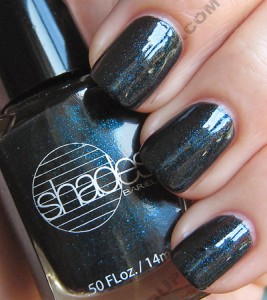 Even though I get excited when fall comes and I break out my favorite deep, dark polishes, there's always one caveat to wearing them… staining. Whether it's during application or removal we've all experienced the irritation of polish stains on the skin. If you've ever worn a deep blue, you KNOW what I'm talking about.

OPI DS Fantasy

, I'm looking at you! Smurf hands aren't cute except maybe on Halloween and even then blue skin isn't exactly the hotness.

So one of my missions while backstage during New York Fashion Week was to get some tips from the pros working behind the scenes. I've combined their best advice with a couple of my own ideas and a quick tutorial video to help you wear your vampies with ease.

Application
Avoid polishes containing toluene. Even pale/sheer polishes will stain nails yellow if they contain toluene. – Elle, Celebrity Manicurist
When applying base coat allow it to touch the cuticle. Apply polish just inside the cuticle line and should it touch the skin, the base coat will prevent staining. - CND's Angi Wingle
Remove polish mistakes by applying a bit of top coat to each spot. The top coat will help loosen the polish so you can easily remove it with an orange stick. - Elle, Celebrity Manicurist
Removal
Apply CND Solar Oil on, around and under the nail prior to removal. If there are chunky looking bits of polish post-removal, it's probably dead cuticle stuck on the nail. Use CND Cuticle Eraser and a cuticle pusher to free it. - CND's Angi Wingle
Move your removal pad in one direction pulling from the cuticle to the tip. Do not go back and forth or push back down towards the cuticle. This causes chunks of polish to get stuck under the nail in addition to staining the skin. - All Lacquered Up
Apply a layer of polish/top coat (not quick drying) over old polish to soften/liquefy, making a one swipe removal easier. - All Lacquered Up
One thing all the manicurists I spoke with agreed on is saturating the cotton and not reusing the same piece. Elle, Angi, Sheril Bailey and Deborah Lippmann all stressed this point. For that reason I suggest buying rolled cotton (as demonstrated in the video below) so you can tear off a nail sized piece rather than waste an entire cotton ball/pad on each finger.
I saw Deb backstage at the Julie Haus show during NYFW and as you'll see below, when asked for her polish removal tip she did a quick tutorial for me to share with all of you.

What you might not have heard as she turns from the camera, is that she saturates a second piece of cotton to remove the piece she left soaking on the nail.
You can see more of Deb's manicure tips and tricks in the video on her site, DeborahLippmann.com.
My thanks to Elle, Angi Wingle, Sheril Bailey and Deborah Lippmann for imparting their wisdom on us.
Do you have a great tip to avoid polish stains? Or stain removal advice for when all else fails? Let's hear what works best for you.