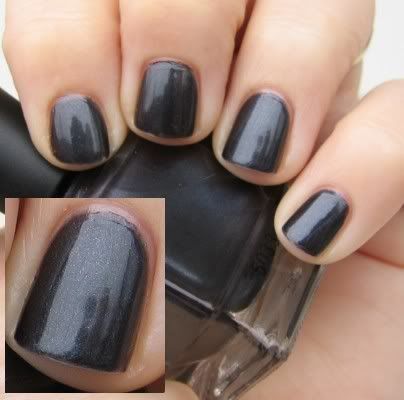 Welcome to your Nail Tip Of The Week. A new feature I'll be bringing to you each week. Just a collection of my nail observations, tips and tricks that I hope you all will find useful.
Since dark and vampy polish shades are back in this fall, I thought this was a good place to start.
First of all, before you pull out your fall shades file down your nails. In my opinion, longer lengths look great wearing sheers, neutrals, even brights. They make your hands look elegant. However, with a dark shade like Lippmann Hit Me With Your Best Shot (pictured), anything longer than a few millimeters past your fingertip and you're entering Elvira territory. Great for Halloween, not so much for everyday wear.


When removing dark colors, it is so easy to end up staining the surrounding skin or ending up with polish stuck under your nails. Which leads to even more staining. My tip:
Let your remover soaked pad sit on the polish for a few seconds.
Gently rock the pad side to side to completely saturate the polish.
Pull the pad in one smooth motion toward your nail edge and DON'T push back.
Use a clean piece of cotton or cloth to remove any remains.
photo: All Lacquered Up and Elvira.com by Lynn Goldsmith