If you had to pick your favorite polishes how hard would it be? What would your process be? What makes a color "Top 20″ worthy? It's certainly not easy for me. I go through my entire stash and pull the colors I love and slowly dwindle them down. I try to keep my choices diverse; covering most shades and finishes. I want my Top 20 to represent the colors that would get me through any event or season if for some horrifying reason I had to give up the rest of my collection.
What makes a color great enough to be in my Top 20? Well, it has to meet 3 criteria.
Does wearing it bring me joy? A color that you can't stop staring at. That makes me feel prettier/cooler/sexier.
Is it flattering to my skin tone?
Is it a unique color? Does it have an interesting finish, shimmer or pigmentation?
On the Makeup Alley Nail Board, we choose our Top 20 polishes in an attempt to find a "hand twin." Someone with the same taste in nail polish. It's mainly for fun but we also hope that by finding a twin, we'll discover new polishes and avoid duds according to their likes & dislikes.
This is my 2nd Top 20 and it has remained relatively the same with the exception of a few recent releases.
(l to r): China Glaze Grape Crush, Masai Red, Moonpool, Ruby Pumps, Stroke of Midnight and Up All Night

(l to r): Lippmann Collection Bitches Brew, Misa Chocolate Icing, OPI Designer Series Divine & Glamour.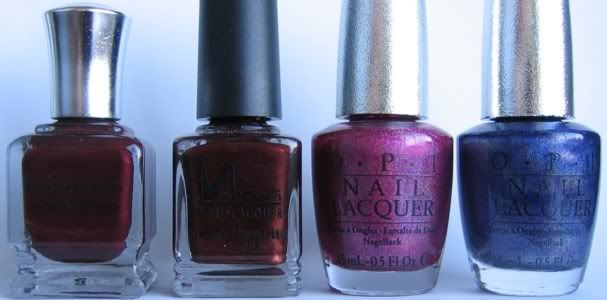 (l to r): OPI Espresso Your Style, Lincoln Park At Midnight, Jasper Jade, Rainforest, Rosey Posey and That's an "EL" of a Color

(l to r): Zoya Anastasia, Divincia, Raven & Yasmeen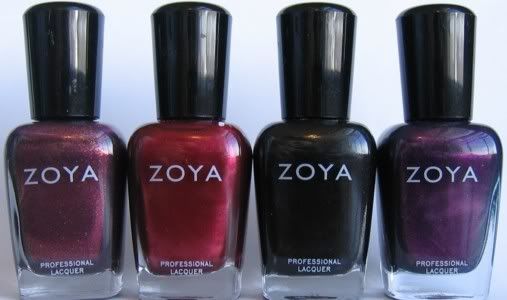 Ok I showed you mine, now show me yours. What are your favorites? How did you pick them? Are you my hand twin?