Glitter
This Spring, FingerPaints is getting buggy with it, introducing Wild About Spring, a set of six polishes with an insect and critter theme.
Normally this would give an "indoor kid" like me the heebie jeebies but I can't get mad at the adorable bejeweled rings that come with each bottle. It's the only way a bee or beetle would EVER come in contact with my skin on purpose.
Continue Reading »
Get your passports ready for we're off on a European adventure. No, not with the Griswolds, though I would totally tag along with Clark, Ellen, Rusty and Audrey. Instead, OPI is whisking us away to far off places with the OPI Euro Centrale collection for Spring 2013.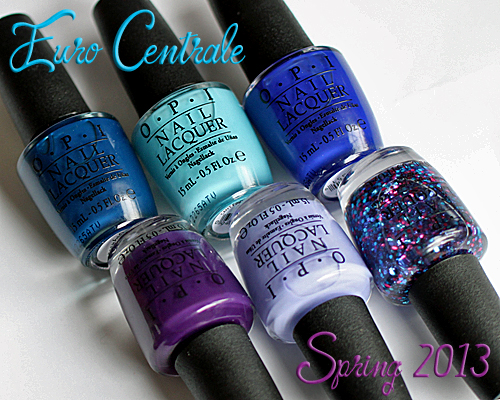 OPI has a long tradition of selecting countries or regions for their semi-annual seasonal collections (Australia, Chicago, South America) and although they've done Europe before (2002) this time they are focusing on countries in the middle of the continent; Czech Republic, Hungary, Poland. I've broken down this collection of twelve shades into two parts and knowing the love I have for blue and purple nail polish, a close second to my undying devotion to green, reviewing these colors first is just a given.
Continue Reading »
Growing up, there were two absolute truths about the Mismas kitchen. There was always a bag of popcorn kernels in the pantry (Dad and I have a lifelong obsession with the stuff) and there was always ice cream in the freezer. It's a truth that holds up to this day in my home, and it's usually a chip flavor from Graeter's. They make THE BEST chip ice creams in the world, trust!
So you can only imagine the squee moment I had over the Deborah Lippmann, ice cream-themed, Staccato nail polish collection.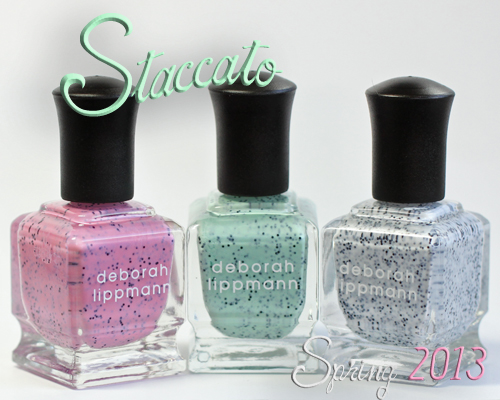 She created the nail polish equivalent of Strawberry Chip (I'm Not Edible), Mint Chocolate Chip (Rockin' Robin) and Cookies n Creme (Polka Dots & Moonbeams) ice cream! Combining soft pastels with shiny black glitter, Stacatto is a rocker take on pastel. Check them out!
Continue Reading »