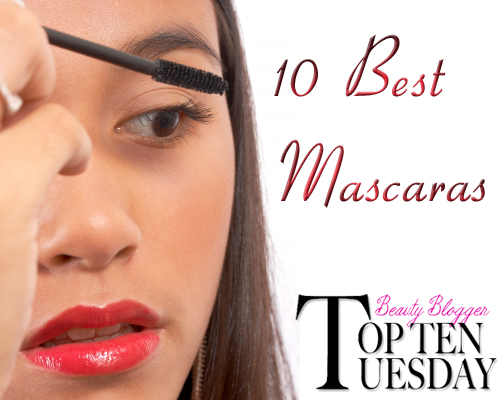 When it comes to mascara, I am super picky. You see, my lashes are STRAIGHT! Like straighter than straight. And they're short, and not very full. So a mascara really has to bring it in order for me to love it.
That's why I was thrilled when my Top Ten Tuesday group selected mascaras as the subject of these week's post. If you are plagued by straight, short lashes, I have ten great mascara finds for you!


So as I mentioned, I'm looking for a lot when it comes to mascara. Length, definition, volume and the ability to hold a curl. I live and breathe for my MAC Eyelash Curler so whatever mascara I use has to keep the curl. For day, I like a natural, defined lash and for night I like to bring the drama so my mascara faves fall into those two categories. Let's break it down!
Daytime Mascaras
1. Clinique Naturally Glossy ($16) – I've been using Naturally Glossy for as long as I can remember. It's the perfect product for day as it makes my lashes look like they are naturally well defined and long. I'm currently out of it, which explains the use of a stock photo in the image above.
3. Estee Lauder TurboLash ($34.20) – I know the whole vibrating mascara thing seemed like a fad but this is one holds up. Wiggling a brush back and forth at my lash line usually results in black dots of mascara on my lid. Thanks to TurboLash, I get definition with no mess. I LOVE, LOVE, LOVE it! So much, I have three tubes right now thanks to the CCO. To see the effect it has on my lashes CLICK HERE.
4. Dior DiorShow Iconic ($28.50)- The regular DiorShow gets all the accolades but Iconic is where it's at for me. I like the thinner, more defined brush. It gets rid of clumps and separates my lashes so so well and holds a curl with no flaking. Worth the investment!
5. COVERGIRL LashBlast Volume ($6.23)- I've tried all the LashBlast variations and the original is still my fave. I love the way the rubberized brush makes every single puny hair on my lash line stand out.
7. Lancome Definicils ($27.50)- Like the other daytime mascaras I've listed, this one has that same style of brush that works so well with my lashes. It doesn't deposit too much mascara, so I can avoid Tammy Faye Baker syndrome, and it holds a curl beautifully all day long.
8. L'Oreal Paris Telescopic ($9.99) – To me, this is the more affordable twin to Definicils. And since they have the same parent company, that should come as no surprise. I do think Definicils holds a curl better but for the budget conscious, this is an excellent choice.
9. Givenchy Phenomen'Eyes ($30) – That weird little ball at the tip that looks like a mace straight out of Medieval Times, is actually pretty genius. It too came out during the mascara fad times of TurboLash and it's still around because it works. This is the only mascara that really hits my outer corners without making them over-saturated with product.
Nighttime Mascaras
2. Smashbox Lash DNA – That wacky brush is really something. It brings the fullness and drama without leaving any clumps behind. (Edited to add – Didn't realize this has been discontinued. Cue the sad pandas!)
6. Revlon Lash Potion ($7.99) – It has a big fluffy brush but the stiffness of the bristles make sure my lashes are separated but still voluminous. And this is going to sound odd but I like the scent. There are some brands (MAC), that are so strongly scented, I can actually smell my lashes, in a bad way. Lash Potion is the exact opposite of that.
10. Maybelline Volum' Express The Falsies Flared ($6.99) – This is probably my number one go-to when it comes to evening makeup. There's something about that bushy, curved brush that really does make it look like I'm wearing lash inserts. Not a full strip, mind you but it really brings the volume like no other I've tried.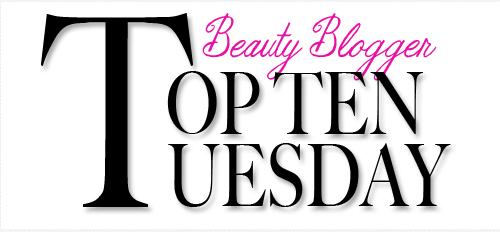 So what are your mascara needs? Are any of my Top Ten in your mascara wardrobe? What is your go-to mascara for day and night?
Disclosure: Product samples were originally provided by reps for COVERGIRL, Dior, Estee Lauder, Givenchy, Lancome, L'Oreal, Maybelline and Revlon but I have purchased the current ones pictured. Affiliate links appear in this post. When you purchase through an affiliate link, you help support this site. For more info view my
Disclosure Policy
.
Image courtesy of Stuart Miles /
FreeDigitalPhotos.net