When I think of Carrie Underwood, I always picture her in gold dress. Probably because she wears gold so well on a red carpet. Which is why I was thrilled to hear that in her new partnership with Nicole by OPI, there will be a signature gold nail polish shade created specifically for the country diva.
Nicole by OPI Announces Partnership with Six-Time Grammy Winner Carrie Underwood for 2014
Nicole by OPI announces 14 new nail lacquers inspired by award-winning superstar Carrie Underwood. Available in January, this collection features a colorful mosaic of hues ranging from soft pastels to dark sultry shades to playful glitters. Additionally, the line will include a signature gold textured shade called Carrie'd Away, created exclusively for Carrie.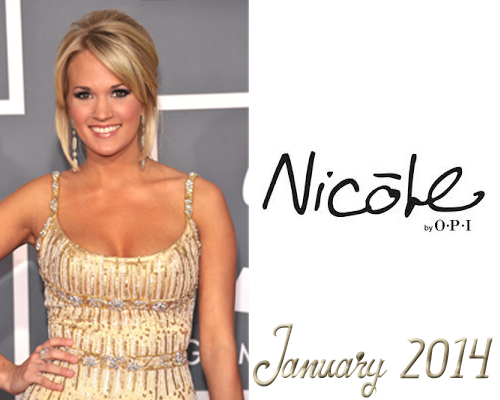 "This is the first time Nicole by OPI has ever designed a signature shade for one of our celebrity partners! We are excited to share this news with both music and nail fans – isn't that everyone?" explains Suzi Weiss-Fischmann, Nicole by OPI Executive VP & Artistic Director.
"In working closely with Carrie, we came up with 14 nail lacquers that truly encapsulate her soulful spirit and showcase different facets of her personality," adds Weiss-Fischmann. "With shades as American as Apple Pie, you'll get Carrie'd Away by her Southern Charm!"
I have to say, I'm pleased to see Nicole by OPI partnering with someone who is such a great role model for their younger demographic and I can't wait to see what Carrie'd Away will look like. Even though I'm not a country music fan by any stretch of the imagination, I've always enjoyed Carrie's catchier, pop tunes and loved her on American Idol, back when I still watched it religiously.
What do you hope this partnership will bring? Are you happy to hear that NOPI is working with Carrie Underwood?
image source: Celebutopia.net