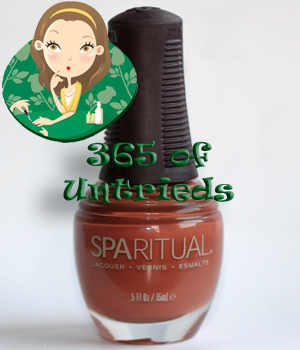 365 of Untrieds is my personal challenge to weed through the polishes in the ALU stash that I've been wanting to try but just haven't gotten around to.
Untried Day #120 – We had a visitor in our back yard and she inspired today's manicure. The boyfriend spotted a fawn grazing around the tree in the back corner of our property and when he went out on the deck, he was amazed how unfazed she was by his presence.
It's not like deer are that uncommon or anything but we are in a pretty urban area not far from downtown. Our neighborhood doesn't exactly provide lots of wooded places for deer to hide.
The fawn must be pretty adjusted to city life though because she napped under our tree for the entire day and night and her mom took up residence in our neighbor's yard. I wanted to go out to try and pet her but I kept reminding myself that I don't live in a Disney cartoon where humans and wild animals are friends.
I dedicate today's manicure to my little deer friend using Sparitual Inner Sanctum, the best shade I could find to match her gorgeous coat.

Formula & Application: Sparitual nail polish is 4-Free (including formaldehyde resin), vegan and excludes camphor which can be an irritant. Their round bottles are capped with a tapered rubberized cap that includes four ribbed sides for a secure grip. I'm a big fan of rubber caps for ease of polishing and the ability to get a good grip when opening  tightly capped bottles.
The Sparitual brush is relatively short and very thin but wow do I love it. The bristles are so nice and flexible and they spread out over the nail so perfectly. It's such a pleasure to work.
The formula of this polish is kind of thin, watery and squishy but really pigmented. All I need is two coats for full coverage and it flows on the nail flawlessly, drying with a mirror-like finish. I have to give it up to SpaRitual, the consistency and color payoff of their polishes are really high quality.

Sparitual Inner Sanctum is a warm tan creme. It can look a bit more rosy under cool indoor lighting but direct light brings out its warmth. Compared to something like Color Club Best Dressed List it looks a lot darker with a ruddy undertone. I added polka dots using China Glaze White Out to mimic the racing stripe-esque spots running down my deer buddy's back.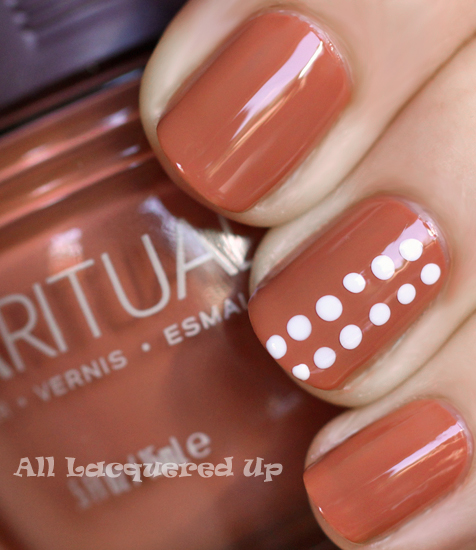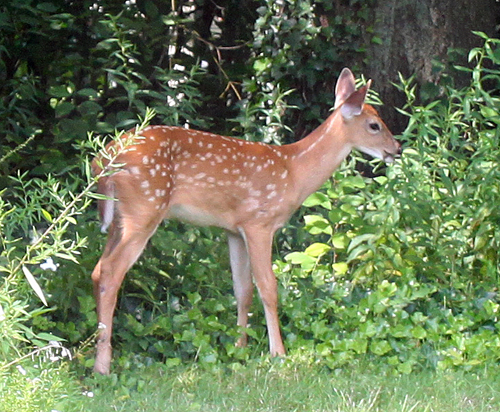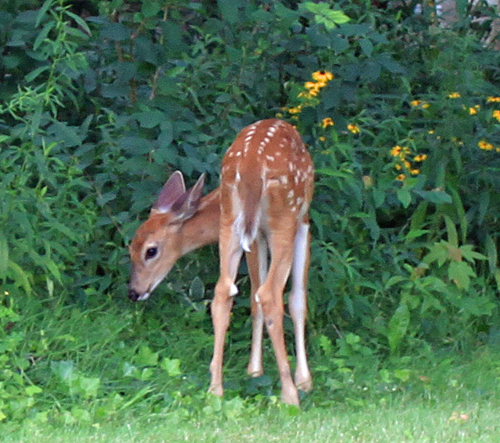 Bottom Line: Inner Sanctum is a great work-friendly neutral that feels very fall. The formula and pigmentation is spot on so it won't disappoint in terms of application. This isn't a color family that I gravitate towards to but it was perfect for my purposes.
365 of Untrieds Stash/Share Verdict: I don't see myself needing a deer fur tan again anytime soon so I'll SHARE it.
Sparitual Inner Sanctum is available at salons and spas nationwide but their distribution seems to be pretty limited. The closest salon to me is in Detroit. To locate a retailer near you visit Sparitual.com. Online shoppers can head to Amazon,  Apothica,  CosmeticMall and SkinStore to purchase. Sparitual nail polishes retail for $10/ea for a .5oz bottle.
Thoughts on Inner Sanctum? Do you have a favorite work-friendly neutral? Have you created a nature inspired manicure before? What was your inspiration and what colors did you use to recreate it?
Disclosure: A product samples was provided by reps for Sparitual. For more info view my Disclosure Policy.