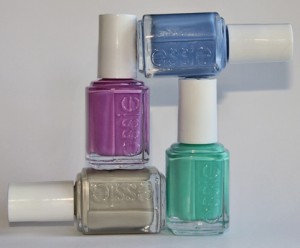 Last summer's North Fork Collection from Essie was such a stellar sellout success that it's no wonder she's releasing the tropical themed Resort Collection that includes a new green and blue for us to drool over.

I have to say, Essie's colors are starting to win my heart again.  She's introducing more "me" shades and I LOVE it.  Granted the Art of Spring wasn't my style but she has a pretty large fan base to please.

I mean I get that she's known for stunning reds, sheers and neutrals but I'm just not that kind of girl.  I guess in NYC speak my nail flavor is more "downtown" than "uptown"  so when Essie creates colors like Turquoise & Caicos and Lapis of Luxury, I'm ALL IN!   Check them out after the jump!

Formula & Application: The consistency and texture of these polishes are very similar to the cremes from the North Fork Collection. They have the squishy jelly-ish quality when applying and they level out very well. Seriously, on one nail I had too much polish and I thought I created a polish ridge but it dried perfectly flat and glossy.
My only issue, and it's kind of major, is with the pigmentation. These apply pretty sheer so I would highly suggest a ridge filling base coat to avoid VNL. With Turquoise & Caicos I used 4 thin coats and at certain angles you could still see my tips.  With the rest of the polishes I was a bit heavier handed with the layers and I got away with three coats.
Turquoise & Caicos is a beautiful true turquoise creme.  It screams tropics and actually the whole collection reminds me of the St. Maarten sign that greets cruise passengers at the port.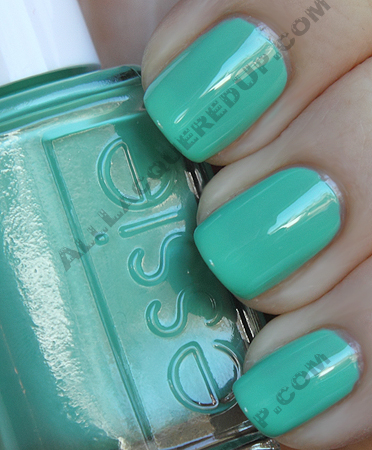 I went on the hunt for T&C's twin and failed.  I have a literal smorgasbord of blues, greens and everything in between and couldn't find a true dupe.  T&C falls somewhere between Essie Greenport and Barry M Mint Green.  Surprisingly they all have the same texture and finish.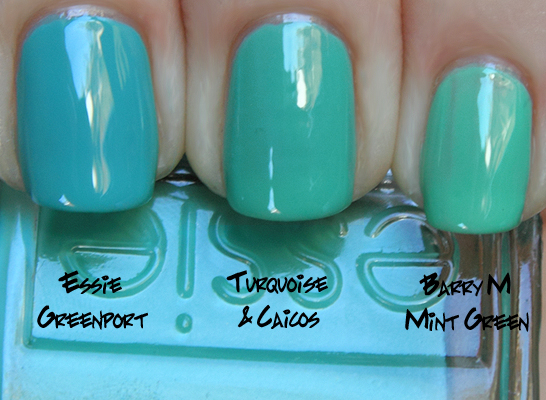 Lapis of Luxury is a rich cornflower blue creme.  It's got that sky before a storm quality only brighter.  I have a sweater this color that is beat down and covered in pills but I keep shaving them off because I love the color so much and haven't found anything to replace it.  Similarly, I haven't come across a polish this color before either.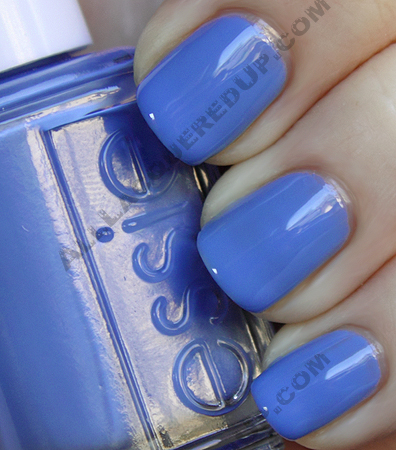 Looking at Lapis in the bottle I felt confident that I had a match in my stash.  Not so much!  China Glaze Secret Peri-Winkle is a deeper more purple version and Maybelline's Pie In The Sky is touch lighter and definitely more sky blue than pre-storm sky blue.  Plus, the Maybelline was a nightmare to apply so even if it was a dupe I'd go with the Essie.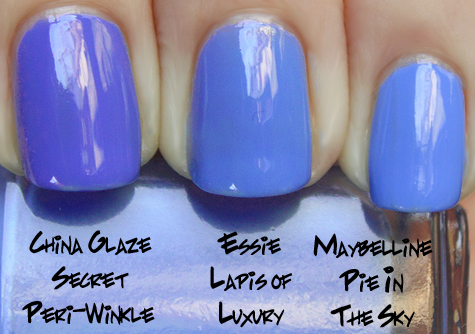 Playa Del Platinum isn't a grey to my eye as much as it is a greige, like greyed sand which is something you'd find on the shores of Lake Erie.  There's no white sands to be found here people.  It definitely fills the neutral void in the collection and while I didn't find it flattering against my skin I can see this being a very work friendly way to work those greige tones into your wardrobe.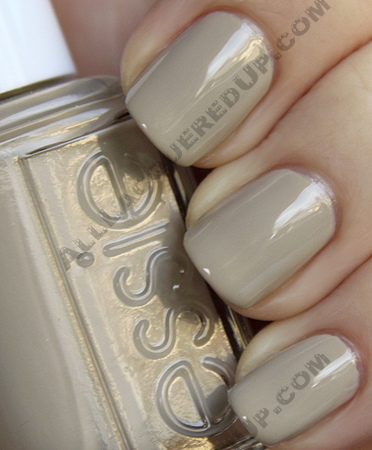 Playa Del Platinum has no close relatives in my collection though it found some twice removed cousins in Essie Body Language and Deborah Lippmann Waking Up In Vegas.  Playa is more tan and greyed than Body Language but not quite as browned or dark as Waking Up In Vegas.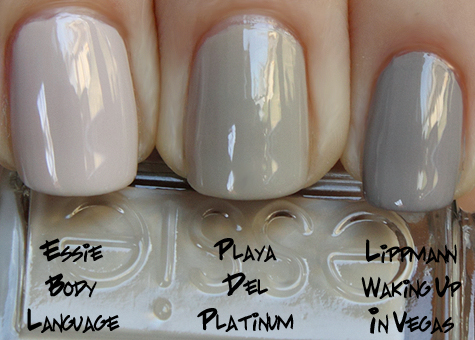 Spalsh of Grenadine looks more fuchsia than the magenta it was described as in the preview.  It's a vivid purple toned pink creme.  This type of color isn't really my deal so they don't tend to take up residence in my permanent collection and since I recently cleaned house, I have nothing to compare this with.  Think of it as a lighter, pinker version of SOPI Don't Go There.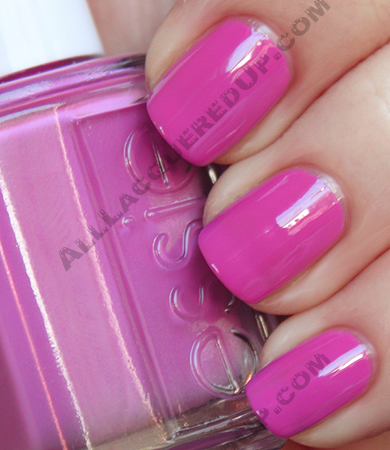 Bottom line: Turquoise & Caicos and Lapis of Luxury scream ALU must-haves.  They're totally unique and very me.  Playa Del Platinum and Splash of Grenadine get a pass from me because while I'm willing to deal with the sheerness for an amazing blue or green I'm not willing to put in the time on colors I won't regularly wear.
The Essie 2010 Resort Collection launches in May 2010 on essie.com and in salons nationwide.
Are you loving the Resort polishes?  Which one is your fave?  Are you planning to pick up any of these when they hit shelves next month?
Disclosure: A product sample was furnished by Essie.  For more information read my Disclosure Policy.