To celebrate Earth Day, Zoya has brought back their Nail Polish Exchange program. It's a way for you to properly dispose of your old nail polish in exchange for some new Zoya 3-Free shades.  So if you have bottles of old crusty polish laying around that you just can't salvage, even with a bottle of thinner, or if you're looking to update your nail wardrobe, send your polishes to Zoya and let them handle the disposal.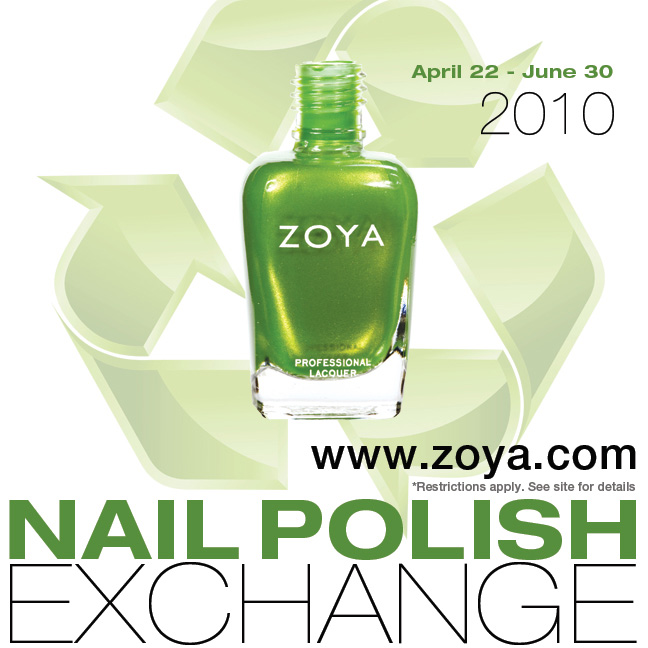 Do you have old bottles of nail polish , used or unused, laying around, collecting dust and tying up your valuable money? If you do, and we know you do, then this is the perfect program for you.
For a limited time, kicking off in April, in time for Earth Day 2010, Zoya will replace your old nail polish (any brand other than Zoya, Qtica or Nocti) with any brand new Zoya Nail Polish shade and properly dispose of your old polish according EPA guidelines. Choose from over 300 ready-to-wear, formaldehyde, toluene, camphor and dibutyl phthalate free, award winning colors (Zoya Nail Polish was awarded the longest wearing nail polish in Women's Helath magazine)! Yep, an offer that's as good for the planet as it is for your beauty budget – Wow!
There is a minimum of 6 bottles and no maximum (exchange as many bottles as you want as often as you would like)
All you have to do is complete the form on the Zoya website, choose your colors, ship them your old polish and pay a $3.50/bottle fee for shipping and processing. So you're paying half price for brand new Zoyas and clearing out your stash in an eco-friendly way.  What a deal!
You have from now until June 30, 2010 to take advantage of this offer.  What colors are you planning to get?