Trends
So the past few of days have been a bit nerve-wracking. I spilled water on my laptop and have been in full freak-out mode, hoping it would turn on. Obviously it did, thanks to advice from the Twitterverse, and I have some fun news to share.
My local Nordstrom at Beachwood Place, is hosting a Pretty Party next weekend and they've asked me to be a part of their "Wake Up Pretty" trend event next Saturday, October 19th! I'll be presenting, along with speakers covering makeup and skin care, talking about nail color trends for Fall and Holiday 2013. So exciting!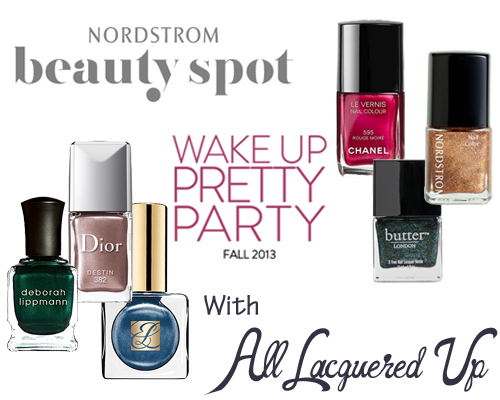 If you're free next Saturday and would like to attend, there are 40 tickets left (out of 200). The event begins at 8:30 am (early, I know!) and your $20 ticket is redeemable for $20 worth of product PLUS you get an iPad case, a signature tote bag filled with a bundle of cosmetics and light refreshments will be served. If that's not a reason to get up early on a Saturday, I don't know what is.
After the event, manicurists will be on hand to apply any nail color purchases you make.
To purchase a ticket, stop by the Nordstrom Beachwood Place Beauty Department or call 216-378-2121.
If you can't make it to the Wake Up Pretty event, the Pretty Party takes place all day on Friday (10/18) and Saturday (10/19). Beauty insiders and experts will be sharing the latest beauty tips and tricks while they pamper you with a complimentary makeup or skincare consultation. Get access to free customized samples and exclusive gifts with purchase (while supply lasts).
So come see me to hear about all the new colors and products for the season and meet other beauty aficionados, like yourself.