Winter 2011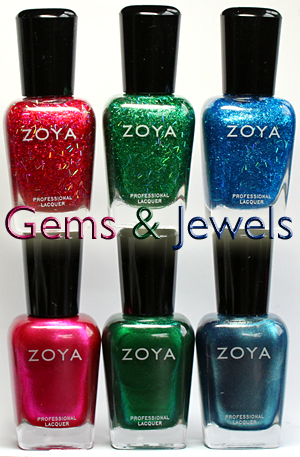 Zoya Holiday/Winter 2011 Gems & Jewels Collection – Jewelry for Nails!
Zoya Nail Polish presents 3 new jewel toned metallic shimmer polishes and 3 glitzy, glitter glazes (featuring unique bar glitter) for an extra special holiday and winter 2011 season!
I know it's barely September and it seems too early to be talking Holiday but when I saw these beauties at Cosmoprof North America I just KNEW you would adore them as much as I do. Zoya is upping the ante in terms of glitter and glam this season by introducing three bold jewel tone polishes with three coordinating glitters that contain fun, fringe-like particles.
Thanks to my friends at Zoya we have an early look at the collection and later today you will have a chance to win a full set Gems & Jewels.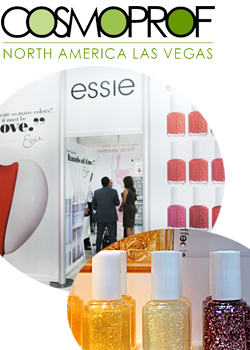 I recently attended the Cosmoprof North America business to business beauty trade show in Las Vegas and, as always, it was completely overwhelming, in a good way. Imagine an enormous convention center filled with rows upon rows of beauty brands, manufacturers, packaging companies, etc. debuting their latest products and innovations. I didn't know which way to go first.
In years past I haven't made it to the Essie booth. In part because they make it look so secretive with the surrounding walls. This year however, I met the adorable and charming Dominic and Melissa who took me on a tour of the upcoming Winter & Holiday 2011 collections. Sadly, Essie was not at the show this year but I'm sure I'll run into her in a few weeks during New York Fashion Week.
Dominic, by the way, told me he reads my blog (so flattering) and when I playfully questioned him, he replied, "I know that you store your nail polish in IKEA Helmers!" How cute is that?!?
Let's check out what Essie is bringing to the nail polish party in the upcoming months including some hints about SPRING!
Continue Reading »