Summer 2010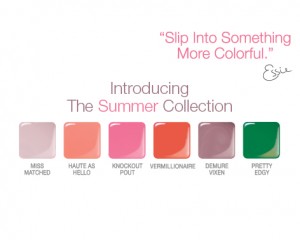 Ever since I first laid my eyes on a pic of Dominica Green on the MUA Nail Board many years ago, I've been dying for Essie to bring us another fabulous green and I know I'm not alone.  Well our wishes have been heard.  The Essie Summer 2010 Collection includes what looks to be a stunning vivid green.

Summer is special. Aside from the wonderful outdoor activities that we wait for all year, we also revel in the opportunity to now wear lighter, brighter and more playful clothing. Finally, we can shed the wool and mohair for cotton and linen. The keyword for summer is: fun! So shed those boring, drab clothes and at last, indulge in seriously sensational color! Don't be shy — make it the time to play with bold, playful color combinations.

Check out full size bottle images and color descriptions after the jump!