Spring 2010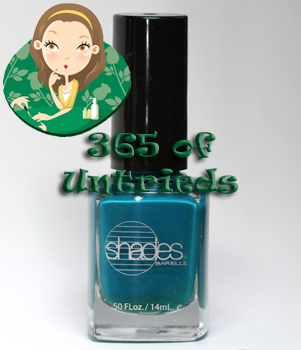 365 of Untrieds is my personal challenge to weed through the polishes in the ALU stash that I've been wanting to try but just haven't gotten around to.
Ah, where to begin. I'm not really one to overshare the details of my life that include other people but I've been kind of a mess the past of couple days. I came home Thursday from Put-In-Bay to find out that my dad went to the emergency room, thinking he had a heart attack.
As an only child with very little extended family, my parents are my whole world and my father is my rock. He may tease me like he's the older brother I never had and he may be more stubborn than me (which is a feat) but he's funny, smart, caring and, most importantly, always there when I need him.
So needless to say, I've pretty much been a crying mess ever since. Even now as I wait to see if he will be released, I'm crying just typing this. While I have every belief that he will be okay, if you could send a positive thought his way, it would mean the world to me.
As you can imagine, talking about polish is about the last thing I care about right now so I'm not even going to apologize for effing up my 365. Some things are just more important than polish.
Needing a little cheering up, I put on Barielle A Bouquet For Ava which came out with the Barielle Wildflower Collection last year and was created to benefit the Ovarian Cancer Research Fund. There's even a group that raises awareness for the disease through nail polish called Teal Toes.