Holiday 2010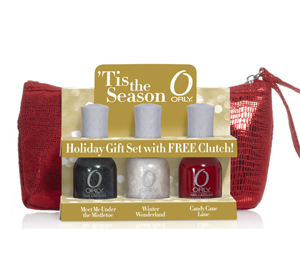 One of the things I always look forward to when the holiday collections come out are the gift sets. Whether it is sets of minis or a selection of colors paired with a fun gift item, I always get suckered in.

If a set includes a bag, a cute stuffed animal, a holiday themed tool, etc. you can pretty much bet I'm all over it. The Orly 'Tis The Season gift set is no exception.

Of the six polishes in the 'Tis The Season collection, Orly paired the traditional red creme, luscious green sparkler and white, icing-esque sheer with a metallic red clutch.