Fall 2013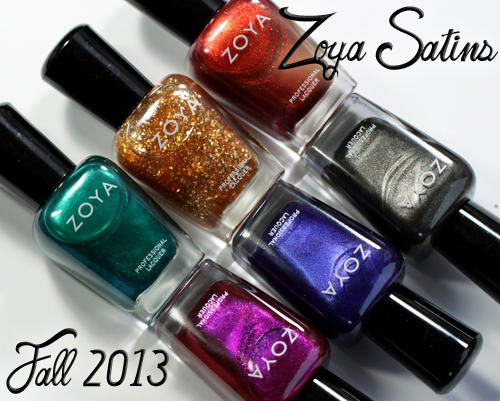 This Fall, Zoya is doing their part in removing the negative connotation I associate with satin. Maybe it's just me but, outside of the benefits of sleeping on a satin pillowcase (it helps maintain a blowout), I always think of satin as being cheesy, like an 80s prom dress. Let's face it, satin is a silk wannabe.
However, one look at the Zoya Satins collection for Fall 2013 and you know this is no shabby knock-off. It's pure, luxurious color!
Continue Reading »
When it comes to nail appliques, few brands can touch Sally Hansen and their Salon Effects Real Nail Polish Strips in terms of ease of application and wear. Being one of a handful of brands to use actual nail polish, the strips are thin and flexible, which means they conform to the nail and leave no ragged edges.
For Fall 2013, the Sally Hansen Salon Effects collection has a strong Asian influence. Everything from delicate florals to koi fish to metallic animal prints make an appearance in this collection, including a peacock-inspired pattern that I need to buy backups of, stat!
Continue Reading »