Fall 2010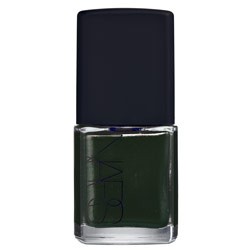 ***Edited to add: The launch has been pushed back to October 2010.
July 15th is coming fast Fanatics. Will you be greeting NARS Zulu with open arms when it makes its triumphant return with the NARS Fall 2010 collection? That's right, in case you haven't heard the rumors, NARS is bringing back that famous dark green jelly.  The one that Sephora put on the cover of their holiday catalog a few years ago, causing a frenzy.
I was fortunate to have a good MUA Nail Board pal gift me a bottle of Zulu for Christmas that year which makes me very curious about Zulu 2.0.  You see, after getting this lusted after color I discovered that the pigmentation is crap and the application is decent at best.  I still covet my bottle none-the-less and plan to get Zulu 2010 for comparison purposes but this re-release raises a few questions…
Continue Reading »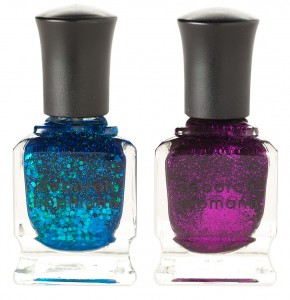 There ain't no party like a glitter party cuz a glitter party don't stop!

Are you ready to kick off the holiday weekend with a blingasm?  I know I am!!  I told you back in February that for the second half of 2010 Deborah Lippmann is hosting a glitter spectacular and it all starts with her Fall 2010 collection.

I've always been a lukewarm Beatles fan.  I own a few albums but I don't live and die for them.  Then the movie musical Across The Universe came out and I was smitten.  Who knew Jim Sturgess could belt it out?

The dreamy, mermaid-esque blue glitter baring the same name is a perfect fit for the trippy, lullaby sounding tune and the whimsical film.  Meanwhile the black-based magenta glitter, Bad Romance, is both hard-edge and feminine much like Lady Gaga.
Coco Chanel's iconic style was a study in contrasts. She boldly mixed black and white, masculine and feminine, classic and modern. Paying tribute to her unique vision, Peter Philips, Global Creative Director of CHANEL Makeup, has created a makeup collection for Fall 2010 that brings bold emphasis to the eyes, and keeps lips soft and delicate.
I am the furthest thing from a style icon but I can still relate to the contrasting theme of Chanel's Fall 2010 makeup collection.  In some ways I am a walking paradox.  A math and science girl like me could never have imagined a career as a blogger.  As a Chemical Engineering major, I dropped out of Freshman English three times.  True story!
Keeping the emphasis on the eyes and nails, Peter Philips has mixed dark and stormy with sweet and feminine and the star of the show for me is Paradoxal, a grey violet shade that the wordsmiths at AOL StyleList have dubbed "griolet."