Crackle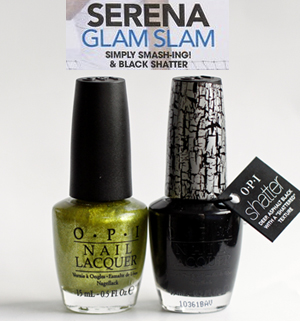 OPI, the world's leading professional nail care company, partners with tennis superstar, Serena Williams, to launch the Glam Slam collection. Timed in conjunction with the Australian Open, French Open, Wimbledon and the US Open, the Glam Slam collection will introduce two new Nail Lacquers at the start of each tournament.
Beginning with the Australian Open, the first shades to be released under the collaboration will include Simply Smashing, a glowing green Nail Lacquer, paired with a revolutionary new product, Black Shatter top coat. Once applied to the dried Nail Lacquer, the top coat begins to disappear, leaving behind a leopard print-style pattern on each nail.
I was in Junior High when Andre Agassi took the tennis world by storm. That hot piece of man candy ignited my love for the game and I soon found myself taking lessons with my friends, who also crushed hard on Andre. I even joined the tennis team in High School though I was a mediocre player, at best.
Regardless of my lack of tennis talent I've enjoyed watching the game ever since and I was really excited to see that Serena Williams, who is known for her stand-out nail styles, collaborated with OPI on a nail polish collection.