Taupe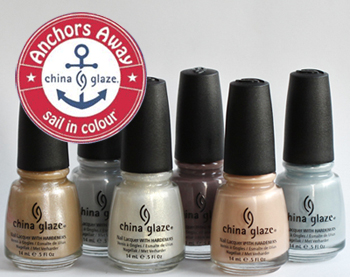 I can't begin to tell you how apropos it is that China Glaze created the nautical themed Anchors Away collection for Spring 2011. You see I grew up sailing. As a child I spent every weekend of my summers on my parents' sailboat cruising the shores of Lake Erie. It was such a huge part of my life that even though I'm not exactly a fan of sailing (it can be boring), being on the water is an essential piece of who I am.

It's always been part of my life plan to have a boat of my own to enjoy everything Lake Erie has to offer. The Lake Erie islands, the Sandusky Bay area, it's all so beautiful and fun. This spring my dream of summering on a boat just may come true. The boyfriend and I are signing up for a safe boating course and starting to shop for our own floating home away from home which has me on an all things nautical high.

I've been shopping for new deck shoes, conjuring up boat names, contemplating the boat themed manicures I'll wear, etc. And after seeing a mani/pedi combo using the navy and orange cremes from this collection, I already know what is going on my nails first.  But before we get into the bold Knotty Nauticals let's take a look at the softer side of the Anchors Away collection, the Sand & Sea six piece set.