Orly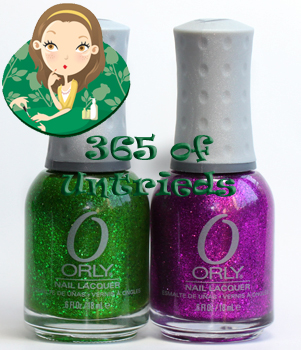 365 of Untrieds is my personal challenge to weed through the polishes in the ALU stash that I've been wanting to try but just haven't gotten around to.
Dear Glitter Polishes,
Why can't I quit you? You're such a pain to remove that the dread sets in before the first stroke of polish hits the nail. Yet, like a magpie, every time I see a bottle I want to snatch it up and take it home to my stash. You're clearly my crack because when the high wears off, I'm just left with thoughts of the removal process looming overhead. In spite of all that, I love you. And if loving you is wrong, I don't want to be right.
XOXO, ALU
The glitter craving struck again when I spotted the display for the Orly Pin-up collection at my local CVS. The four piece collection includes two cremes that I barely noticed. My eyes darted straight to Here Comes Trouble (l) and Bubbly Bombshell (r). For today's untrieds manicure I decided to combine them into one summery sparkle spectacular.