Milani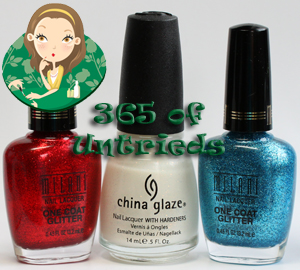 365 of Untrieds is my personal challenge to weed through the polishes in the ALU stash that I've been wanting to try but just haven't gotten around to.
To celebrate Independence Day in the US, I decided to get my red, white & blue sparkle on. I even planned to get all crafty incorporating scotch tape and the result ended up being one giant mani-fail! Of course, instead of getting down on myself for it, I'm learning from my mistakes and sharing my missteps with you.
To create today's look I went straight for my Milani One Coat Glitters in Red Sparkle and Blue Flash. When you want full-on sparkle without multiple, thick layers of polish, look no further. It's just a shame they didn't come out with a white version to complete my manicure.
In order to conserve my favorite white sparkler, China Glaze White Kwik Silvr, I pulled out another untried, China Glaze Cloud Nine from the Specialty Glitters collection.