butter LONDON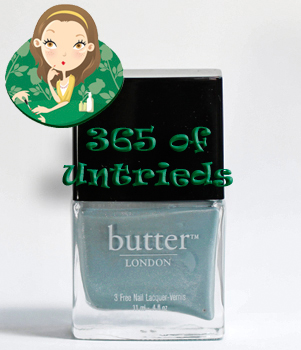 365 of Untrieds is my personal challenge to weed through the polishes in the ALU stash that I've been wanting to try but just haven't gotten around to.
The blogging community in Cleveland is pretty amazing. Even though the city is relatively large, the social media circle feels small and tight knit, in a good way, and I've met some great people through it. Tonight, for instance, I was invited to an event at a local restaurant with a bunch of my fellow bloggers.  We had attended a special media preview when Washington Place Bistro opened its doors last winter and tonight they celebrated the opening of their new patio with a pig roast.
Of course, being the lone beauty girl in this crowd, I have come to expect that my nail color will be noticed or asked about so I try to make sure I'm on point. With the event being sort of a kickoff to patio season I wanted to make sure my polish was springy yet unique.
I knew I was wearing a royal blue top so I started looking for an edgy neutral or light/dark blue in my untrieds bin and pulled this beauty out.  Being that I dragged butter LONDON through the mud over their No More Waity Katie shade a couple weeks ago I hoped Lady Muck would not let me down.