Avon
With every brand and their mother putting out a product with "GEL" in the name, nail world is becoming a very confusing place. The introduction of CND Shellac started a gel nails craze that has prompted more traditional polish brands to jack its style, producing products that promise gel-like results.
But here's the problem. Gel Polish, Gel Hybrid, Gel Effect, Soak-Off Gel, UV Gel. What do they all mean? All this terminology makes it hard to decipher how a product applies and performs so I'm here to break down the differences for you.
Continue Reading »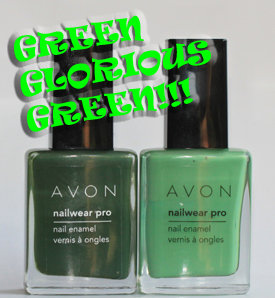 My first beauty related memory involves Avon.  The five-year-old me was very outspoken and not afraid of anything. I'm sure that doesn't surprise anyone.  So when I got my hands on an Avon catalog for the first time and landed on the page of flavored lip balms I decided that I needed to place an order.

I immediately dialed the "Avon Lady" to order every flavor of lip balm they made.  When she asked for my payment info I dropped the phone, ran to the kitchen and asked my mom to "see her credit card."  ALU Mom is way too trusting because she just handed it over without hesitation.  She probably assumed I was playing some game.

Unfortunately for me, the Avon rep called back a few minutes later to verify my order with my mom who didn't seem all that surprised that I had took it upon myself to make my first Avon purchase.  In the end I was allowed to choose one lip balm flavor, Root Beer, but it was the launchpad for my obsession with beauty.

It's been a long time since I place an order with Avon.  Not since they launched those holographic polishes a few years back.  They applied so funky that it turned me off the brand but when I heard they had a couple new greens launching for summer I had to check them out.  I mean, how can I pass up a green?  I'm happy to report that they did not disappoint.  See for yourself!
I've never tried Avon polish before. I never had a reason to. Well, when I heard they had new colors called Kaleidoscope Shades, my interest was instantly piqued.
They are described by Avon as "Strong wear with real diamond dust…now in NEW Kaleidoscope shades – with an iridescent pearl lustre! 10-day performance with normal touch-ups."
On sale for $2.95, I figured they were worth a shot. I ordered 5 of the 6 colors and eagerly opened the box when it arrived today. Upon first glance, they reminded me of the Sally Hansen Prisms, minus the holographic effect. I'm sure the bottle shape somewhat influenced that.
I wish the polish would have lived up to my initial excitement. I've never been so disappointed with a brand or individual polish. I don't feel bad at all by saying that this product is crap.
First of all, the brushes in every bottle were flawed in some way. The worst was shaped like a crescent moon and made application near impossible. They were all bent or splayed to some extent. You can't do a proper manicure with a bad brush. Period.
Due to the poor brushes, the application was terrible. I had to redo the initial swatch manicure pictured below twice. No matter how much polish I wiped off the brush before stroking it on, I still had pools of lacquer on the sides of my nails. To top it all off, I ended up with air bubbles. I know there are plenty of causes for bubbling but I used the same products and techniques that I always do. The only difference was the polish brand.
Considering how sheer the shades are, I decided to give them a 2nd chance by layering them over my favorite black creme polish, Sinful Colors Black on Black. I really hoped the experiment would work out but none of the combinations impressed me and I was plagued by polish bubbles again.
In summary, save your money people!! Don't let the pics of the pretty colors fool you. Go check out your local drugstore and pick up some of the great polishes being clearanced instead. Just the other day I snagged a couple of great Orlys from CVS on sale for 75% off. I've also seen sales on Sally Hansen Prisms at Walgreens. They are a thousand times better than anything Avon's got.