American Apparel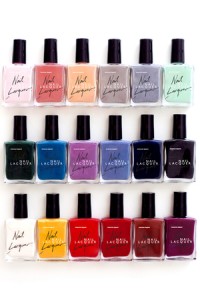 I don't know how many of you read Jezebel on the regular (I have it in my Google reader) but today they published an article titled Does American Apparel's New Nail Polish Contain Hazardous Material? that I feel the need to address.
First, many of you have emailed me asking about this line and if I will be reviewing it.  As you know, the polish has been back-ordered on the site so it wasn't easy for me to obtain.  I did receive a few sample bottles from their PR reps and have been testing the formula for review since I don't like to write about new brands without some kind of wear test.  So that's why you haven't seen mention of the line on ALU yet.
Second, I think it's irresponsible of Jezebel to title their post in such a way.  Yes, it gets eyeballs but considering that most people just skim nowadays, it can potentially be harmful to the brand and scary to the public.  Here's what you need to know…
* There is an issue with the "quality" of the bottles and from what I've heard, some people have received broken bottles in the mail.  Then again, that's happened to me with non-American Apparel polish.
* All nail polish is deemed a "hazardous material" by the USPS which is why it is required to be shipped ground.  They even reference needing special measures for disposal but that is true for all nail polish.  I'm assuming American Apparel was using an air method for shipping their packages which is why they can't ship that way anymore.  Heck with FedEx, I have to sign for nail polish packages because polish is so "dangerous."
ps. I know plenty of you swappers/e-tailers out there use non-ground methods but you do so at your own risk.  Say it with me Fanatics, "Does this parcel contain anything fragile, liquid, perishable, or potentially hazardous?"
* American Apparel polish is being pulled from the shelves but not being recalled. So you don't have to pitch your bottle for fear of using a lethal product. The bottle is obviously weak so I wouldn't suggest playing catch with it.
Here's what's going to happen. According to the document obtained by Jezebel, American Apparel is working with their supplier to improve the quality of the bottles and will restock in the next week or so.  So those of you still dying to get your hands on these new colors, the wait won't be that long.
In the meantime, look for my review of the formula and colors I received soon!