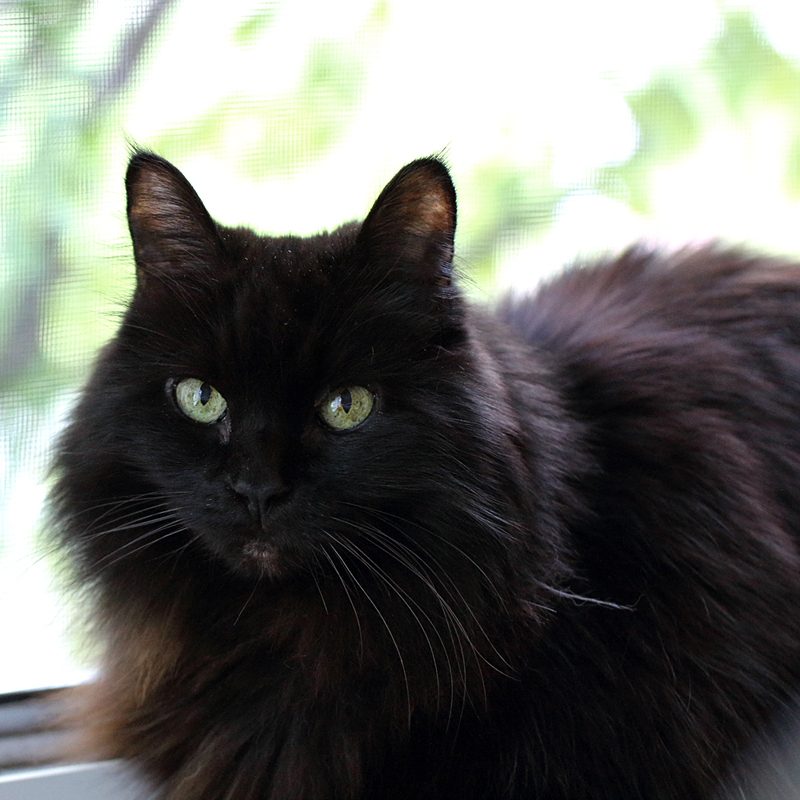 On September 18th, 2014, my beautiful baby, Loki, lost her struggle with lung cancer, leaving a giant hole in my heart and life. It's been an awful 11 months as we've dealt with treating inflammatory bowel disease, that left her at a frail six pounds, to discovering her lung tumor seven months ago.
It's been a year where I have spent the majority of my days, at home, worried about her, on high alert for a wheezing fit, making sure she was eating and giving in to every time she wanted to lay on my lap, whether I had work to do or not. A year where I've become somewhat of a recluse because I wanted to be with her.
So, while I try to deal with the grief of this loss, I want to take a moment to remember all the things that made her my special little girl.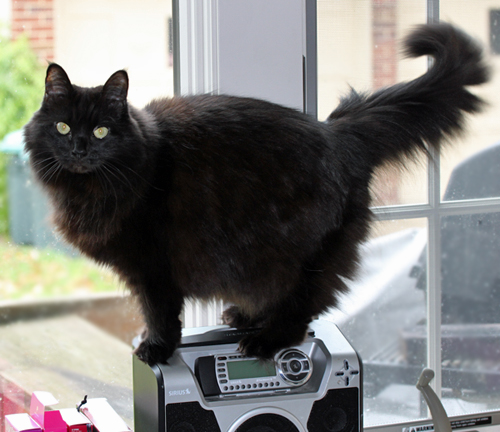 Loki was a giant fluffball. I jokingly called her Nermal, aka the cutest kitty in the world, from Garfield because she was so beautiful and she knew it. She had a gorgeous coat of hair, sweet face and a fluffy tail that she worked like Beyonce in a wind machine. All you had to do was say her name, and that tail would fly.
I remember once when she lit her tail on fire on a candle (no harm was done, only the outer hairs burned off), I could just tell she was not okay with looking imperfect. And every time the vet would shave her leg or tail to take a blood pressure reading, the same attitude came out.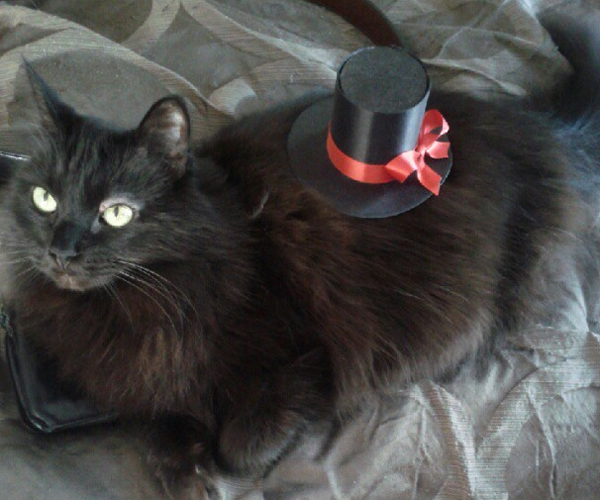 Loki was attention starved. Not really, but you would never know it by her behavior. She wanted nothing more in life than to be with me and the boyfriend and, if you stopped petting/rubbing her for a second, she let you know with a not-so-gentle head butt or by sitting on something of yours, like a phone, shoe or purse.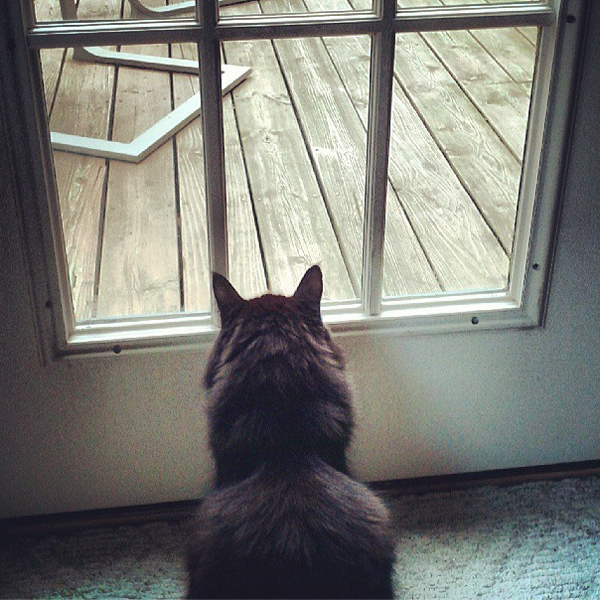 Loki was a terrible hunter. Not that she didn't try. She would chase after every bug, flash of light or hockey lace that crossed her path. Often going up on her hind legs, like a little black bear, to catch it.
And once, when I found a mouse in our old condo, the boyfriend came home to rescue me (yes, I'm a giant baby), only to find Loki and Ren staring at him through the patio door, with the mouse less than a foot behind her. Oh, the noble huntress.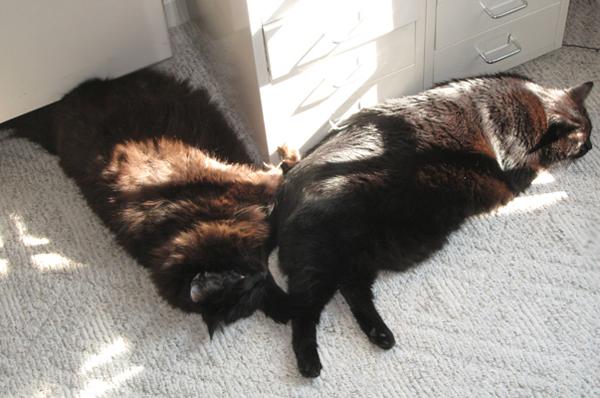 Loki was a feeble fighter. As much as she loved her litter-mate, Ren, when the two of them would start cleaning each other, we knew it was only a matter of time before a fight broke out. And as not-so-bright as her sister is, Ren would kick Loki's butt, if we let her. She was just too sweet to fight.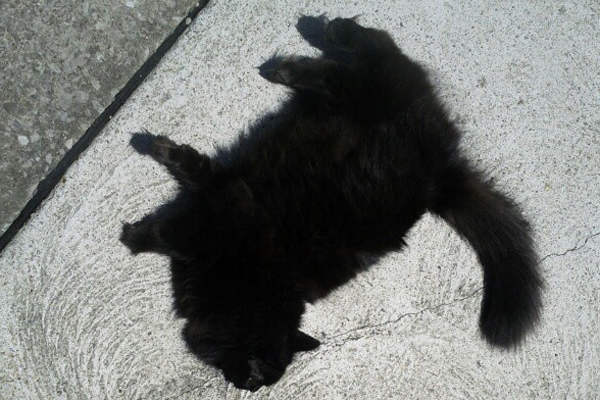 Loki was a fan of the great outdoors, but not to run away. One of her favorite things was to roll on warm concrete, on a sunny day. She had no desire to run off and that was proven when she snuck out, unnoticed, as the boyfriend hauled his hockey equipment in the house one night. The next morning, I found her, sitting on the doorstep, looking at us like, "Aren't you going to let me in?" This also made leaving the house a game as we would have to play defense to keep her inside.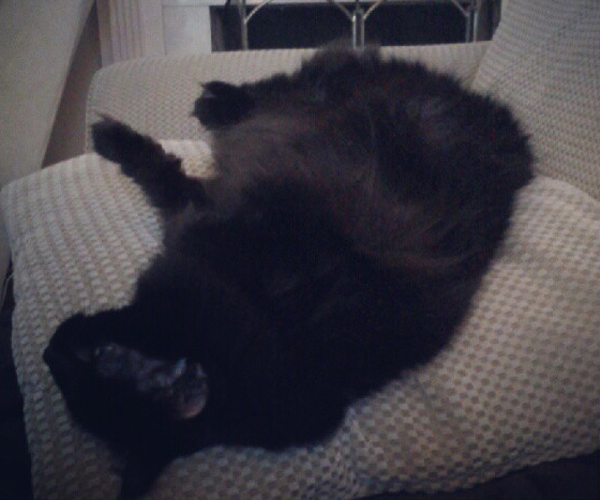 Loki LOVED the smell of sweat (gross, I know!). Unless you've lived with a hockey player you can't imagine how bad their equipment stinks. And since the boyfriend's goalie gear is mainly leather, it's not able to be washed. Oh how Loki lived to sleep in or on it. So much so that she hid in the boyfriend's hockey bag and took a trip to the rink with him one night. Talk about a surprise!
Loki made watching TV near impossible. My friend Brian refers to her as "LOKI GET DOWN" after spending a weekend hearing us yell that over and over as she chased hockey pucks, cars, what have you, across the screen. And the Toyota commercial with the computer mouse at the end? She knew the sound of it and would come running from any room in the house to chase that mouse. Our TV, with its tiny paw scratches, will never be the same.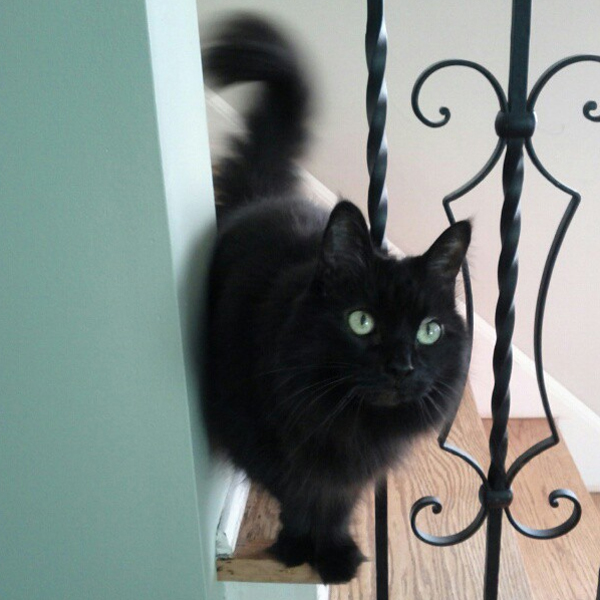 Loki was the opposite of aloof. Friendly with everyone she met, afraid of nothing, her personality was more dog than cat. She would greet us at the door, flop on her side and roll to expose her belly, waiting for lovin'. And we were happy to oblige.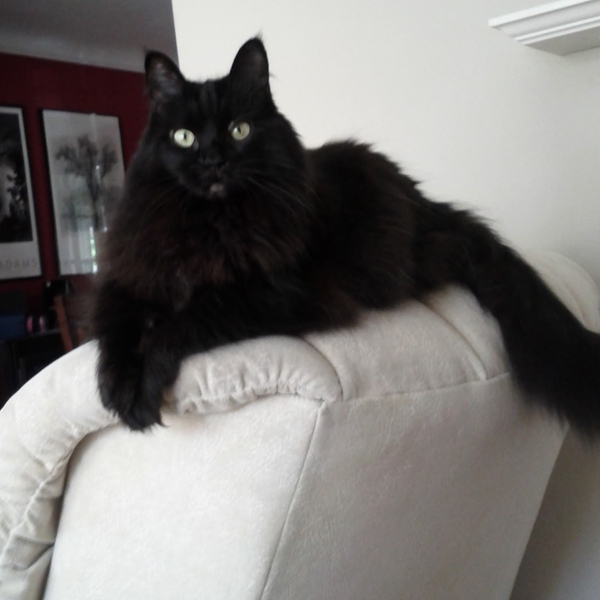 Loki needed to be elevated. For some reason she always wanted her head raised when sleeping and liked to be on the highest possible surface in any room. The counter, mantle, dresser, etc. She would even sleep between us with her head on a pillow, like a little person.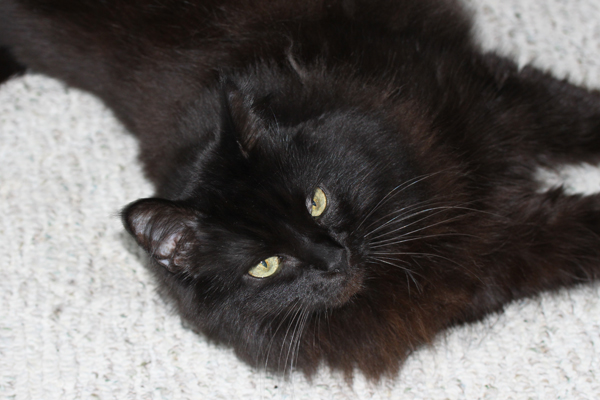 Loki treated bras like catnip. When I would leave a bra on the floor, she would rest her head in the cup and roll her body in so much joy. It reminded me of how alligators spin to escape a trap.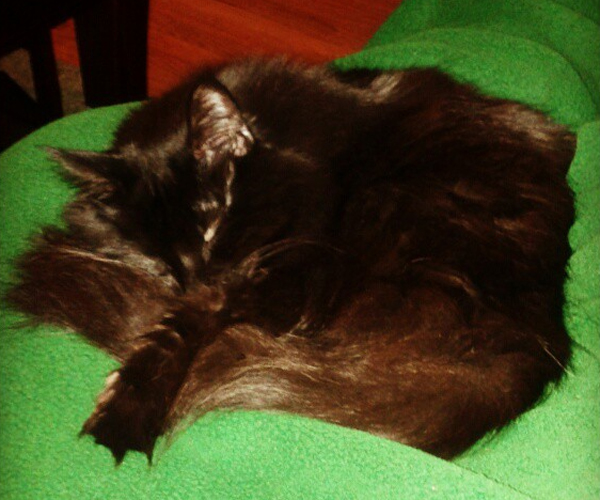 Most of all, Loki was mine! Even though the boyfriend adopted her and her sister as kittens, before we started dating, she became my cat. Our relationship was contentious as first as we both fought for the boyfriend's attention but seven years later, like the flip of a switch, she wanted to be with me every second of the day. And it's been like that for the past 8+ years. Not that she doesn't love and spend time with him but Ren is more his while Loki was all mine.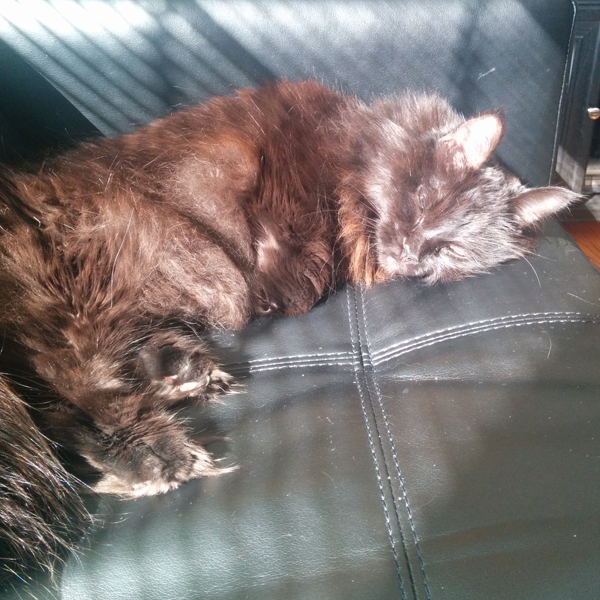 You know, I thought writing out all the the special things that made Loki unique and remembering all the funny, quirky things about her would be cathartic but it just makes me angrier that she is gone.
I know, I know, I'm supposed to be thinking all the things we say to friends when they lose pets. "At least she's not in pain." "She was lucky to have you." "You were a great cat mom." "Be thankful for all the happy, healthy years you had with her."
And believe me, I appreciate the sentiment behind those statements and, in my head, I totally get it. But in my heart, there is just ache and bitterness that this beautiful little soul had to leave us. I hope my heart will catch up with my head, and I know eventually it will. But, for now, I just can't fathom a time when that is possible.
Thank you listening and letting me get this out. She deserved even more than this but I want as many people as possible to know how special she was and all that she meant to me.