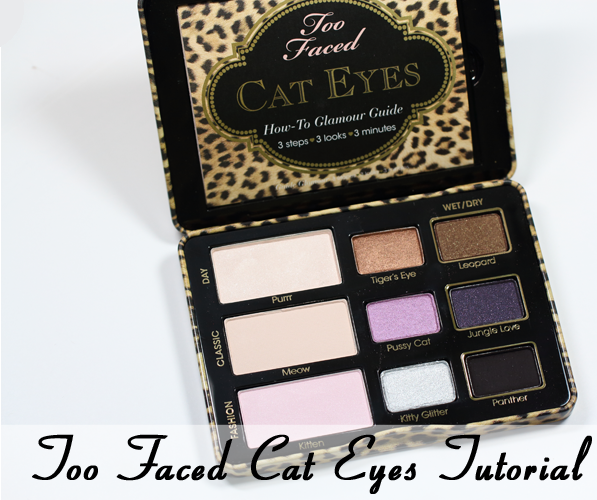 Affiliate Link|I Bought This|Press Sample
I've said it before and I'll say it again, I love, love, love palettes. They're probably my favorite makeup item to buy as I appreciate when brands take the guesswork out of creating a great eye look. The new Too Faced Cat Eyes Palette is an excellent example. Bringing together six silky shadows and three wet/dry shadows that can be used as liners, Too Faced combined three of my fave eye shades, purple, brown and navy, with mint and jet black to create one extremely versatile palette. In this week's Makeup Wars, we are taking on the Cat Eyes Palette, with each member creating their own signature look.

Too Faced Cat Eyes Palette
The Cat Eyes Palette ($36, Sephora.com) comes in a metal magnetized case that features a mirror in the top plus a handy guide with three eye tutorials for day and night.
The three base shades are larger. They are Purrr (shimmery vanilla), Meow (matte ivory), and Kitten (shimmery light rose). The next three shadows are Tiger's Eye (frosted bronze), Pussy Cat (shimmery radiant orchid), Kitty Glitter (glittery icy mint). Finally, the last three shadows can be worn wet or dry, which makes them perfect for creating a winged liner effect; Leopard (chocolate brown with golden sparkle), Jungle Love (navy with pink sparkle), Panther (jet black).
To create my Cat Eyes look, I used Purrr, Pussy Cat, Tiger's Eye, Leopard and Jungle Love with Too Faced Shadow Insurance ($20, Sephora.com) and Too Faced Better Than False Lashes Mascara ($35, Sephora.com). ps I'm obsessed with this mascara and have a full review in the works.

Cat Eyes Tutorial
Get The Look:
Apply Too Faced Shadow Insurance from lash line to brow than apply Purrr over it with a fluffy brush.
Pack Pussy Cat on lid with flat shader brush and blend with fluffy brush.
Apply Tiger's Eye to crease with a dense crease blush and blend outward with fluffy brush.
Apply Leopard to Outer V with small straight liner brush
Blend Leopard in towards other shadows for a seamless transition
Apply Jungle Love with a damp eye liner brush along top lash line and extend slightly past the eye to create a kitten eye wing (not full on cat eye wing). Smudge Jungle Love into lower lash line with damp liner brush.
Curl lashes and apply Better Than False Lashes Mascara.

Finished Look
Because my eyes turn down somewhat at the corners and aren't a perfect almond, I find that an exaggerated cat eye or wing doesn't work for me. That's why I did a toned down version. A kitten eye, if you will. I love how the purple and browns blend together with the navy liner giving it just the right pop. Paired with a rosy lip and cheek, it's a great look for day or night.


Loading InLinkz ...

Bottom Line: This color range is right up my alley and the formula and color payoff of the shadows make Cat Eyes a winner in my book. I've long been a Too Faced palette fan, and have way too may Quickie Chronicles to prove it, so they kind of had me at hello with this one.
The Too Faced Cat Eyes Palette is available now at TooFaced.com, Sephora stores and Sephora.com. The palette retails for $36. Too Faced Shadow Insurance and Better Than False Lashes Mascara are both available at Sephora.com and ULTA.com for $20 and $35, respectively.
Do you like the look I created with Cat Eyes? Would you try this at home? Are you planning to pick up Cat Eyes? Or do you already own it? Share your thoughts in the comments!
Disclosure: A product sample of the Cat Eyes palette was provided by reps for Too Faced. I purchased Shadow Insurance and Better Than False Lashes. Affiliate links appear in this post. When you purchase through an affiliate link, you help support this site. For more info view my
Disclosure Policy
.