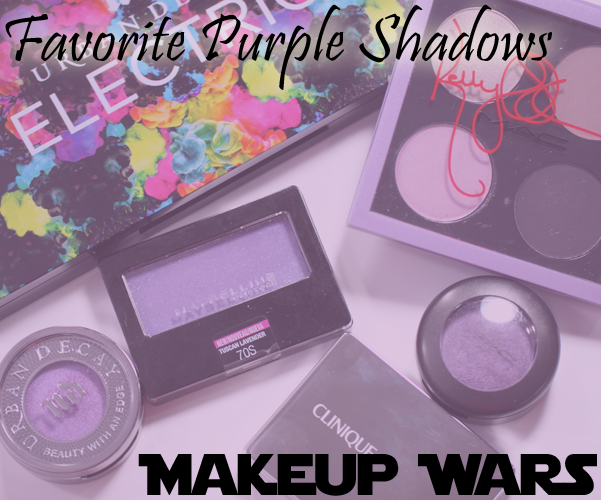 Outside of my go-to neutrals, purple is my favorite eyeshadow color to wear. It just works so well with my pale skin, dark hair and eyes. So when I heard that my Makeup Wars pals were focusing on best purple eyeshadows this week, I was all in!
Of course, I have way too many purple eyeshadows for my own good but a lot of them are LE and no longer available. So, I'm sharing some core faves along with some new gems I've recently discovered.


Purple Shadow Mania – My Best Purple Eyeshadows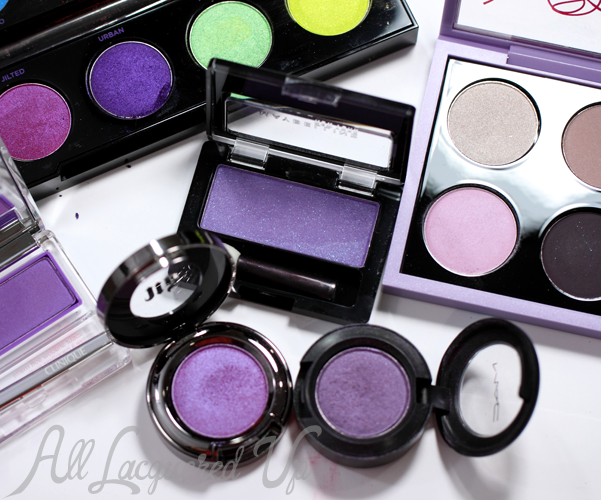 Urban Decay Electric Palette ($49, Sephora.com) – I've been trying to go outside my comfort zone of subdued or smokey eyes and the UD Electric Palette is the perfect catalyst. These pressed pigment shadows are super saturated and mega watt bright but so soft and blendable that I was instantly head over heels. And Urban is the perfect, slightly shimmery, grape. Gah, I love it so much! Seriously, this palette is WORTH.EVERY.PENNY!
MAC Kelly Osbourne Bloody Brilliant Quad ($44, Nordstrom.com) – I'm a religious Fashion Police watcher and a big fan of the lilac haired fashionista who created this gorgeous palette with MAC. And while it's not the purple party one would expect, there's a hidden purple in this quad. While experimenting with the shades I found that Shadowy Lady was a bit too dark for my liking so I layered Fizzy Rose over it and the more gorgeous plum hue was born. Try it!!
Clinique All About Shadow Single in Purple Pumps ($15, Clinique.com) – I normally shy away from matte shadows as they tend to look chalky on my overly dry skin but Purple Pumps is a rare exception. It's so silky smooth and pigmented that it feels like a satin shadow. Love! Like so much love.
Maybelline ExpertWear Eyeshadow in Tuscan Lavender ($2.99, Drugstore.com) – I was initially drawn to Tuscan Lavender for the random bits of teal glitter winking at me through the packaging window and became even more smitten when I saw the smoky, cool purple on my lids. The glitter is pretty subtle, only peeking out in direct light and the base shade is just gorgeous for us cool-toned gals.
Urban Decay Fishnet ($18, Sephora.com) – I'm not gonna lie, when I first saw Fishnet, I was like, NO WAY! That this pink-based purple would do nothing but make my eyes look bruised and bloodshot. Warm purples just don't work for me. Or so I thought. Intrigued by the slight blue sheen I decided to test it over a pale blue shadow stick, COVERGIRL Flamed Out Shadow Pencil in Ice Flame, and it came alive (see below).
MAC Satellite Dreams Eye Shadow ($15, Nordstrom.com) – I think this is one of the first MAC shadows I ever bought and I've repurchased it since. I love the velvety veluxe pearl formula and the deep violet hue. It's definitely one of my all-time favorite shadows.

As I mentioned above, I was iffy on Urban Decay Fishnet but I'm here to prove why you need to try new colors even if you don't think they will work for you. It's all about finding the right way to wear them.
On its own, Fishnet does make my eye look a bit bruised but with the right color underneath to bring out the blue shimmer, it becomes a completely different shade. Keeping it simple, I layered Fishnet over COVERGIRL Ice Flame and the combination is stunning. A great example of a high/low mix.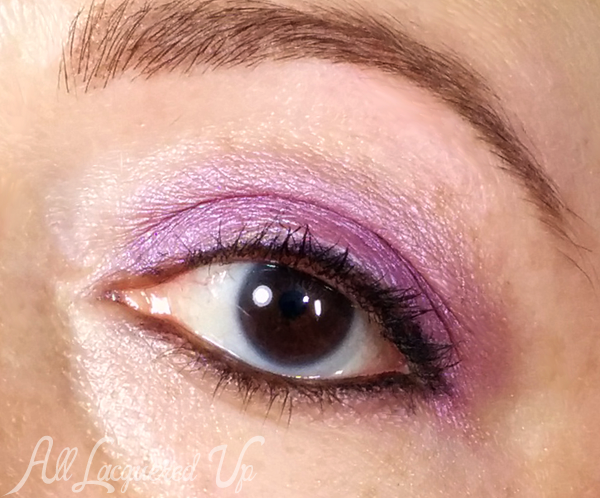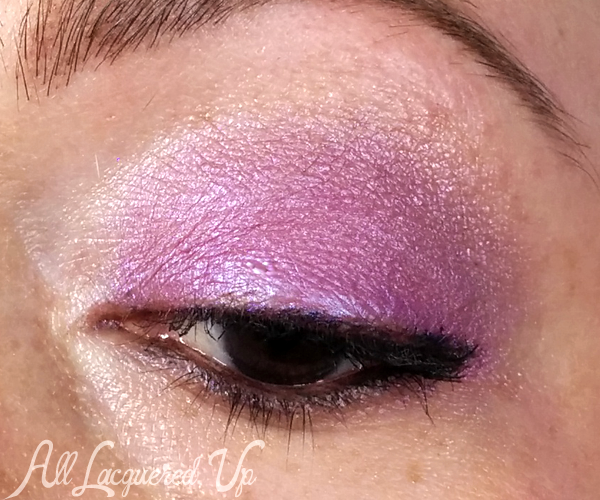 Loading InLinkz ...

What are your favorite purple eyeshadows? Will you add any of my favorites to your stash?
Disclosure: Product samples were provided by reps for Clinique, MAC, Maybelline, Urban Decay. Affiliate links appear in this post. When you purchase through an affiliate link, you help support this site. For more info view my
Disclosure Policy
.