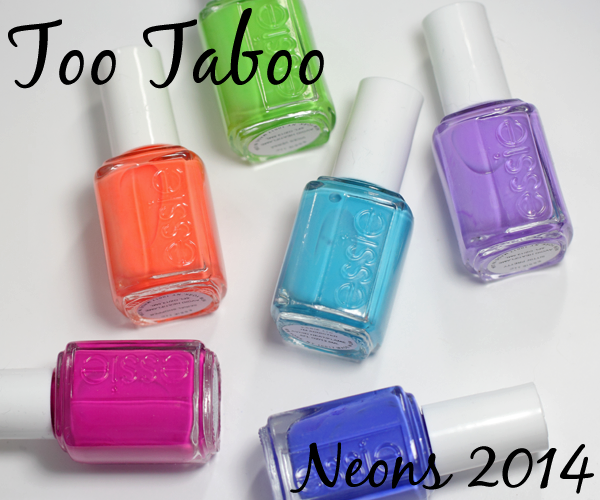 Even though I own a bunch of day-glo neon polishes, I rarely wear them. They're cool but the opacity issues and streakiness that plague traditional neons make them a bother to apply. Plus, they can be a bit too much for everyday life.
That's why I find the Essie Neons 2014 so refreshing. They're well pigmented and aren't as in-your-face. That's just two of the reasons it's one of my Top 10 nail polish collections of the summer.


Formula & Application
Essie nail polish is 3-Free (Formaldehyde, Toluene, DBP). The square bottles are embossed with the Essie logo and the smooth plastic caps include an embossed 'e' on top. Bottles at mass retailers have stickers rather than embossing on the bottle. The brushes are thin, round and shorter than most. The bristles are very flexible, allowing you to easily fan out the brush to cover your nail width.
In this collection, the majority of the colors are semi-sheer with the watery texture we've come to expect from Essie. They become opaque in three coats, with a few exceptions. Too Taboo is more pigmented and gets it done in two coats. Vices Versa is really sheer and needs three coats. And Chills & Thrills is creamier and more pigmented but has leveling issues.
Try It On
Thank you for the positive feedback on my first "Try It On" video. Since the Essie Neons formula seems to be getting mixed reviews I made one for this collection as well. If the video doesn't appear on your device, CLICK HERE.

Essie Chills & Thrills is a purple-based indigo creme that has hints of periwinkle. As I mentioned in the video, it has its application challenges but the color is so stunning, they're easily overlooked.
Essie I'm Addicted is a bright Caribbean blue creme. It's a pure blue in that it doesn't have any green in its base, like a lighter version of CND VINYLUX Cerulean Blue.
Essie Serial Shopper is a punchy, peachy orange creme. In person it's a lot brighter and the closest to a true neon polish.
Essie Sittin' Pretty is a pink-based lavender creme. It's not so warm that it gives me the dreaded "lobstah hands" but it's close.
Essie Too Taboo is a hot fuchsia creme. If you wear it without top coat, it dries a little darker. Almost a raspberry with a satin finish.
Essie Vices Versa is a yellow-based green creme. It kind of a chartreuse shade, though it's not quite that yellow.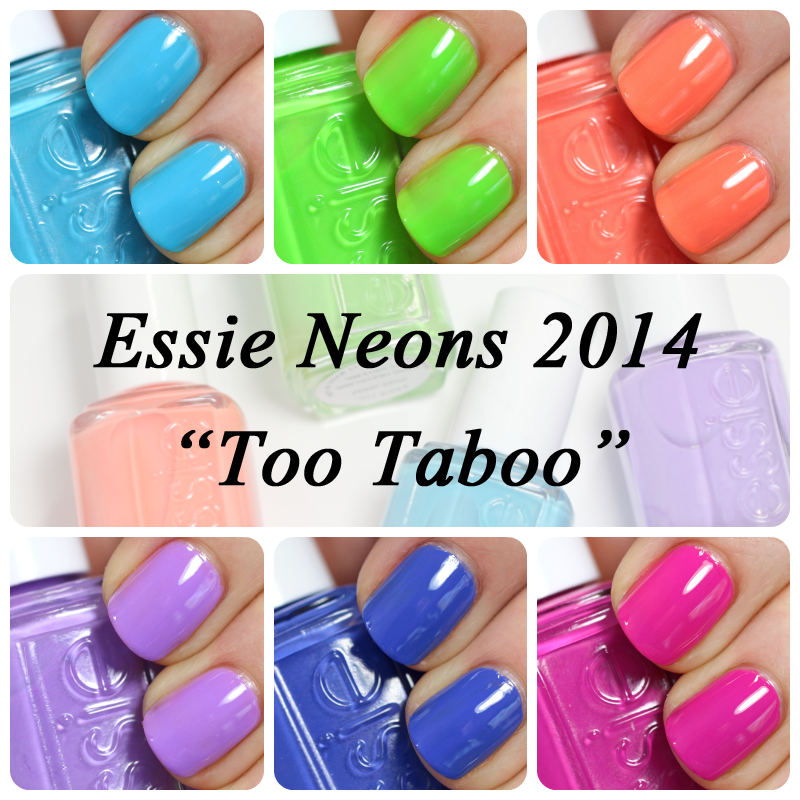 Bottom Line: Outside of Vices Versa's opacity issues, I'm smitten with this whole collection. Yes, even the pink. They look great paired together and I love how bright, but not too bright, the colors are. Chills & Thrills and I'm Addicted are naturally my faves but, as I showed in my Multi-Color French, Vices Versa looks hot with Chills & Thrills.
Essie Neons 2014 "Too Taboo" collection is available now at salons and mass retailers nationwide. You can find them online at Essie.com and Nordstrom.com (gotta love free shipping). Essie nail polish retails for $8.50/ea.
What do you think of this edition of the Essie Neons? Which colors are calling your names? Do you prefer your neons old-school, day-glo or more subdued like these?
Disclosure: Product samples were provided by reps for Essie. Affiliate links appear in this post. When you purchase through an affiliate link, you help support this site. For more info view my
Disclosure Policy
.