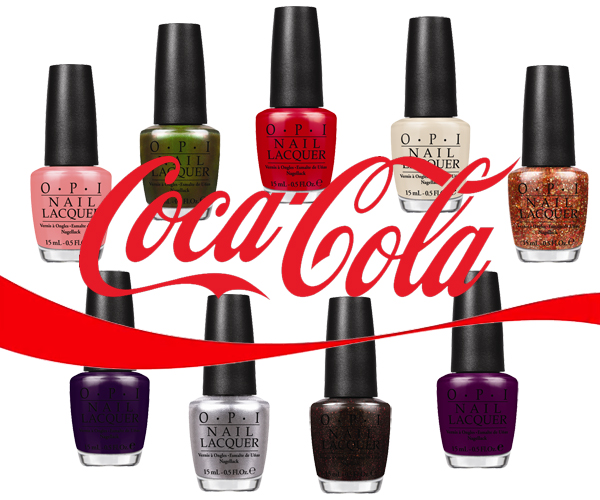 PC or MAC? Android or iPhone? In the world of pop, the big debate has always been Coke or Pepsi? Remember the taste wars of the 80s? For me, it's always been Coke. And yes, this Ohio girl says "pop."
I remember going to Atlanta for a work trip and geeking out over Coca-Cola paraphernalia. You should see the amount of Coke glassware, barware and signage in my house. It's a "bit" much. So, you can imagine how excited I was to hear that OPI partnered with Coca-Cola on a nine piece nail polish collection, Coca-Cola by OPI, inspired by the brand's lineup soft drinks.


OPI announces the launch of nine new limited edition nail lacquers inspired by some of the most recognized brands of The Coca-Cola Company. Coca-Cola by OPI offers a range of colors and hues representing everything from classic red for Coca-Cola to metallic silver for Diet Coke, dark red and black for Coke Zero, black cherry for Cherry Coke, cream and warm pink for Vanilla Coke, shimmering citrus green for Sprite and glitter-packed orange and deep purple for Fanta Orange and Fanta Grape.

"I have always believed that wearing nail lacquer can change your look – and your outlook," remarks Suzi Weiss-Fischmann, OPI Co-Founder & Executive VP. "Both OPI and Coca-Cola truly deliver happiness in a bottle to consumers looking for an iconic product of the highest quality. The nine shades in this collection represent not only bestselling Coca-Cola Company products, but also the styles of the women who enjoy them – from classic and glamorous to hip and trendy!"
OPI A Grape Affair (inspired by Fanta Grape) – Make a big to-do in this deepest, darkest purple.
OPI Coca-Cola Red (inspired by Coca-Cola) – Classic red – always in style, always perfect.
OPI Get Cherried Away (inspired by Cherry Coke) – Seriously, this black cherry is over-the-top gorgeous!
OPI Green on the Runway (inspired by Sprite) – This uncut-lime green makes a real fashion statement.
OPI My Signature is "DC" (inspired by Diet Coke) – My initial impression? This shimmery silver is just "write!"
OPI Orange You Fantastic! (inspired by Fanta Orange) – Glitter to the max in this juicy orange explosion!
OPI Sorry I'm Fizzy Today (inspired by Vanilla Coke) – Do Not Disturb…I'm enjoying this creamy, smooth pink.
OPI Today I Accomplished Zero (inspired by Coke Zero) – Dramatic black with effervescent red sparkle is a total must-do.
OPI You're So Vain-illa (inspired by Vanilla Coke) – I bet you think this creamy nude is all about you.

Earlier today, OPI presented the collection to NYC editors and shared this photo on Instagram of Suzi Weiss-Fischmann getting her nails did. If you search the #OPICokeStyle tag, you'll see some more shots from the event.

I don't know about you guys but Today I Accomplished Zero, Green on the Runway and A Grape Affair have me intrigued. Especially after seeing a mani pic on Instagram of TIAZ.
The Coca-Cola by OPI nail polish collection launches June 2014 at salons nationwide, including Beauty Brands, BeautyBrands.com, Beauty First, Chatters, Dillard's, jcp Salons, Pure Beauty, Regis, Trade Secret, ULTA and ULTA.com. OPI nail polish retails for $9/ea and the 10 Pack of Style mini pack will retail for $24.95.
Which OPI Coca-Cola shades are you most anticipating? Where do you fall in the Coke/Pepsi debate? I won't judge you for liking Pepsi, the boyfriend does too. Ah, the never-ending battle.
Disclosure:  Affiliate links appear in this post. When you purchase through an affiliate link, you help support this site. For more info view my
Disclosure Policy
.