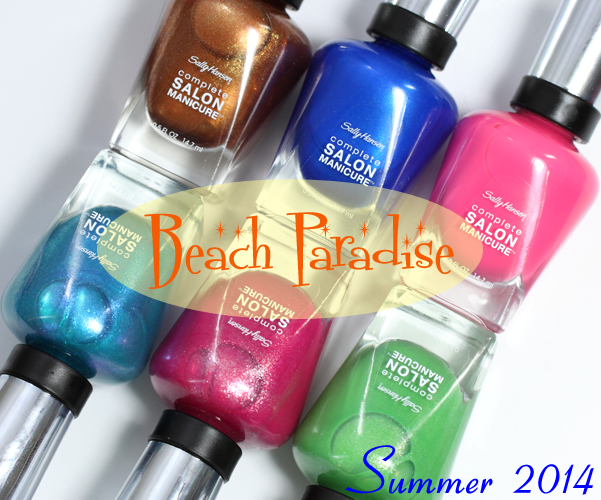 This summer, Sally Hansen is releasing a slew of new colors, all with a beach-y theme. The Sally Hansen Complete Salon Manicure Summer 2014 collection is called Beach Paradise and it includes a rainbow of eight new nail polish shades in a mix of finishes. I have six of the eight to share with you today.


Formula & Application
Sally Hansen Complete Salon Manicure nail polish is 5-Free (Formaldehyde, Toluene, DBP, Formaldehyde Resin and Camphor). The formula is designed to serve as base coat, color and top coat. Plus it packs in ingredients to help promote growth, strength, extended wear and high shine. The claim is a 10 day wear and as I've shown in the past (click here), it lives up to that.
The hefty glass bottles are topped with a smooth chrome cap that has a rubberized grip around the base. The grip makes opening the bottle easier and keeps the brush from slipping while polishing. The brush is the same flat, paddle style as the Insta-Dri line, cut with a curve at the tip. The bristles are firm so use a light touch to avoid streaking or dragging the polish.
For the most part, the polishes all applied smoothly. They have a creamy texture that is thin but substantial. Pigmentation is great with all the shades except Searsucker which is a bit sheer and needed three coats. The rest are all opaque with two coats.

Sally Hansen Blue Crush is an electric blue shimmer with a hint of turquoise pearl that comes out in direct light. This color is crazy intense and is so much more saturated in person. It's a pretty close dupe of China Glaze Frostbite, only much more pigmented.
Sally Hansen Copper is a foil metallic that looks more bronze than what you think of as copper. Maybe they mean suntanned copper? If you mixed the foil-esque Zoya Richelle with Zoya Penny, you'd have SH Copper.
Sally Hansen Leis-y Days is a raspberry pink with silver flecks. It reminds me a lot of China Glaze Strawberry Fields from one of my all-time favorite collections, Summer Days. Leis-y Days is darker, more pigmented and has silver flecks instead of gold but the are from the same color family.
Sally Hansen Searsucker is a sheer pale turquoise foil metallic with a hot pink flash. It shows up on the nail but it's hard to capture on camera so I'm showing the bottle instead. Compared to Formula X Photoelectric, this is lighter, more sheer and doesn't have the same depth.
Sally Hansen Summerlime is a ripe lime sprinkled with golden flecks. The base color has a creamy feel so it subdues the sparkle a bit. Even though this is a lime green, it's not as yellow as others I own, like Sally Hansen In Record Lime, for instance. It's truly a unique flower.
Sally Hansen Summer Lovin' is a Barbie pink creme. It's rosy yet with a blue-ish tint which makes it unique. Zoya Lo is the closest shade I have to Summer Lovin and it's a bit brighter and warmer.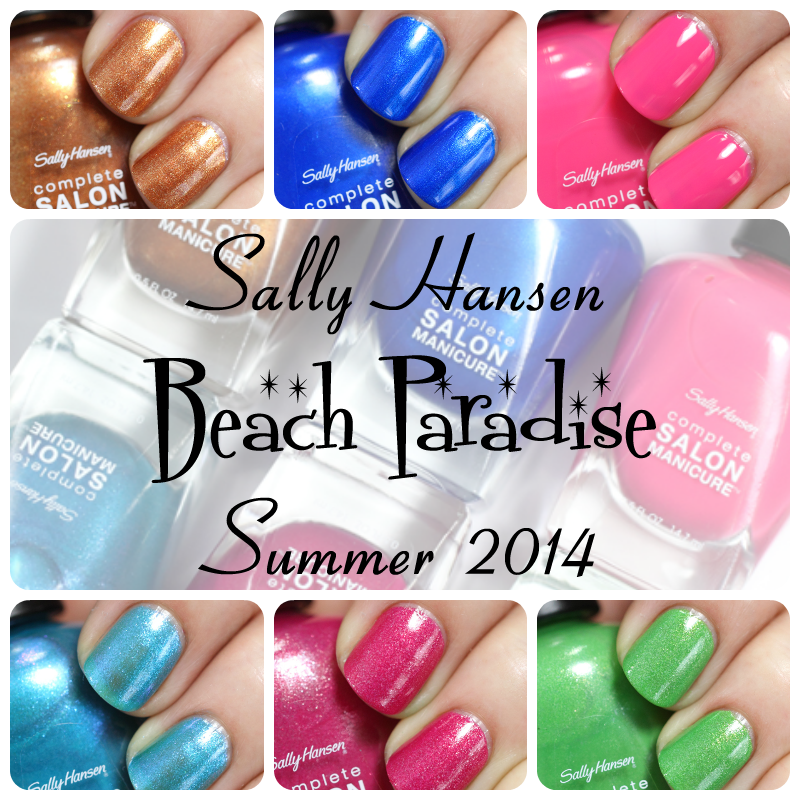 Bottom Line: Overall this is a fun collection and there are some unique shades like Summerlime and Leis-y Days. The rest are all pretty but not must-haves in my book. I definitely plan to check out the yellow from this collection as it looks very sunny.
Sally Hansen Summer 2014 Complete Salon Manicure "Beach Paradise" collection is available now at drugstores and mass retailers nationwide. It includes two more polishes, Hello Sunshine and Beach Redy, that are not shown here. Sally Hansen CSM nail polish retails for $7.99/ea.
Are you feeling these new CSM shades? Which ones are your favorites? What is your favorite Sally Hansen polish line?
Disclosure: Product samples were provided by reps for Sally Hansen. For more info view my
Disclosure Policy
.