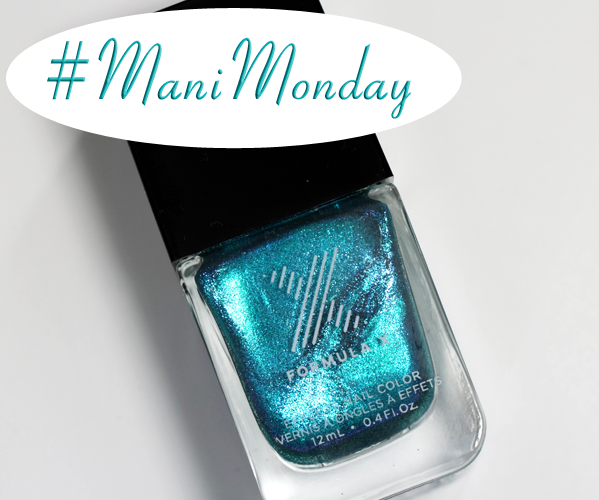 Remember when I raved, sorry RAVED, about the new Formula X for Sephora Liquid Crystals polishes? Well, I recently found myself in front of the gorgeous glass-fleck meets foil gems at my local Sephora and brought another beauty home with me. You might think Photoelectric looks like any other turquoise sparkler but you'd be wrong!


Formula & Application
Formula X for Sephora is 5-Free (Formaldehyde, Toluene, DBP, Formaldehyde Resin, Camphor). The rounded, brick-like bottles have a futuristic look and feel. The shiny plastic outer cap pops off to reveal and ribbed, round inner cap for application purposes. The brush is long, thin and round with flexible bristles that capture a lot of polish and easily fan out to cover the nail.
The Liquid Crystals formula is super smooth and thin. It's a bit squishy which makes placement a breeze and it dries with a super glossy finish. The only downside is that the pigmentation isn't quite what I experienced with Equinox. This one is a lacking a bit so I ended up using three coats. Even though you can see the line of my free edge in the pics below, in person it's not visible.

Formula X Photoelectric is a vibrant turquoise glass fleck mixed with metallic flakes in turquoise and hot pink. So yes, it's a duo-chrome and, even though it's not easy to capture in photos, the pink really delivers when viewed with the naked eye.
As you can see in the first image, straight-on it's a vivid turquoise, but at the right angle the pink really comes alive. It's easier to photograph the effect in the bottle than on the nail but it's there, trust me.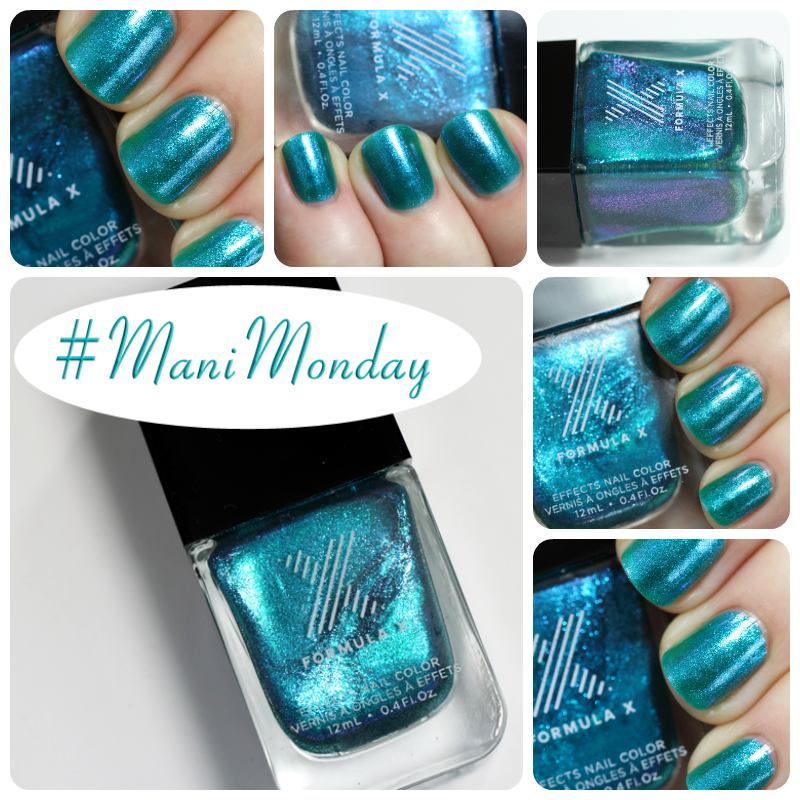 Bottom Line: Based on the two shades I've tried so far, the Liquid Crystals are a hit. I love me a glass fleck and since I haven't seen one from China Glaze in like forever and a day, these are fulfilling that need and then some. Now, I just need Beacon, Borealis, Magma, Prismatic and Solar Flare to round out my collection. My wallet hurts just thinking about it but they're so, so worth it!
Formula X for Sephora Liquid Crystals is a Sephora exclusive and can be found at Sephora stores nationwide and online at Sephora.com. The Liquid Crystals retail for $12.50/ea for a .4oz bottle.
Have you tried the Liquid Crystals line yet? Are you as smitten with them as I am? Which colors are your favorites? Do you plan to snag a bottle of Photoelectric?
  Disclosure: I purchased this nail polish. Affiliate links appear in this post. When you purchase through an affiliate link, you help support this site. For more info view my
Disclosure Policy
.