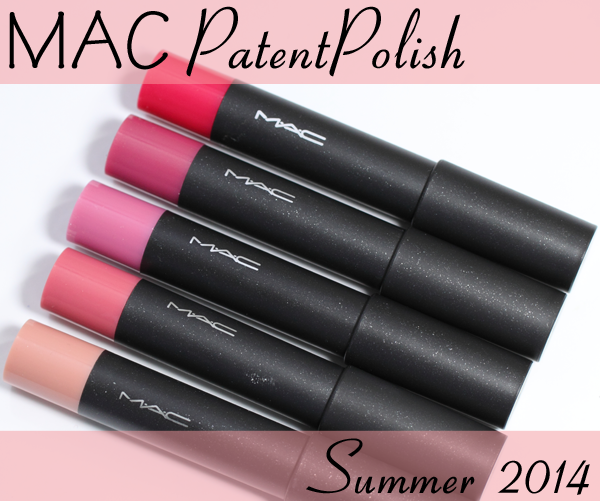 In general, I'm a pretty casual person. As much as I savor the opportunity to get dressed up, my work-from-home life means I spend the majority of my time in yoga pants. When we go out in the evening, it's usually low-key so my everyday makeup routine is pretty minimal; see my 5-Minute Face.
Which is why these new MAC Patentpolish Lip Pencils are perfect for my lifestyle. They combine the lightweight coverage and ease of application of a lip gloss with the creaminess and subtle sheen of a MAC Lustre Lipstick (my fave formulation). Since its arrival a couple weeks ago, Patentpolish has taken up permanent residence in my bag.


Formula & Application
M·A·C Patentpolish Lip Pencil is your new magic wand for lips. With a single swipe, instantly achieve luscious shine. A unique blend of creamy emollients replenishes lips, keeping them soft with an ultra-smooth texture that isn't heavy or sticky. The pencil's effortless twist-up application keeps things clean and mess-free, with no need to sharpen. Enjoy colour in a dazzling range of 12 new shades that stay bright and true on all skin tones.
The Patentpolish pencil needs no sharpening as it uses a twist-up dispenser while the rounded tip allows for effortless, if not precise, application. Of the five colors I tested, they all applied evenly with no streaking. In terms of pigmentation, they are, for the most part, semi-sheer, requiring a few swipes to get good coverage. They also have that signature vanilla scent.
The consistency is smooth and creamy though it feels just slightly tacky on the lip. Not gloss tacky but when you first part your lips, you can feel a minimal resistance. After a couple hours, I notice the color tends to settle into the creases of my lips but it's not super noticeable as the overall color still remains. I would say that I get about 2-3 hours of wear from each shade.

MAC Innocent – Is a sheer beige creme that is barely noticeable on my lips. Essentially it just adds a sheen. For reference, I'm a very fair NW20.
MAC Kittenish – is a rosy pink creme. I have low pigmentation in my lips so this gives me the perfect healthy pink glow.
MAC PatentPink – is a cool, lilac pink creme. It is definitely more pigmented than I expected. It gives great coverage.
MAC Spontaneous – is a pink mauve with light gold sparkle. It's not super glittery, it just adds a nice shimmer.
MAC Pleasant – looks like a cool red in the tube but on the lips it's much more berry-ish.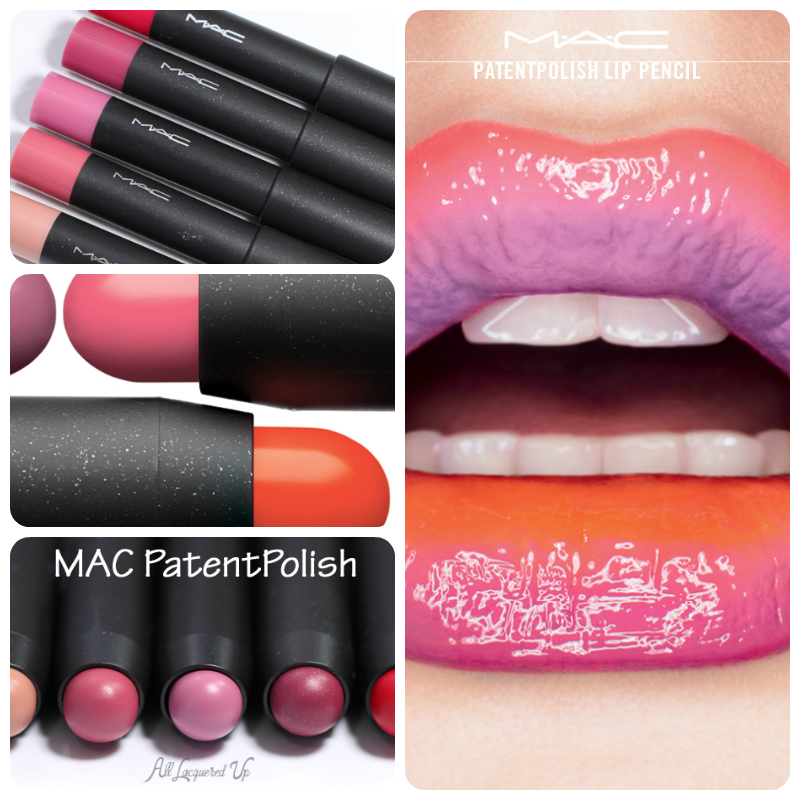 Bottom Line: MAC Patentpolish Lip Pencils are ideal for the casual lip product wearer. If you are a fan of a tinted balm but want something with a tad more coverage, you'll love these. I personally hate the sticky texture of gloss but don't always want to deal with the application of a full coverage lipstick. These are a nice middle ground.
Spontaneous and Pleasant are my favorite shades of the five I tried with Kittenish coming in a close third. Innocent's lack of pigmentation and "barely there" color earn it a pass.
MAC Patentpolish Lip Pencil collection is available for a limited time at MAC counters nationwide and online at MACCosmetics.com and Nordstrom.com. MAC Patentpolish retails for $20/ea.
What do you think of these new lip pencils from MAC? Do you plan to pick up any of the colors I tested? For lighter coverage, do you prefer lip gloss, lip pencils/crayons or tinted lip balms?
Disclosure: Product samples were provided by reps for MAC. Affiliate links appear in this post. When you purchase through an affiliate link, you help support this site. For more info view my
Disclosure Policy
.